Trychta earns IHSSCA Player of the Year honor


CLICK HERE FOR NAPERVILLE NORTH'S TEAM PAGE
By Gary Larsen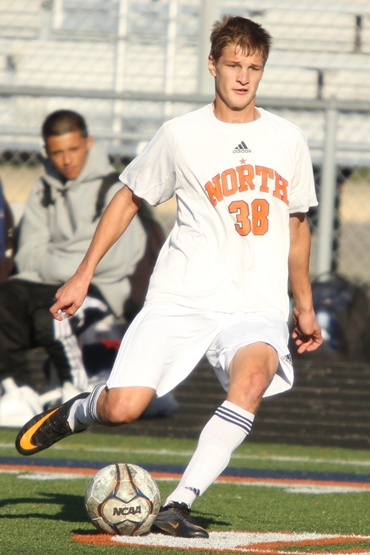 The Evan Trychta story actually began two seasons ago, when the then-sophomore netted two goals in a season-opening game against Hinsdale Central and didn't stop until he posted 17 goals for a Naperville North team that went 16-3-4 and won a regional title.
Three seasons of wreaking havoc on opposing defenses later, Trychta has been named Illinois' Player of the Year by the Illinois High School Soccer Coaches Association. Trychta was also named an all-Midwest player after each of the past two seasons, and became an all-American this year.
Nino DaSilva (Saint Viator, 1995-96) and Ned Grabavoy (Lincoln-Way, 1999-2000) are the only two-time recipients of the award, but Trychta's win marked a first in the award's history.
With Trychta becoming the 15th different Player of the Year recipient since the award was first given out by the IHSSCA in 1994, Naperville North is now the only program in Illinois with two players to win the award; former North standout Jake Fullerton earned the honor in 2005.
When North coach Jim Konrad informed Trychta of his Player of the Year status, his reaction was understandable.
"I was kind of shocked. I felt like I had a good year but there were a lot of deserving players," Trychta said. "It's always a goal but it doesn't really ever seem like it's in the realm of possibility."

What made the possibility become a reality for Trychta was his development into a player that had him at the top of the list for opposing coaches that game-planned for North this season.
"You want me to say something about the kid that scored every one of North's goals against us for the last two years?" Naperville Central coach Troy Adams said. "When we went into the sectional final this year I just said 'I don't care what happens. Just don't let him score against us again'.
"It's his ability to see the field in a unique way. He's got all that talent and a phenomenal shot, but beyond that he has a feel for when it's time to do something that's unusual, that the defenders aren't anticipating. They've got a ton of talented players at North but he's the one you worry about most."
The highlight of Trychta's junior season came during North's run downstate. Trychta had 12 goals going into the 2010 postseason and then went on a tear, scoring 7 goals in 7 postseason games.
Trychta missed the first four games of the 2011 season due to injury but still managed 15 goals and 12 assists for a team that was top-ranked for most of the season and posted a 21-1-1 record. He finished his high school career with 59 goals and 29 assists, playing the tough schedule that all the state's premier programs play.
And it's not like Trychta was ever kept on the field to pad his stats.
"He scored in big moments. Once we had a lead and he'd come out, it's not like he ever asked to go in and score cheap goals against lesser opponents," Konrad said. "And he didn't have any tap-ins."
Let's have a pair of the best defenders in the DuPage Valley Conference offer their take on what made Trychta one of the most dangerous attacking players in Illinois for three seasons.
"He could stop on a dime and switch to his other foot, and then he had a dangerous shot with either foot," Naperville Central defender Mike Plant said.

"He's really good with the ball, he has very fast feet and good vision," Wheaton Warrenville South defender Will Huesing said. "To defend him you have to get close enough to where he doesn't have options to look without letting him get around you."

There's also a sort of suddenness to the goals that the University of Illinois at Chicago-bound Trychta scores.
"He reads situations well and scores goals that most kids can't score, and he has an uncanny ability to shoot when you don't expect it," Konrad said. "He surprised keepers with shots they haven't seen kids shoot. All of a sudden the ball is on. If it's me shooting, you know the shot is coming; I take a touch ahead, step and wind up on it. But he doesn't do that. And his ball knuckles a bit which makes it a little more difficult for a keeper to stop."
Trychta worked to maximize a unique skill set, and it paid off with the highest award the IHSSCA can bestow on a player.
"I watched college and professional soccer and compared it to my game," he said. "I knew I had to play quicker and be more creative off the ball. It was a matter of being able to play quicker off my teammates, playing simply, but also having the creativity in the final third."
"It takes practice but that's a no-brainer. You have to put soccer as a primary thing in your life, 24-7, do extra camps, expose yourself to soccer as much as possible, and play on the best clubs that you can play on."