O'Connor honored as Coach of the Year
Retiring Marmion coach earns IHSSCA top honor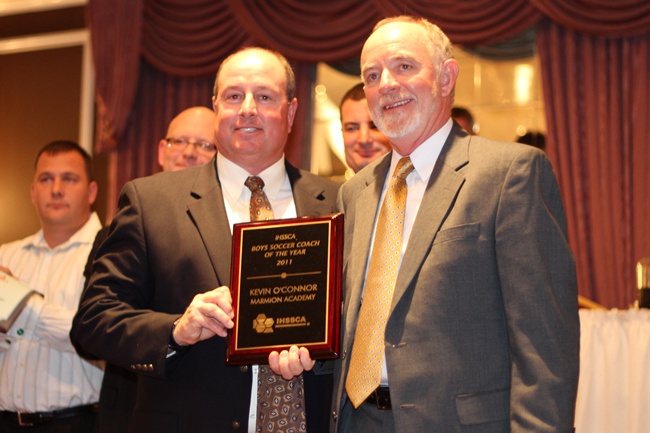 CLICK HERE FOR MARMION'S TEAM PAGE
By Gary Larsen
Marmion senior Mick Maley had a few words to say earlier this year when he found out that Kevin O'Connor was stepping down as head coach of the program he began building in 1994.
"He's a father figure to all of us," Maley said. "We'd all do anything for him and as much as we're happy for him, it's sad to know such a great career is coming to an end. I know it's not enough, but I hope we can honor him with how we play."
With O'Connor pulling the levers behind the curtain for the last time in 2011, the Cadets honored him by earning the program's first downstate berth and a fourth-place finish.
Three weeks later, O'Connor has been named Coach of the Year by the Illinois High School Soccer Coaches Association, from a trio of finalists for the award that included Leyden's Mark Valintis and Naperville North's Jim Konrad.

"I'm extremely humbled to be considered in the company of these guys. Just to be considered is humbling and an honor," O'Connor said. "The way our team played into the tournament had a lot to do with it but I'm extremely honored to receive the award.
"When peers pick you for something like this, it's an extremely big honor. It also means that your team performed well because without that, we're not even discussing this. So the whole program gets credit."
O'Connor's program went 253-106-36 under his tutelage, including the 19-8-3 mark posted by this season's Cadets.
Marmion's 2-3-1 start to the season might not have hinted at a state trophy and a coaching award in 2011. Marmion was 2-0-1 when it went into this year's Barrington tournament to square off with a stable of top-flight 3A teams. All O'Connor's boys had to do was play defending 3A state champion Rockford Boylan, a Warren team that made it downstate this year, and an eventual sectional finalist in St. Charles North.
Marmion lost all three games, but O'Connor has always approached the Barrington tournament with an eye focused squarely on what his boys have gained from competing in the early-season tournament over the last eight years.
"The fact that (Barrington coach) Scott Steib invited us to that tournament was a feather in the cap of our program," O'Connor said. "Sometimes we've been shaky, sometimes we've competed, but it has always helped us.
"This year at Barrington, we learned that we had to play firm mentally. We had skilled players that knew how to compete but our younger players had to learn how to do that. We learned that we weren't as good as we thought we were and that we had to toughen up."
Competing against a pool of top 3A teams at Barrington each year also played right into the narrative that O'Connor has preached for 17 seasons.
"Even when I was a player in high school and college, I never took shortcuts so that was part of my coaching philosophy," O'Connor said. "No shortcuts in practices, games, or warm-ups. I've always set high standards for my teams and made them as challenging as possible because if you want to be a top team you have to play the best teams available. You have to get a sense of their level of competition so you can emulate it."
A 1-1 tie with New Trier to end Barrington tournament play was a turning point and Marmion gained more toughness at this year's St. Charles East tournament, going 2-1-1 and reaching the tournament's title game.
It was during that tournament that O'Connor's blunt honesty to his team was on display, after the Cadets played up a man against Plainfield South and held a 1-0 lead before a late South goal forced a tie.
"What team was out there for the last fifteen minutes?" O'Connor said afterwards. "I didn't recognize the team that was out there… it was a disastrous result."
A philosophy of shooting straight with his players, without sugar-coating things, has served the program well.
"I tell my players from day one as freshmen that I'll be brutally honest with them," O'Connor said. "They'll know when they played great, mediocre, and when they don't play well, they'll hear it. I've tried to be realistic, honest, and demanding.
"When we have our parent meeting every year, I tell the parents exactly what I tell our players, that I'll be honest with them and their kids. You can be tough and demanding as long as you're fair. There's mutual respect between players and coaches that can be reached when you treat each other fairly."
Marmion took a 10-4-3 record into its annual dogfight with Suburban Christian Conference rival Wheaton Academy. The Cadets lost in a shootout but took another step forward.
"I think that game really taught us how well we could play," O'Connor said. "We lost the game but I really thought we got the best of Wheaton Academy in that game."
Wheaton Academy coach Jeff Brooke has enjoyed the heated battle his program has played against O'Connor's boys in recent years. But that's not the main thing Brooke appreciates.
"He's a mentor and a father figure to the kids in his program and I really admire that approach to coaching," Brooke said. "He has chosen to impact the community, not just the game and his school. He's one of those people that I look up to. It's great to compete in an area that's so full of quality coaches, but even among those quality coaches he has stood out as being devoted to the development of the game and of the players."
After the loss to Wheaton Academy, Marmion went 9-1 in its next 10 games, capped by a 2-1 overtime win over Lakes in a supersectional game that earned the program its first trip downstate.
Losses to Chatham and Peoria Notre Dame ended Marmion's state-title hopes but didn't dampen the exhilaration of O'Connor's final ride. O'Connor received a note from one of his sophomore players to cap the season off for him perfectly.
The note said: "You always said your mission in life was to influence young lives in a positive way. Consider that mission accomplished."
"The first thing you think of Cadet soccer is coach O'Connor. He is the program," Marmion senior Alex Ruble said. "His coaching has expanded my game and given me a lot more confidence in my ability to play a higher level."

"Coach started the program and there's never been a losing record. That says so much," senior Mike Frasca said. "He's helped Maley and me with the college process and has driven me to be the best I can. It's a loss not just for Marmion, but the entire area."
Long-time Lake Park coach Norm Hillner has watched O'Connor work for 17 seasons, and he's happy to see the veteran coach win this year's coaching award.

"He will not be out-worked whether it's in the regular season or off-season and Kevin will do everything within his abilities to have his players prepared and motivated every game," Hillner said. "He's very deserving of the honor.
"One of the most unique and special things about Kevin is that he will always find the time to send a note, an e-mail or make a phone call to congratulate you on a big win or console you after a tough loss. I'm honored to have him as a coaching colleague and more importantly as a friend over the past seventeen years."
A man of faith, O'Connor considers himself a servant and doesn't intend to stop serving others in various ways any time soon. But for starters, he intends to enjoy some well-deserved time with his wife, Mart; both are retiring from teaching after this school year.
"Now that our teaching careers are done I'm looking forward to spending more time together," O'Connor said. "She's my best friend and she has been so supportive. When we hoisted that fourth-place trophy I made sure we had a photo of her and I with it because she helped us earn it."