Redhawks end fine season with a 2nd-place finish in state


CLICK TO SEE STATE SEMIFINAL STORY
CLICK TO SEE SUPER-SECTIONAL STORY
CLICK HERE FOR NAPERVILLE CENTRAL'S TEAM PAGE
By Gary Larsen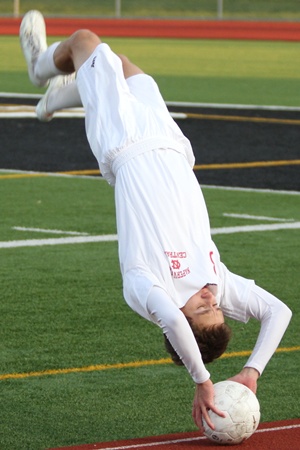 It's not often that you see a team lose three of its final four regular-season games and then burn a path to a state title game.
So while Naperville Central may have lost 1-0 in overtime to Morton in this year's Class 3A final, the Redhawks' meteoric run to get there showed coach Troy Adams exactly what his boys were made of this year.
"We had twenty-two guys and every single one of them contributed to this team and making it what it was," Adams said. "Maybe they didn't all show up on a stat sheet, or get their name in a starting lineup, but they showed up where nobody saw us – at practice, at pasta parties, and things like that.
"Not for the next couple days, but eventually I think the boys will look back and realize what they did accomplish. I've been telling them all year they hadn't accomplished anything yet, and that was kind of our saying because I couldn't let them know what they had accomplished. But they've accomplished a ton."
Moments after Morton's Joel Salmeron buried a state title-winning goal against them on Saturday, the Redhawks were understandably emotionally destroyed. But as they Redhawks gathered their things from the bench and slowly walked off a soccer field for the final time this year, senior Mike Plant paused to offer a few words.
"I think we proved something," he said. "We weren't even on any list of teams to watch before the season started, so I think now they'll finally take us for the team we are. I think we proved ourselves."
For most of the year, Central stood in the long shadow of top-ranked Naperville North, which went unbeaten until Central knocked North off in a sectional title game. A supersectional win over Quincy followed, and then a shootout win over Fremd in a state semifinal game.
The postseason began for Central with a 5-0 win over Plainfield South, setting up a 2-0 regional title win over DVC rival Wheaton Warrenville South. Jack Patrick flicked a ball into net off an Adam Hamielec throw in early in the second half of that game, and Blake Beehler followed up an initial shot taken by Pat Flynn to ice the game down the stretch.
The 2-0 win 12th shutout of the season for a team that finished with 14 shutouts and only gave up 16 goals in 24 games in 2011.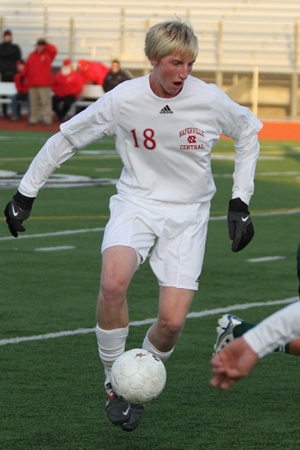 Up next was a sectional semifinal against Batavia, a team ranked among the state's best all season.

Batavia led 2-1 when Pat Flynn scored for Central to tie the game, and Flynn won the game on a goal scored with 57 seconds left in regulation, set up by a Beehler flip throw. Jack Patrick had a goal and an assist in the win.
The junior Flynn led Central in scoring this year with 14 goals and 6 assists.
The win over Batavia set up a rematch with rival Naperville North in a sectional final; the Huskies won 2-0 over the Redhawks in their DVC meeting on Oct. 4.
"We wanted to show what we had. We thought we were a better team than we showed against North the first time we played them," Plant said.
Beehler continued to have postseason impact in the scoring column, scoring the game's lone goal in a 1-0 win that handed North its only loss of the season. It was the senior's third goal of the season, with all coming in the postseason.
"The second half we came out strong and we really wanted to beat these guys because the entire season they've been the ones to beat in our conference," Beehler said afterwards. "We lost in conference and we really wanted to make this game count because this is where it matters."
The Redhawks had one more hurdle to clear in order to advance downstate, and a 2-0 win over Quincy got them there. Central controlled play throughout, getting goals from Greg Burdett on a Flynn assist, and Jay Tegge on a Sean Stevens cross.
The win marked Central's 14th and final shutout of the season for junior goalkeeper Mike Pavliga and defenders Plant, Stevens, Adam Hamielec, and Kevin Linne. The win sent the Redhawks to the state finals for the first time since 1988.
"We know that we're not the most talented team since others have more All-State players," Hamielec said afterwards. "But I believe that we have a lot more team chemistry and heart and we work better together.
"This is huge for us since no one expected anything coming into the season, so it feels fantastic. Our quality is head and heart. We'll play smart and also play 100 percent toward everything."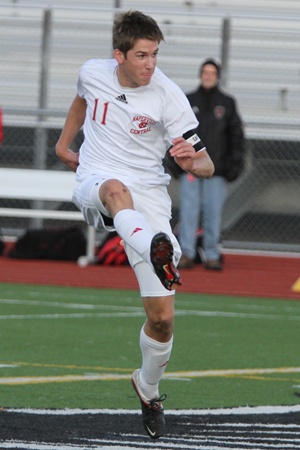 Adams' side won a shootout in their state semifinal match against Fremd, after a barnburner through regulation and four overtimes ended in a 3-3 tie. Hamielec, Conner Allen, and Tegge scored for Central, and Pavliga stopped three Fremd PKs in the shootout to secure the win.

Pavliga dove left, right, and then right again in turning away Fremd, while Tegge, Hamielec, and Mike West converted their shootout attempts for Central.

"After I stopped the second one and we made the second one, I had full confidence," Pavliga said. "I was going to stick with my guess and I knew if I made a few more saves we'd win, even if we missed a shot or two. I just did everything I could to stop those shots."
After Morton (24-3-1) won a shootout over Warren in the day's other state semifinal, the stage was set for a title game between Central (19-5) and the Mustangs.
The teams slugged it out up and down the field for 80 minutes of a scoreless draw, with scoring chances created both ways. Salmeron scored early in the first overtime to give Morton the state crown.
"They were very good. Props to them," Plant said. "Their forwards were unbelievable and (Salmeron) is a great player. I knew he'd be dangerous but props to their whole team."
Adams was proud of the way his side played throughout the contest.
"When you get two very good teams on the field you're going to both have chances," Adams said. "And in a game like this, unfortunately, somebody is going to finish on the last chance. We had some opportunities and just couldn't seem to put them away, and when you get opportunities and you don't finish them it always seems to come back and bite you in the butt.
"There's not an ounce of me that regrets the way we played, or an ounce of me that's not as proud as can be, not just about how hard we played but they way we played. We didn't let any of the things on the field get to us and played through it. There has been adversity all year and these guys always managed to come back from it."
That adversity occurred when Central took its 12-1 team in against Naperville North in early October. The Redhawks lost 2-0, and then lost to Benet and West Chicago in two of their final three regular-season games.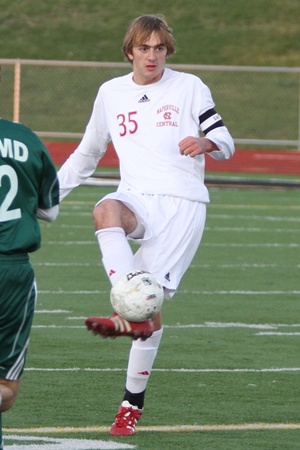 So they went back to the drawing board.
"We literally reset the season," Adams said. "We did exactly what we'd done during the first three days of the preseason. We ran two miles, ran a mile, had a fitness day on Saturday, and got back in the mindset that it was a new season."
The Redhawks bought into the notion that a "second" season meant a chance to right the ship.
"At the end of the (regular) season we got our butts kicked a little bit. We had a few losses that were really bad and I think we just got really pumped up to go into the state tournament and do as good as we can," Plant said.
"Props to our coach. At the end of the regular season, he worked us and he treated it like a new season. He told us we needed to take every game, one at time, and I think that helped us a lot."
Juniors Flynn, Pavliga, West, Patrick, Allen, Jack Burdett, Rahul Bhatia, and Corey Halford will return to next year's Redhawks, along with sophomores Tegge, Sam Reskala, Drake Swope, and Devon Amoo-Mensah.
Central loses 10 seniors to graduation from a team that gave the program its first trip downstate in 23 years. Central defender Plant was a coaches' All-state player this season, and he led the way with fellow tri-captains Hamielec and Stevens.
"How can I say something about the seniors? Do you have four or five hours?" Adams said. "All three senior captains led by doing. They led by example and by doing things the right way. They worked their tails off.
"Adam Hamielec did whatever was asked in order for the team to win. He Played every position this year. Sean Stevens was the best one-vee-one defender in the state. He shut down Batavia's, Naperville North's, Quincy's, Fremd's and Morton's best forwards.
"But we had contributions from spots that maybe we didn't see at the beginning of the year – Blake Beehler, Greg Burdett, Luke Burnett – and we saw Dylan Pauga and John Stumpf working their tails off, every day, and not getting the recognition they deserve. They were truly important to making this team a success. Kevin Linne is a three-sport athlete and he just keeps coming out to the soccer field. Ross Knezovich was our Red and White winner, always trying to help in some way to let the team have success and you could always hear him giving his teammates advice and encouragement, both on and off the field.
"There's not one senior that isn't going to leave a hole in the program that we won't have to find a way to fill. They are irreplaceable and we'll have to find somebody that can bring a new element to the team."