Salmeron scores in OT as Mustangs capture first state title
Morton edges Naperville Central 1-0 in Class 3A championship to complete 24-3-1 season

Photos courtesy of Bill Calvert

CLICK TO SEE STATE SEMIFINAL STORY
CLICK TO SEE SUPER-SECTIONAL STORY
CLICK HERE FOR MORTON'S TEAM PAGE
By Curt Herron
As the biggest moment in the history of Morton's program began to unfold, Mike Caruso was happy to see that Joel Salmeron was the player with the ball.
With a state championship on the line just over a minute into overtime play, the Mustang coach knew exactly what to expect from his senior standout.
And that was that Salmeron would connect for the biggest goal of his successful career, one which also would result in Morton's initial state title.
Sixty-six seconds after overtime had begun in Saturday's Class 3A finals against Naperville Central at Lincoln-Way North, Salmeron didn't disappoint.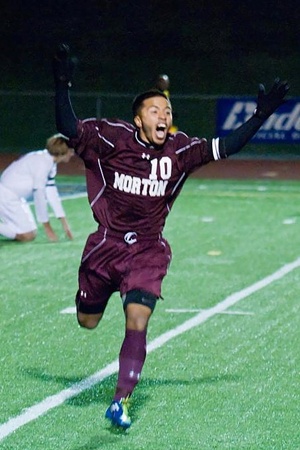 The senior, who had scored seven goals in an injury-plagued season where he watched from the bench much of the time, left no doubts on his last shot.
After getting a pass from Alonzo Torres, Salmeron fired an attempt past keeper Mike Pavliga for the lone score in Morton's 1-0 victory in Frankfort.
That capped a thrilling two days of Class 3A competition where very little separated the four semifinalists, with Fremd and Warren being the others.
Following Friday's historic semifinals, which were both decided on penalties, the Vikings edged the Blue Devils 2-1 in a shootout for third place.
And although the championship match didn't get to penalty kicks, it certainly didn't lack for drama as both squads pursued their first state titles.
Morton (24-3-1), which finished fourth under Caruso in 2006, was making its first title appearance since 1973, when it lost 1-0 to Chicago Harrison.
The championship was the first for the Berwyn and Cicero schools in a sport since 1986 (softball) and the initial one for boys since 1970 (baseball).
Troy Adams' Redhawks (19-5) settled for the second place trophy, equaling the finish that the school had in its only other state appearance in 1988.
"You couldn't write a better script than to have Joel score the winning goal," Caruso said. "He was a fitting guy after the season he had and his four-year career. It couldn't have happened to a better kid or better family.
"He's on to bigger and better things in college but he'll never forget this moment. Joel took the lead in the huddle and said 'let's finish it now and don't let it go to PKs.' You knew he wasn't going to miss, he buried it.
"Our community feeds off of stuff like this. It's a close-knit community and soccer is the biggest sport. Other sports may be more popular other areas but in our community soccer is it, so I'm happy to give them this title.
"This says a lot about the players that we had. We lost nine starters from last year and a lot of teams wouldn't have been in this position for a couple of years. I organized things and they took it from there on the field.
"Any one of the four teams in Class 3A could have won it. We had our bumps throughout the season and had to battle to get here, but we knew that we could put it together at the end, and that's what we were able to do here."
After both squads had played 120 minutes before resolving things on penalties the previous night, it looked like they might be headed for an encore.
Although that had been the trend in the ultra-competitive 3A matches, the final contest ended before any such thoughts of a shootout became serious.
On the first good opportunity of extra play, Torres found Salmeron and the Mustang senior promptly closed things out to start the Morton celebration.
"I knew that we were not going to have a lot of chances so I would have to take advantage," Salmeron said. "Luckily I did and we were able to get the win at the end.
"I got through my injury and worked off the field and on it in order to come back. Our two forwards were great finishers so I just had to do my role in the midfield.
"The last few games were all about battling. We knew that we had the skill but we just had to have heart out there. I think we definitely showed that with this win.
"This was so much more than just a game, it was for the whole community and our schools and for the fans. It was just a great feeling to win the state championship.
"It was amazing to see the great fan support from all three schools. It was the most that I've seen in my life, actually. It was a great atmosphere to to play in.
"It was surprising that Morton hadn't won a state title in soccer or it hadn't won any tournament in 25 years. So for the soccer program to do that is fantastic."
There was certainly enough drama to suggest that things could end within the 80 minutes of regulation, but both defenses and keepers extended play.
Things went back-and-forth during the final half, with both the Mustangs and Redhawks providing the big crowd in Frankfort with plenty of thrills.
Shortly after the break, Abdon Delgado had a free kick punched away by Pavliga, who hauled in a shot from Brian Tapia a little while after that.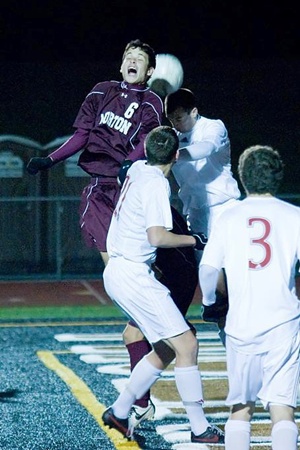 In between those attempts, Mustang keeper Miguel Chacon grabbed a long free kick from Mike Plant on Central's first good threat of the new half.
Following the midpoint of the second half, Chacon deflected a free kick by Pat Flynn and a Morton defender cleared the subsequent rebound try.
That led to a corner kick from Sam Reskala which wound up as merely a close call after a short attempt from Flynn went a bit wide of the mark.
Morton turned up the pressure as a throw-in from Danny Vargas went to Delgado, whose header was deflected away, resulting in a corner kick.
A bit later, Torres lined an attempt to Pavliga and then Jesus Morales sent in a corner kick that was punched away by the Redhawk keeper.
Central responded with a header from Conner Allen that was hauled in and then got a free kick from Flynn that was punched away by Chacon.
In the final two minutes of regulation, Marcos Romo had a liner deflected away and then Morales saw Pavliga punch away his corner kick.
"We worked so hard for this and finally got it, the first title in school history," Vargas said. "I can't wait to back to school on Monday.
"This is really emotional for everyone. Most of us have played since we were five years old. For us to win a state title together is great.
"Hats off to Naperville Central, they're a great team. We knew that whoever scored the first goal would win and that's how things ended up.
"We had so many people come out over the last two days and the support was great. We love our community and they've been great all along.
"Soccer is a tradition at our school and in our community so it was about time that we did something for them by giving something back."
There was much less drama during the opening 40 minutes, which began when Vargas was denied on a liner shortly after the opening whistle.
Central's best early chance came about 10 minutes in when Sean Stevens hit to crossbar and Flynn had a free kick deflected away a bit later.
Around the midway mark of the half, Salmeron was stopped by Pavliga, who then grabbed a short try by Morales and a free kick from Delgado.
"This feels great," Romo said. "I thought we were going to win since I have confidence in my teammates and in Joel, who's a great guy.
"It was great to see all of the support and win or lose, they were there for us. That motivated us and we gave our best and worked hard.
"We were prepared for this weekend and knew we just had to give it our all. We were a little nervous and excited, but now we're champs."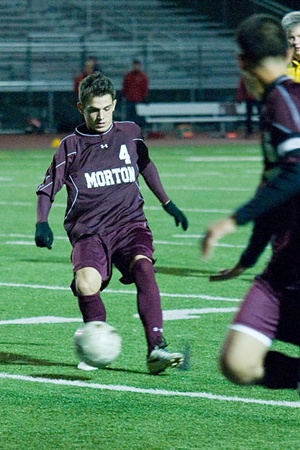 The shutout was the 13th of the season for Morton, which wound up winning its last nine matches and went 12-0-1 to close out the campaign.
While the Mustangs will lose 13 individuals to graduation, nine players return from the championship team, many of whom played key roles.
That gives returnees such as Joel Leon optimism that Morton will again be a force to be reckoned with once the 2012 season gets underway.
"This is a good feeling knowing that we haven't won state before and we did it this year," Leon said. "We gave it all and things worked out.
"Our fans are great and over 1500 students came here yesterday. I appreciate all of the fans and that support helped us a lot this weekend.
"It was an intense game and they had a couple of good chances and so did we. Whoever wanted it more was going to win and we wanted it more.
"This is big for our schools. And I believe that we can do it again next year. We're going to have new people coming in who should be good."