Cadets end best-ever season with fourth place finish in 2A
O'Connor completes stint as Marmion coach following loss in PKs to Peoria Notre Dame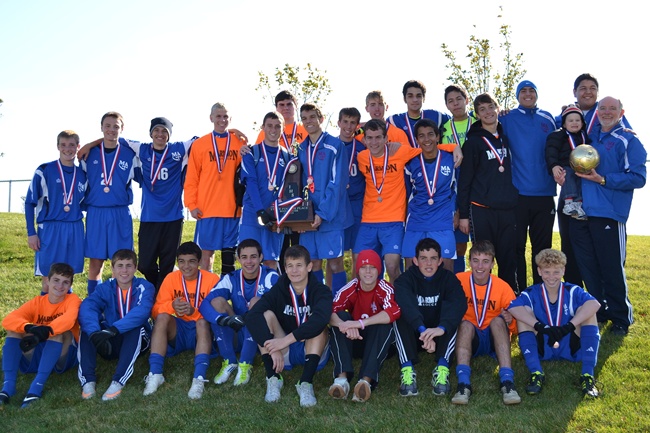 CLICK TO SEE STATE SEMIFINAL STORY
CLICK TO SEE SUPER-SECTIONAL STORY
CLICK HERE FOR MARMION'S TEAM PAGE
By Curt Herron
Saturday marked a very special day for Marmion Academy's program for several different reasons.
First of all, it capped a season where the school turned in its best-ever finish in the sport, fourth place.
It also was just the third time that the Cadets finished in the top four in any team sport in a state tournament.
In addition, it was the final contest for seven seniors, many of whom were key contributors in the past few years.
And finally, it marked the last match coached by Kevin O'Connor, who led the program since he started it in 1994.
So while Marmion went 0-2 at the Class 2A finals at Lincoln-Way North in Frankfort, there was no real disappointment.
After all, there were too many positives to celebrate as Marmion put the final touches on a memorable 19-8-3 season.
Following a 2-1 semifinal loss to Glenwood on Friday, the Cadets could be excused for having a lackluster Saturday.
Instead, Marmion more than held its own against perennial Class 2A power Peoria Notre Dame in the third place match.
The Cadets and Irish went through 80 scoreless minutes before the Peorians won 1-0 following a 4-2 edge in penalties.
Coach Mike Bare's Irish (21-6) have won two championships and finished second and third during the past four years.
As players and fans posed with the fourth place trophy, it was clear that it was a fitting reward for all involved.
"Today's game epitomized what every coach wants from their team, which is to play the game with all of the heart of a lion," O'Connor said. "And we played this game today with tremendous heart.
"Whatever trophy we brought home wasn't the most important thing about this game. All that I asked them to do to make me proud was to play with their hearts, and that's what all of them did.
"There's so many special players on this team and we kind of rode each others' coattails. I really think that it was fate more than anything else for us to get to the state finals this year."
Two years ago, the Cadets fell a win shy of a finals trip after losing a super-sectional heartbreaker to Freeport.
That helped push seniors Alex Ruble, Mike Frasca, Luke Elder, Mick Maley, Joe Romanos, Brad White and Rodrigo Fernandez to get their team to state this season.
"Quite frankly, the team from two years ago was stronger and more complete than this one," O'Connor said. "But this is the team that accomplished it and Marmion will forever remember them.
"The standard was set many years ago by the guys who started the program in 1994 and played in the first varsity season in 1996. And every year after that, the standard just kept increasing.
"This is the team that obviously has raised the bar for this program. And my hope is that the future years for Marmion are better than the past. If that's so, it will be music to my ears."
In regulation play, Notre Dame had an 11-6 advantage in shots on goal with four-year keeper White making 11 saves.
He stopped the first PK try but Irish keeper Mitchell Auer did the same, leaving both squads with four more shots.
Notre Dame got goals from Johnny Frampton and Alex Garcia while Marmion could only answer with a score by Frasca.
While the Cadets also got a goal from Eddie Graham, the Irish ended it when Ben Fiddes and Brad Lazzari connected.
"It definitely felt good to be here, especially after our sophomore year," White said. "Getting to this point was really a driving force for us for the past two years, so that's nice.
"We didn't get the results that we wanted here but our season was an accomplishment. While we might not see that today, we definitely did something that made history for our program.
"Definitely the best moment for me was stopping a PK in the super-sectional game and then winning in overtime. It was a great to celebrate with our fans after the last goal was scored.
"One of the things that I'm most proud of in my life was being a part of Marmion soccer. And we had something that kids who come here later will miss out on, and that's coach O'Connor."
Maley, an all-stater and four-year staple for the Cadets, is proud of the legacy that this year's team will leave.
And despite the two tough losses at state, he believes that his team should be proud of what they accomplished.
"I'm proud of how our team played today since we really battled," Maley said. "It's unfortunate that it had to end in PKs since you never want to see that happen, but we played tough.
"I'm happy our program got somewhere we haven't been before. We really buckled down and peaked at the right time. I'm proud of the senior class for being one of the most successful here.
"We were part of the 2009 super-sectional team and now we got to state. Guys like Brad, Mike, Alex (Ruble) and Joe (Romanos) and myself couldn't ask for a better way to go out this season.
"We had so much fun and to finally be able to get coach here and to send him off with a year like this was special. We wanted to play for a state title, but we're still happy we got here.
"When you're up against the top four teams in the state, little details are going to determine where you place. Unfortunately we were on the short end, but I'm still proud of our guys.
"I'm happy about the four years that I put into this program. And playing for coach for four years has really been a life-changing experience. He's like a father and means a lot to me."
As for the veteran coach, being part of this moment meant so much as he ended his special association with Marmion.
"It's all about that wonderful school and the people who are there," O'Connor said. "It's about what Marmion stands for. We've tried to represent Christ through them as best as we could.
"I always considered myself to be the luckiest guy in the world to have such a wonderful family and a job that I loved as a teacher and coach. I feel blessed to have had this opportunity.
"To be able to put all of that together at a setting like Marmion and to be able to instill values in the young men I was blessed to coach, that's the greatest satisfaction in the world."