Vikings take third in state with shootout win over Warren



CLICK TO SEE STATE SEMIFINAL STORY
CLICK TO SEE SUPER-SECTIONAL STORY
CLICK HERE FOR FREMD'S TEAM PAGE
By Gary Larsen
The strength of Fremd's soccer program might never be illuminated better than it was in the 2011 season.
One year after graduating 13 seniors from a roster of 20 players, all the Vikings did was make a crazy run through the postseason that culminated in the capture of a third-place trophy at the Class 3A state finals.
"I wouldn't have thought this would happen in a million years," Fremd coach Steve Keller said. "But they grew. That's the biggest thing. I knew the ability was in there and we talked going into the playoffs about how we'd have to play a defensive-minded game.
"We did that and got a big (sectional) win against Libertyville, but then we scored eight or nine goals as well. Everything we shot went in. We were very opportunistic and created a lot of chances. We were playing defensively, keeping guys behind the ball, but we almost generated more offense playing that way."
That's the tactical explanation behind a postseason run that also saw Fremd gain vengeance in a sectional title game, when the Vikings won 4-0 over previously unbeaten MSL Cup champion Prospect.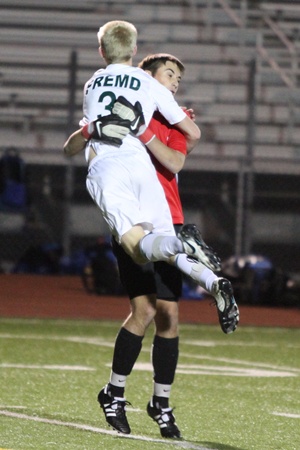 That win reversed an early-season, 4-0 loss that Fremd suffered against Prospect.
"Losing all those seniors from last year, it took us some time to gel," Fremd senior Brian Hindle said. "Once we got that gelling process over, we got some confidence going into the playoffs. After the win over Libertyville, that did it for us. We just came together."
The Vikings dispatched New Trier 5-1 in a supersectional contest. Goalkeeper Colton Caesius and his back line of Matt Briars, Eric Scott, and Nate Hellwarth only gave up three goals in the five postseason games that got the team downstate.
Fremd lost in a shootout against Naperville Central (19-5) in a state semifinal game but capped a 17-6-2 season with a shootout win on Saturday over Warren (22-5-3) in the third-place game.
After Caesius stopped a kick in the sudden-death round of the shootout, junior Jon Magnusson secured a third-place finish by converting his PK attempt.
After a regular-season spent gelling, as Keller tinkered to find his best lineup and formation, Magnusson saw his side pick up steam when it rolled into the postseason.
"We came off a couple of bad games coming into the playoffs but in the first regional game, we clicked, and we rode that first game all the way here," Magnusson said.
Fremd won 1-0 over Wheeling in a regional opener before topping Lake Forest 2-1 in winning a regional title, the 10th regional title in program history. A 9th sectional title followed and Fremd's win over New Trier gave the program its 7th supersectional crown.
Once downstate, Fremd locked horns with Naperville Central in a state semifinal game that provided fans with arguably the most exciting and dramatic span of soccer, a six-minute period in the second half that saw four goals be put on the board.
After regulation and four overtimes couldn't solve a 3-3 tie, Naperville Central won a shootout to advance to the state title game and a runner-up finish to state champions Morton.
A sluggish first half opened the consolation game between Fremd and Warren.
"It's a tough game to come back and play, especially after the emotional game we had to play last night," Keller said. "But we talked about how it would be a different game, more of a finesse game, and they wanted to go out winning instead of losing."
Fremd trailed 1-0 with time winding down against Warren when Hindle lined up a free kick outside the box and tied the game. His shot flew around a wall of defenders and bent into the side netting inside the post, getting past an all-state goalkeeper in Warren's Brady Walsh.
"I know Brady and I know he's a fantastic keeper, so I knew I had to put it in the corner," Hindle said. "I bent it around the wall and it ended up going in."
The game went straight to a shootout per IHSA rules for the consolation game. Caesius and Walsh each stopped a shot in the first round of penalty kicks to send the shootout to sudden death.
Caesius stopped the third Warren kick attempted, and Magnusson buried his shot to spark Fremd's on-field celebration.
"It's nerve-wracking but it's fun," Magnusson said of shootouts. "I wanted to make (Walsh) go completely the wrong way so I swung my hips to make it seem like I was going left, and then I went right."
By stopping a PK attempt on the final play of his Fremd career, senior keeper Caesius capped a fine season in high style.
"We wouldn't be here if it weren't for Colton. He had a tremendous state series," Keller said. "He made some huge saves yesterday. He's an all-around goalie, he can play with his feet, he's good in the air and he can make some brilliant reaction saves."
In five trips downstate under Keller since 1998, the Vikings have placed third twice and fourth twice.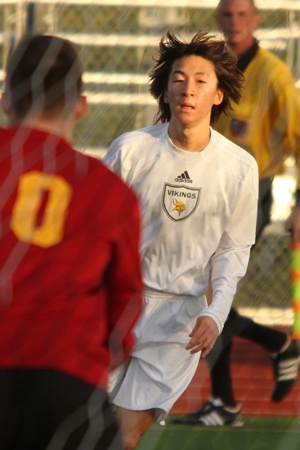 "I played for him for all four years and he's a fantastic coach," Hindle said. "He's my leader and he's who I look up to. He deserves this. He's extremely demanding but it brings out the best in you, that's for sure. It's his attitude. You can tell that he cares about you, and he won't give up on you."
One of nine departing seniors, Hindle netted three goals downstate to finish his senior year with 8 goals and 19 assists, and scored and assisted in games throughout the postseason.
"Brian Hindle kind of took the team over and put them on his back," Keller said. "He's a very good leader and a very positive leader. He's very encouraging to the guys. He's our leader and he made sure guys were doing what they were supposed to be doing."
Senior forward Yusuke Kanada also started his final game in green, after leading the team in scoring with 10 goals this year.
"Yusuke puts fear in people's eyes. He's fast and he can go at people," Keller said. "He creates a lot of havoc, every time the ball comes to his feet, and that opens things up for other people."
Seniors Brad Davis, Takuzo Kimura, Tim Lehigh, Jared Niec, Adam Bielinski, and Eric Rohan will also depart the program, but Fremd had young players all over the field for most of the season, ready to return for another strong season in 2012.
"We gained experience," Magnusson said. "We'll work hard and hopefully we can make it back here next year."
Also returning to the fold will be sophomore midfielder Eric Leonard, who had 9 goals and 7 assists this season.
"He's very good and he's been playing dinged up for probably the last month," Keller said of Leonard. "But he has impact even dinged up. He's also vocal out there and he keeps things sorted out for us."
Juniors Briars, Scott, and Hellwarth will be back next season, along with juniors Michael Eschbach, Ryota Wada, Spencer Janes, Jeremy Kosacz, Lucas Cholewa, and Nick Tambellini. Returning junior goalkeeper Steven Soltykiewicz saw action in 16 games this year, and sophomore Brock VonHolt will also return with a year of varsity experience under his belt.