Blackhawks can't capitalize in first half against Minooka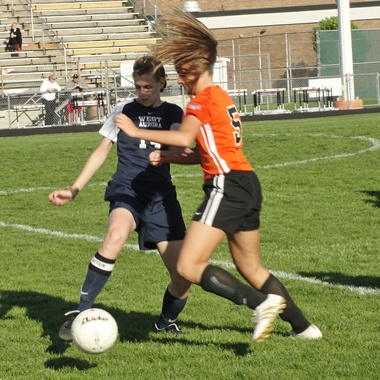 By Curt Herron
When you have a strong wind at your back and get some good scoring chances, you'd better take advantage.
That's what unfolded for West Aurora on Tuesday when it met up with Minooka for a nonconference match.
While the Blackhawks had good opportunities during the opening half, they came up empty against the Indians.
Meanwhile, Minooka scored a goal in the fifth minute to help it claim an early 1-0 advantage over West.
With the wind advantage in the second half, the Indians scored two more goals to claim a 3-0 win in Minooka.
It was another frustrating defeat for the Blackhawks (3-15-2), who have now dropped nine straight matches.
Minooka (9-1-2) kicked off its senior night in good fashion when it scored into the wind in the early going.
Despite that, the Blackhawks competed well during the rest of the first half and only trailed 1-0 at the break.
It remained that way for nearly 11 minutes of the second half before the hosts grabbed a 2-0 advantage.
Then Minooka broke things open with another score just under six minutes later and West couldn't recover.
McKenna Smith put the hosts in front about five minutes into the match, following an assist from Becca Sutton.
The Blackhawks got their first shot about 12 minutes in when Jessica Saffell lined an attempt that was stopped.
A short time later, the Indians threatened with a free kick but the ball was cleared away by Priscilla Diaz.
Saffell had a pair of free kicks from about 25 yards out but both ended up sailing over the top of the net.
A key moment in the match happened with about 12 minutes left before the break following a controversial call.
Saffell appeared to be onside following a pass which figured to allow her to go on a breakaway toward the net.
But the official ruled that the Blackhawk forward was offside, which raised some questioning from West's bench.
The Blackhawks got a yellow card and then coach Laura Wagley was hit with a surprising red card moments later.
With their head coach making an early exit, assistant coach Ed Navarro led the Blackhawks the rest of the way.
West had two other good chances during the final eight minutes of the first half, but couldn't capitalize.
Daniela Bueno sent a grounder to keeper Sam Gewalt and about five minutes later, Brissa Renovato did the same.
So although West had more shots on goal during the opening half than did the hosts, Minooka owned a 1-0 lead.
Click to hear coach Ed Navarro interview
Minooka went to work with the wind at its back during the second half while West only managed one shot on goal.
Blackhawks keeper Brianna Burkett came up with several big stops or the hosts would have had a few more scores.
With about 29 minutes left, Sutton got past defenders and scored from close range to give her team a 2-0 lead.
Sutton nearly scored again a few minutes later but Burkett made a diving deflection to set up a corner kick.
On that play, Haley Hetfleisch sent a ball to Alysha Alonzo, who connected with just over 23 minutes remaining.
Sutton and Alonzo each had good shot tries over the next few minutes but Burkett came up with a pair of saves.
West had its only second-half shot on goal with just over 15 minutes to go when Bueno sent a bouncer to Gewalt.
Neither squad threatened again after that as Minooka seemed to be content with running out the remaining time.
The Blackhawks play host to Glenbard East on Thursday at 6:30 p.m. in a DuPage Valley Conference match.
CLICK TO SEE BLACKHAWKS' TEAM PAGE