West Aurora's improvement on display vs. Kaneland

By Gary Larsen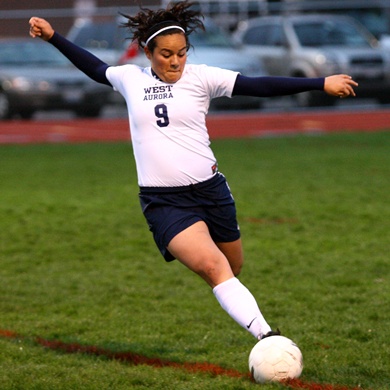 It was punch and counterpunch throughout Thursday's game between host West Aurora and visiting Kaneland, and while the visitors got in the final punch in a 3-2 win, the Blackhawks are improving every time out.
"From where we started to now we've had a lot of improvement," West Aurora senior Priscilla Diaz said. "We were frustrated at the beginning of the year but we're getting better. We have a lot of team bonding and we're getting closer every week."
Goals by Jessica Saffell and Chloe Torres gave the Blackhawks their first two-goal game this season, and when Saffell's free kick blast from 30 yards out cut a path under the crossbar in the 8th minute, West Aurora had something it hadn't previously enjoyed this season.
"That was our first lead this year," Saffell said. "I was so happy it went in."
Kaneland tied the game three minutes later, but West Aurora grabbed a 2-1 lead a mere minute later when Saffell put another long-range shot on net. Kaneland's keeper got a hand on it and deflected to the far post, where Torres crashed net and buried it.
Saffell's thundering right leg will figure prominently in the final third all season.
"If she can get a shot in front of the goal, she's taking it," Blackhawks coach Laura Wagley said. "She kicks harder than half my college team did. She has a lot of power. If we have a free kick anywhere, she's shooting it."
"Coach Wags is always telling me to take shots, so I take them from far distance," Saffell said. "Chloe did what she needed to do. She followed it and did what she needed to do."
West's 2-1 lead didn't survive to halftime, when Kaneland's Emily Heimerdinger popped a ball into net in the 29th minute. "Unlucky," Wagley said. "Our keeper had a bad punt and then (Heimerdinger) recognized we were out of position and sent it right over her head."
The tie held until Kaneland converted a penalty kick in the 60th minute, and the 3-2 lead held up to the final buzzer.
Afterwards, Wagley applauded the play of Daniela Bueno in the middle, along with the job Felicia Dattolo did in marking up Heimerdinger throughout the game.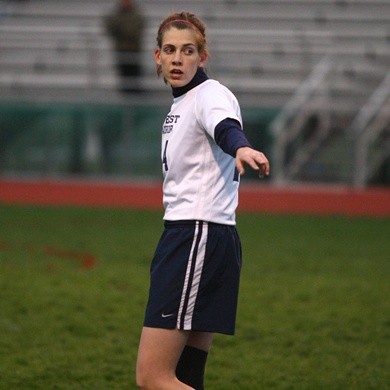 Another key figure going forward for the Blackhawks will be Diaz, who recently moved from stopper to sweeper and has a presence in back that's undeniable. The senior was all over the defensive third on Thursday.
"She talks a lot more and she can direct traffic," Wagley said. "The girls listen to her back there. That's where we need her."
"I don't have a problem with it. Whatever (Wagley) wants me to do, I'll do it," Diaz said. "Sweeper is easier. I don't have a mark and I don't have to stay with her. Whatever ball comes, I'm going to get it."
"I love playing sweeper. I feel comfortable there."
Wednesday's game was part of the West Aurora Invite, which also includes Rochelle, Streamwood, Plainfield East. The Blackhawks host Streamwood Monday at 4:30, Plainfield East on Tuesday at 4:30 and finish up tournament play on Friday at 4:30 against Rochelle.