Rivera's home in back suits her just fine
By Gary Larsen

CLICK HERE FOR EAGLES' TEAM PAGE
Nothing excites a crowd or a team like a goal scored, but if you think the only glory in soccer appears in a box score then you're sadly mistaken.

"I like being able to stop a girl, right there, and then I get the ball. And whether anyone sees it or not, I know that I stuck her and she's there, but I have the ball now. She's not getting around me. I know she wants to get around me but I'm not going to let her. It's nerve-wracking when you're the last girl and all eyes are on you if you let her get by, but then you make that tackle, and you do it again, and pretty soon you love it. You love hitting that girl or taking her down the sideline of the field, or cutting somebody off, or making that one slide, or head a ball away from the goal. That's what it's about if you're a defender."

Jacobs junior sweeper Margaret Rivera relishes the chance to lace up her cleats and put on her hardhat for another day's work, and her teammates are happy she does.

"She is our backbone. She's everything for our team," Jacobs senior defender Molly Leopold said.

"She's our rock in back. She's everything," senior mid Cassidy Sherman said. "She keeps us in games and we're very confident with her back there. She doesn't get beat easily, she can play it big, and she's our rock back there."

Margaret Rivera was once that seven-year-old kid who, after losing to her mother in a board game, would stomp off to her room and pout. "I don't pout anymore," Rivera said. "But I still hate losing."

The Golden Eagles finished 15-10-3, which means that 10 times this season – even though Rivera has outgrown pouting -- her parents have had to negotiate their way around one crabby teenager. She'll go to her room and stew for a while, come out of her room and vent to her family about her dissatisfaction with the way she played that day, or about the loss in general, and thus the healing begins.

"Nobody takes a loss harder than Margaret," Jacobs coach A.J. Cappello said. "After every game that we lose, she's visibly upset. Nobody takes it more personal. That's what makes a kid great. She doesn't want to lose anything, ever."

And if that loss comes at the hands of a Fox Valley Conference rival…

"Sometimes it takes me a night to get over a loss, but losing to Huntley and Cary-Grove this year took me four or five days to let it go," Rivera said. "And if I'm not happy with how I played, it's even worse. Then all you can do is take that frustration and put it into practice.

"But I think you have to marinate in a loss as much as you have to get over it."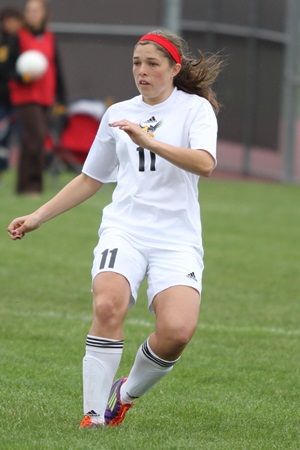 Rivera almost quit playing soccer prior to sixth grade, back when she was fighting for playing time on her club team, but she rededicated herself and stuck with it. Prior to high school she played center mid, forward, outside mid, and outside back but she was never quite able to truly shine on a soccer field.

She's shining now. Cappello introduced Rivera to the sweeper's position as a freshman and she never looked back. She's been the team's defensive safety valve since her rookie season, a place on the field that finally allowed her best qualities to take center stage.

"The first game I was nervous, in a spot I never played before, but it came very easy," Rivera said. "I could see the entire game and all I had to do was make that one big stop once in a while. Slowly my confidence started to build and I found out that I liked doing it."

The hard edge beneath Rivera's friendly, pleasant demeanor has carried her farther than anyone anticipated on that first day four years ago, when she showed up at Cappello's summer camp as a seventh-grader along with current teammates Catie Sherman and Kylie Dennison.

"They were these three little kids and I knew about Catie Sherman because of her older sister Cassidy and we knew Kylie through club, but no one really knew who Margaret was," Cappello said. "By the end of camp it was 'where did this kid come from?' She struck a ball in seventh grade harder than half the boys at camp."

Rivera has taken all free kicks and corner kicks for Jacobs since her freshman year. She was always able to put a charge into a ball.

"The key was my coach in seventh grade. We had a barefoot practice and he actually drew a very tiny black circle the size of a dime on the top of your foot and said 'if you hit it right here, it will not hurt'," Rivera said. "And hitting it right on that spot, right on that dime, controls everything."

A strong, accurate leg is a good start in soccer but to become something special you need more. Speed and smarts will help, a willingness to bring the thunder with you on tackles is always a good thing, and while foot skills are nice they don't mean much without the trait that Cappello most appreciates from Rivera.

"You can find kids who can dance on a ball, but kids that play as hard as she does are hard to come by," Cappello said. "One-on-one with a sore knee in practice, limping around, she's still going at kids as hard as she possibly can."

Rivera's left knee took a few knocks in back-to-back games earlier this season, a few bruises that made it tough to plant so that she could unleash that mighty right leg of hers. "It's fine now. It would hurt a little during warm-up but once the game started I didn't notice it," Rivera said.

Not that she would have said anything if the knee was bothering her. "She won't even talk to the trainer," Cappello said. "She wants nothing to do with coming out of a game. It's 'Marge, do you want to rest a little bit?' and the answer is always 'no'."

Part of her reluctance to exit a game can be traced to the time she spent coming off the bench playing youth soccer.

"I didn't start for the longest time at my old club, so now I don't like to give up any minutes out there," Rivera said. "Every minute I'm out there, I feel like I have to do everything I can to stay out on the field.

"Besides, even if I'm banged up, I have to be tough for my team because it's all about them. It's about everyone and everything that puts this team together, and it's my job to do everything as well as I can for the team."

This year's team at Jacobs won its first regional title since 2005 before losing to rival Huntley in a sectional semifinal on Tuesday. The Eagles lost on penalty kicks to the Red Raiders both times they played them this season.

"Last year we were the underdog. We were just kind of there. Everyone was talking about Huntley or Cary-Grove," Rivera said. "This year we had more of a target on our backs, and maybe that messed with our heads a little."

Rivera will be a senior next year and will go on to play soccer at a college yet to be determined. She's done her research, emailed college coaches, sent out a DVD, and is currently shopping herself around to college programs in her junior year.

"It's almost like you're annoying a coach with emails, telling him 'I can play for you. I know I can, and I'd love for you to come out and see a game'," Rivera said. "It's stressful but you have to just believe that everything will fall into place, whenever it happens. You can see other girls committing and it's easy to start panicking, and I recently went through that, but I had to realize that I have all summer and that I have time."

Any college coach that received one of Rivera's DVDs should know that there are intangibles that just don't come through on a DVD. Like the one Rivera showed on May 5.

In Jacobs' final regular-season game, near the end of an eventual 2-1 loss to Hononegah, she did something telling. Jacobs spent the entire second half on Hononegah's side of midfield, furiously searching for a tying goal. Cappello urged on the troops and got particularly vocal during the game's final 15 minutes.

"You've got nothing to lose! Push up! Keep working!"

Final conference standings and sectional seeds had long been decided, so a non-conference home game at the tail end of the season carried no real significance. In the waning minutes of a game that featured numerous players with weary legs on both sides, Jacobs sent a ball forward towards a corner.

It didn't appear as though any of Cappello's nearly spent players were going to run down yet another ball, late in an inconsequential game. Then, from ten yards behind the midfield stripe, Rivera suddenly got on her horse and took off after it, making a 50-yard diagonal run to the corner that revealed more than just her speed.

Heart can't be measured and you can't gauge how much someone despises losing. There's no barometer for how badly a player hates to let her teammates down. It's too bad that such devices don't exist, especially where someone like Rivera is concerned.

She made the run, got to the ball first, and earned a foul on the play, giving her side one more free kick and one more late chance to tie the game.

However college coaches ultimately judge Rivera's skill, size, and speed, if you could bottle up the fire inside her they'd line up a mile long to buy it.

"She won't quit," Cappello said. "She saw that nobody else was going after that ball. You can say it's a meaningless game but no game is meaningless, and it's not surprising at all that Margaret made that run. She's had another great year in back and nobody tries harder."