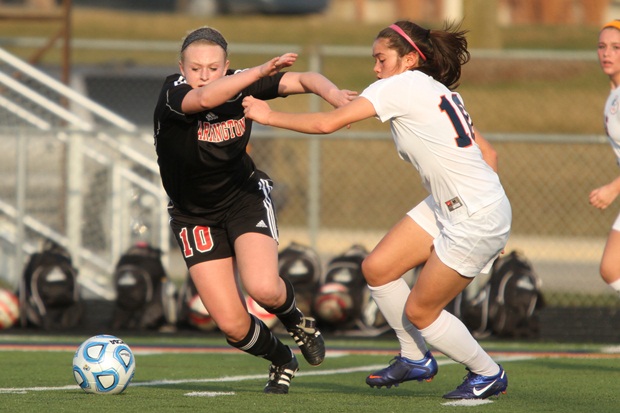 Pfeiffer keeps a smile on her face and a fire in her belly
By Gary Larsen
CLICK HERE FOR BARRINGTON'S TEAM PAGE
If your team is fixing to play Barrington and during your warm-up you notice a smile on the face of the Fillies' Molly Pfeiffer, don't be fooled.
The Barrington junior would like nothing more than to meet you at the scene of a clean, hard tackle and knock one of your cleats off your foot.
"She's always smiling and she's always been a sweet, fun person," Barrington's Aimee Pierce said. "But she's very competitive."
In fact, the favorite moments on the field for the smiling kid with the sweet demeanor have little to do with sweetness.
"I was just thinking about it. My favorite part of the game is winning a tackle or winning a head ball," Pfeiffer said. "If I'm playing poorly, if my touch is off, the one thing that will turn me around is winning a huge tackle or a huge head ball."

Molly Pfeiffer is a player. She won't dazzle you with speed but she's plenty fast enough, she has good skills and excellent field vision, she can put the ball where it needs to go, and she's a bear in the air.
Pfeiffer is a defensive mid for her club team, she has played as an outside back at the ODP level, and is now in her third season as a forward for Barrington coach Ryan Stengren.
The junior had 10 goals and five assists as a freshman, 14 goals and 6 assists last year, and through 11 games this year she has 12 goals and 7 assists.
"She's got a little bit of everything," Stengren said. "She can hit the ball well with her left or right foot. She's not a one-vee-one player – and I'm trying to get her to be more selfish in that area – but she's great with her back to goal, laying it off, turning."

"And what people don't understand is that she's got great vision and she can put the ball on a dime. But the obvious thing is just her ability to win balls at a high level."
With Boston University and Marquette among her final choices to play at the college level, Pfeiffer will take her lunchbucket approach to the next level and do whatever her head coach needs, just like she always has.
"I wouldn't necessarily define myself," Pfeiffer said. "I'm glad I'm capable of playing a few different positions because being on the field is what I want to do, no matter where it is."

Two years ago, Pfeiffer was a freshman sitting across from Stengren after varsity tryouts and learning whether she had made the cut. She just barely stayed composed when Stengren told her she was on the team.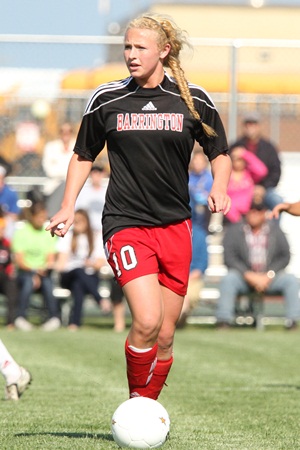 "I smiled and I think I even screamed a little. I definitely started to tear up," Pfeiffer said. "It was a great feeling. Coach (Scott) Steib was always pushing me, telling me I could do it, and everyone was so encouraging, but I honestly didn't know if I was going to make the team."

"She didn't say a word and her eyes started tearing," Stengren said. "She really had no idea. She thought she'd be on jayvee."
Little more than a month later Pfeiffer was named the MVP of the Pepsi Showdown in 2010, after netting four game-winning goals for a Fillies team that won the tournament. Heady stuff, but nothing the humble Pfeiffer allowed to stoke her ego.
"That never would have happened unless I was on the team that I was on. Those goals weren't just me," Pfeiffer said. "And the seniors that year made my experience. I still idolize Amy Johnson." Johnson was a senior all-state defender that season for Barrington.

Barrington went 17-7-1 last year and won a sectional title before losing 2-1 to Fremd in a Class 3A supersectional game. Seniors have always been set up as team leaders in Stengren's program, but the junior Pfeiffer still had to acclimate to a more pronounced role as an on-field leader to start this season.

"She leads by example and she works so hard," Pierce said. "It's evident when you watch her play that she's going to work as hard as she can. She's always going to give her maximum. After a win, it's like 'of course Molly scored. Of course she's the MVP of the game. Of course the reporters want to talk to her'. None of it is ever surprising."
Conant coach Jason Franco watched Pfeiffer put up a goal and two assists against his team on April 13, and her work rate stood out to him.

"She's the motor that drives that team," Franco said. "They're all good athletes and she's the kid with savvy, she can finish on a free kick, she's good in the air, and she's deceptive. She was non-stop against us."
Pfeiffer's play in Barrington's 3-0 win over Conant stands as a prime example of how driven she is. A week earlier she came down with flu-like symptoms and toughed out a 1-0 Barrington win over rival Fremd. The symptoms got worse leading into a week in which the Fillies faced Mid-Suburban League foes Hoffman Estates, Buffalo Grove, and then previously unbeaten Conant.
Stengren held Pfeiffer out of practice despite her objections, and she gutted it out in Fillies' wins over Hoffman Estates and previously unbeaten Buffalo Grove. "I felt really weak in those games," Pfeiffer said.
Nobody could know how Pfeiffer would feel heading into Friday's game against a Conant team then ranked second by the Chicago Sun-Times. She played nearly the entire game and Stengren called her "the best player on the field that day."
The humble junior quickly answers that claim by pointing to the stellar job Samantha Frank did in marking up Conant's all-state forward, Courtney Raetzman, and points to the key element that allowed a deep Barrington team to knock off the Cougars.
"We wanted to be the aggressor in that game, and that's what we did," Pfeiffer said. "We scored at 15 and 17 minutes and they weren't perfectly-placed shots. They came from running and never stopping running, and challenging.
"The first one came after I flicked it, Elli Ackerman never stops running, and beats the keeper. The second one was a Mia Calamari throw-in, I flicked it and Bridget never stopped running and got past a defender. Another great ball by Mia again, and the keeper hits off the goalpost and I'm there to tap in with a head."

What kept her playing at a high level despite being under the weather?
"Adrenaline," Pfeiffer said. "That 70th minute I was feeling pretty tired, but I stayed in at midfield to help win balls in the air."

There's a fearlessness required to be good in the air, and Pfeiffer has it. She thrives on competition and she loves to play hard. She's also a team player, and her ultimate goal has nothing to do with personal accolades. "I want to go a full game, at close to a hundred percent effort," Pfeiffer said. "It's just desire, drive, want; I might be the blonde, smiley girl at school but I just love to physically compete."

"Her work rate has gotten better each year," Stengren said. "She's a tireless worker and people feed off of her work rate. You might not see that total 'wow' moment that you'll get from a player like Courtney Raetzman, but you'll see Molly win a lot of balls and she does all of the little things we need her to do to make us successful."

Pfeiffer has had a unifying presence on a rock-solid Barrington that has a current record of 10-3 and its sights set on an MSL title and beyond. She's a humble kid with a perpetual smile and a raging fire in her belly for the sport she loves.
"The game has made me who I am," Pfeiffer said. "My best friends are from soccer, my values come from it, and it makes me appreciate everything I have. Running, adrenaline, the crowds, the ball in the back of the net – I love everything about soccer."