2012 ROSTER

Coach: Krzysztof Halupka

Anne DiCanio
So., GK
Anna Bell Lansdowne
Jr., GK
Catherine Kent
So., M
Samantha Hamilton
Jr., M
Abby Wilkins
Sr., D
Edith Flores
Jr., D/M
Sarah Morrissey
So., M/D
Courtney McHugh
Sr., M/F
Judith Flores
Jr., M
Christina Ordonez
Sr., F
Bryce Banuelos
Jr., M
Ellie Ordonez
Jr., F
Sarah Sasanelli
Sr., F/M
Angela Guerino
Jr., D
Annalisa Lappo
Fr., M
Nicole Foster
Sr., M/F
Rachel Ogdon
Jr., D
Jaime Kovatchis
Fr., D
Alyssa Kovatchis
Fr., F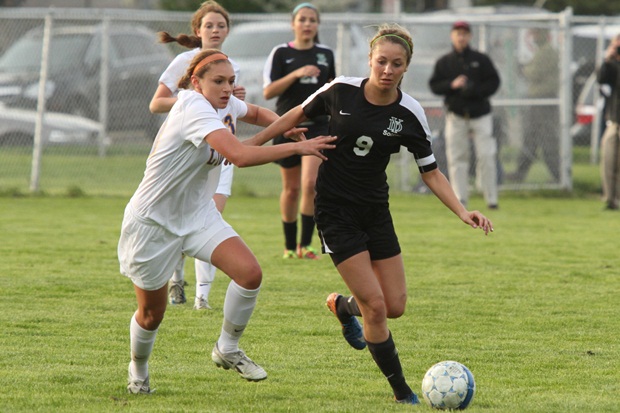 Ordonez playing her way into the record book
By Matt Le Cren

CLICK HERE FOR YORK'S TEAM PAGE
A goal per game.

That scoring rate is the Holy Grail for soccer players, one that only a handful from the Chicago area reach in any given season.

Christina Ordonez has averaged that for her career. The York senior has found the back of the net 101 times in 84 matches, smashing the school scoring record of 55 goals early in her junior season en route to becoming one of the most prolific forwards in Illinois history.

If Ordonez, who will play college soccer at Michigan, continues at that pace, she will finish her four-year prep career among the top 20 scorers in IHSA history.

Ask her how she feels about eclipsing the 100-goal mark, a plateau that is becoming more difficult to crack as the level of competition in girls soccer continues to rise, and you'll get a surprisingly muted response.

"I'm really proud of myself but I'm also proud of the team because I would not even be anywhere close to that if not for them," Ordonez said. "I definitely owe my goals to the team.

"Every goal is a team goal and really without them I would not be where I am today. I'm just so happy to have had a team like this."

The Dukes are equally happy to have a talent like Ordonez, who has been the key to transforming a program that hoped to succeed into one that expects to excel.

York had won just one regional championship (2002) and one West Suburban Conference Silver Division crown (2008) before Ordonez's arrival in 2009. Since then, the Dukes improvement has been off the charts.

Ordonez scored 19 goals in 23 games as a freshman, helping the Dukes to a regional title. She exploded for 34 goals in 22 games the following year as York upset Lyons Township to win the conference championship en route to a 17-5 season that ended with a 2-1 overtime loss to Geneva in the regional final.

The fact that the loss to Geneva was considered an upset is an indication of how expectations had changed. Standards got even higher after the 2011 season, the best in school history.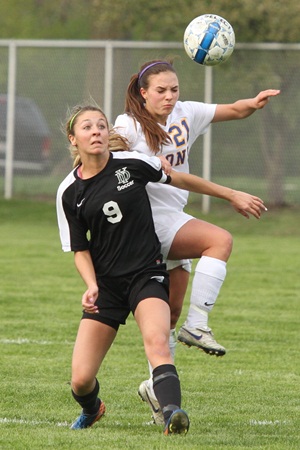 "I think every year the bar gets set higher and higher and right now we really do expect to win," Ordonez said. "We come in every game expecting to win."

Ordonez's junior season was nothing short of amazing. Despite playing without fellow Division I star Courtney McHugh, who played only club soccer last spring, Ordonez answered the bell to the tune of 28 goals and 17 assists as York again stunned Lyons to repeat as Silver champs, then showed it was no fluke by beating the Lions to win their first sectional championship.

A narrow 2-1 loss to eventual state runner-up Naperville North in the Class 3A Benedictine Supersectional ended York's season at 21-5-1, but a switch had been flipped in the minds of the Dukes.

"I think we just started to realize that we've had a great team every year," Ordonez said. "We've been really fortunate to have good players that keep coming in and I think we're starting to realize that we have the talent and that we really can set the bar that much higher."

They say that talent rises to the occasion, with the best and brightest shining when the stakes are highest.

That was true of Ordonez in the playoffs last year. She scored one goal in an opening 8-0 rout of Kennedy, then tallied a hat trick in a 5-0 win over Hinsdale South in the regional final.

Ordonez then scored the game-tying goal and assisted on the game-winner in York's 2-1 triple overtime victory over Oak Park and River Forest in the sectional semifinal and set up her younger sister, Ellie, for the game-winner in the historic 2-1 sectional final defeat of LT.

Even against Naperville North, the Dukes came within 11 minutes of forcing overtime before having their 11-game winning streak snapped. York's only other defeat in the final 20 games was to Granite City, the eventual state champions.

"I think that last year we had a very successful season," said York coach Chris Halupka, who is in his second year at the helm. "We won the conference, the region and the sectional and this was the first time we were ever able to get to the supersectional.

"I think it definitely brought us some recognition and I think this year's team, despite losing numerous seniors, I think we've been able to do a pretty good job of replacing that talent pool. Now when people think of York soccer, Christina has kind of put us on the map."

Indeed, despite the graduation of such stalwarts as Angela Bianchi, Danielle Vujovic, Mary Kate Cicinelli and Meryl Cripe, the Dukes haven't missed a beat.

The Wisconsin-bound McHugh is back and teaming with Ordonez to create more havoc than ever. With McHugh, Banuelos and freshman Alyssa Kovatchis feeding her passes, Ordonez has tallied 20 goals to lead the Dukes to a 9-3 start. Their three losses have all been by one goal, including one on penalty kicks and another in overtime.

Ordonez notched her 100th career goal in last Saturday's 3-0 victory over Deerfield. She added her 101st in the 72nd minute Tuesday night to beat Oak Park and River Forest 1-0 in Elmhurst.

"She has the ability to finish and that's such a natural ability," Halupka said. "And I think that's it's a huge asset to our team, obviously, to get goals, whether it's early in the game or whether it's a big goal like this to win a tight game and get a 1-0 win."

Despite being the focus of every opposing defense, Ordonez still manages to find a way to score, as she did against OPRF, which had done an outstanding job of holding her scoreless up until that point.

The Huskies had at least one defender keep an eye on Ordonez at all times, but when Bryce Banuelos dribbled into the left side of the box, the defenders looked away from Ordonez to the new threat.

That was all Ordonez needed. She quickly took two steps away from the defender, Banuelos passed her the ball and Huskies goalie Katy Oldach had no chance to stop the resulting 12-yard shot.

While Ordonez is known for putting an unusually high percentage of her shots on frame, it's little nuances like that play that really get Halupka excited.

"The amazing thing is the other stuff that she does," Halupka said. "She is able to be the target forward. She's able to take defenders on 1-on-1.

"She has her speed, her technical ability. Then you close your eyes and watch the ball for two seconds and she's pulled away and she's going to bury it, and that's exactly what happened.

"Everybody's watching the ball and she goes like this and she's free. It really is a tremendous asset for our team to have a player who is extremely intelligent, technically and physically, and the total package as an offensive weapon."

So how does Ordonez do it?

"I don't know," she said. "I just try to pressure hard and I never stop running and trying with the ball."

Ordonez is so effective and so accurate with her shots that it almost comes as a shock when she misses. She expects to put the ball on target and blames herself when she doesn't.

That was the case in a 1-0 shootout loss to Metea Valley in the championship game of the St. Francis Springfest tournament. Ordonez missed high on two point-blank opportunities and also had a penalty kick saved in the shootout. She thought the loss was her fault, even though Metea Valley goalie Megan Geldernick is considered one of the best keepers in the state.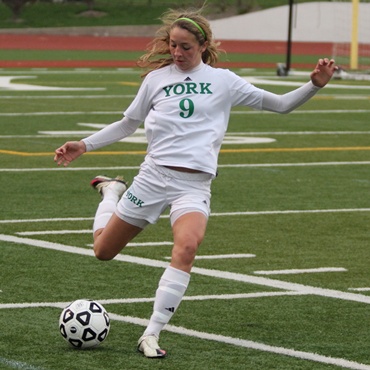 "Christina is upset with herself about the penalty shot," Halupka said after the game. "That's natural. Everyone has missed penalty shots, but we wouldn't be here if it wasn't for Christina."

If Ordonez has a weakness it is that she is too unselfish at times, Halupka noted after the Oak Park game.

"In the first half I was telling her to shoot more often," Halupka said. "I think that she tried to be the set-up person. She got behind the defense and tried to make that pass to the next forward.

"Great idea, however, you're a great scorer too. Let's see what your right foot can do and let's put a shot on goal."

If this gives you the impression Ordonez is a humble person, it's because she is. Just ask the teammate who knows her best.

"It's true," Ellie Ordonez said. "There's some people who would get a scholarship and get really cocky about it. But she's not cocky about it at all.

"She's thankful. She had to work hard for it."

The modesty is not a new thing for Ordonez, who didn't have any statistical goals when she started her career at York.

"I just wanted to come in and try my best," Ordonez said. "That's what I always do."

Game after game, year after year.