2012 ROSTER

Coach: Dan Klaus

Stephanie Solis
Jr., F
Sarah Stram
Jr., M
Kelly Naughton
Jr., M
Jill Zelek
Sr., F
Danielle Czyzewski
Jr., M/GK
Kelli Hubly
Sr., F
Sarah Kinnard
Jr., M
Lindsey Vaccarino
Sr., D
Nikki Zaino
So., F
Kelly Regan
So., M
Jocelyn Potratz
So., M
Emily Wary
Jr., D
Alexis Olague
Fr., M
Rachel Pruim
Sr., M
Katie Naughton
Sr., D
Melissa Solorio
So., GK
Naughton and Hubly: two of Illinois' best
By Gary Larsen
CLICK HERE FOR GRENS' TEAM PAGE
Roughly 13 years ago, kindergartener Rachel Pruim had her soccer gear with her one day when a classmate walked up and asked if she could try on her soccer shoes. Pruim agreed so the kid put them on and walked around in them for a while.

She liked the feel of those shoes so much that five-year-old Katie Naughton went home and asked her mom to sign her up for soccer.

Luckily for Elk Grove coach Dan Klaus, Pruim wasn't carrying hockey gear with her on that day, or he might not have had the Notre Dame-bound Naughton wearing green and gold for his Grenadiers over the past four high school seasons.

Klaus' good fortune doesn't end there, either. In addition to coaching one of the best high school defenders anywhere, he also has one of the most electrifying attacking players around playing for him in Kentucky-bound senior Kelli Hubly.

Naughton is currently ranked as the No. 1 player in her age group in the Midwest by Top Drawer Soccer (topdrawersoccer.com). Hubly is right behind her at No. 2. Neither one had to play high school soccer to get noticed by college coaches, but they're both finishing up four-year varsity careers.

"If we did Top Talent we wouldn't have gotten to play games, and we wanted to play," Naughton said. "We wanted to practice and compete in games, and not just practice.

"With your high school team, you never know what you're going to get. Your team can have amazing days and the underdog can beat the top-ranked team. It's unpredictable and I like that. It keeps things interesting."

For Hubly, the choice to play for Elk Grove as a freshman came down to the simple chance to play with her older sister, Jessie, who was a senior at the time and now plays at Loyola University.

"It was a really good experience," Hubly said. "I like to goof off sometimes and she was there to tell me to stop and focus. And if I had a bad game, on the way home we'd talk about it. I really enjoyed playing with her."

A dynamic duo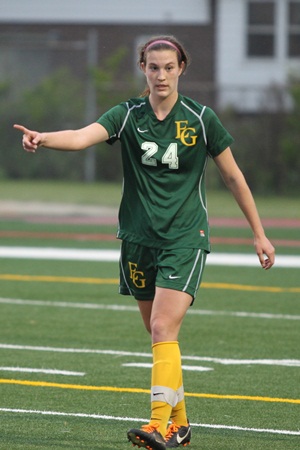 Where Hubly and Naughton are concerned, their assessments of each other are as pertinent as any. After all, the two have gone at each other in practice and are teammates for their club team, Sockers FC. They know each other well.

"I try to use my speed and moves against her," Hubly said of Naughton." You have to get her off balance because she's really quick, and even if you beat her she's right there getting back to put pressure on you. She's very hard to beat. You have to use your body, too, because she uses her body so well."

Naughton was recently named MVP of the Mid-Suburban League's East Division for 2012, and for good reason.

"She's right there among the best players we've ever had at Elk Grove," Klaus said, of a list that includes former Gren great Jen Buczkowski. "The interesting thing is that you don't think of a defender being able to take over a game, but she can dominate a game, where the other team can't get a thing defensively unless it's on a corner kick or a free kick. Our first ten games of the season, teams weren't getting shots on us from inside twenty yards and a lot of that was because of Katie."

Conant coach Jason Franco is also a fan.

"Naughton is quite the presence in back. She's hard to deal with. She's big, she's smart, she's smooth -- I think that's the biggest thing about her, is how smooth she is," Franco said.

Naughton is composed and smart, both on the field and in the classroom, where she's ranked 10th in her senior class. She's a tower of strength as a defender, strong, fast, tough in the air and crafty over the ball. It's quickly apparent when you watch her play that she reads the game quickly, and she never seems to make a bad decision under pressure.

In addition to current Elk Grove teammate Rachel Pruim essentially introducing Naughton to the sport, teammate Lindsey Vaccarino has also played a key role in her soccer career.

"I was told I was a center back in seventh grade," Naughton said. "My second year playing with Sockers, and I was a right mid. My skill was pretty raw. We had a flat-back four so I shadowed Lindsey. I was younger so I didn't really understand everything and I learned a lot from her. "

"I just love the game -- the speed of it, the unpredictability, the camaraderie with the team -- all that stuff combines to make it an awesome game. And you can go and battle against someone the whole game, and just get after it."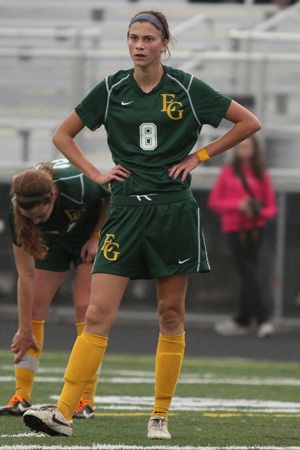 In Hubly, Elk Grove has a lanky forward and one of the supreme attacking players in Illinois. Where Naughton is calm, organized, and cerebral on the field, Hubly can seem like a tiger trying to get out of a cage.

Watching Hubly take a touch and then quickly accelerate into fifth gear can be a sight to behold, and her ability to get her shot off at the end of those drives past defenders has set her apart this year.

Hubly has 21 goals in 20 games thus far this season.

"Before this season, she was underrated," Naughton said of Hubly. "Nobody really knew what she was capable of but she just came running out of the gate this year. In practice you can't dive in against her because if you do, she's gone. She's so fast with the ball."

Hubly's slender physique also belies an undeniable toughness. While you'll find plenty of top defenders who have a feisty if not slightly ornery approach to the game, Hubly uses that mindset as an attacking player.

It wasn't always so.

"It used to be hard for me to take people on. I didn't have that confidence," Hubly said. "But now that I'm older I like to take people on, use my speed to my advantage, and making the defense work, trying to get them off-balance. It's the best feeling to beat a defender.

"I'm competitive. I can't let someone beat me. And if someone pushes me it makes me want to go at them twice as hard."

A knee injury prior to her junior season had Hubly playing with a knee brace, at less than a hundred percent upon her return. It killed her not to be playing, but her time away from soccer also brought a few unexpected benefits.

"I didn't take soccer as seriously before the injury," Hubly said. "It made me understand how much I love the game and it made me understand the game better. I saw things on the field from the bench that I didn't see as clearly before that."

Last season, with then-senior Michelle Calmeyn up top, Klaus needed Hubly at midfield in 2011. "Her sophomore and junior year Calmeyn had 20-goal seasons," Klaus said. "But Kelli was the one doing the dirty work behind the scenes at midfield. But this year, as a forward, she has taken it to a whole other level. She's lethal at every moment of the game."

Hubly has been in pure attack-mode since Game One of 2012.

"I watched her play against Hersey and she was breaking down their defense by herself," Franco said. "And that's not easy to do against Hersey. She is probably the fastest player that we have played against. She doesn't really need to make a move. She just touches it and she goes."

The 2012 season
This year's team at Elk Grove started fast from the gate before injuries hit a short bench hard. There are 16 players listed on the Grens' roster, but forward Jill Zelek was lost for the year in the season's first week.

With 15 players, everyone plays just about all the time, and there may be no better conditioned team around. Watch Elk Grove play and you see 10 field players going at it full throttle.

"We weren't ever very deep so we've always had to step up and believe we could beat some good teams," Naughton said. "Sometimes we have and sometimes we haven't, but we don't like to lose so we try to lay it all out on the field, every game. It's great to experience everyone going as hard as they can."

Team unity is particularly important in the girls' game, and at Elk Grove it has been a requirement this year.

"We have each other, and we push each other," Hubly said. "When someone's down, there's someone there to pick them up. It's not always easy but we know that if we hang our heads we won't be the same team we could be, all together."

The Grens are 12-7-1 heading into Tuesday's Class 3A regional semifinal game against South Elgin, with MSL rival Schaumburg potentially waiting in the wings in a regional title game, to be played on Elk Grove's home field.

Whatever happens the rest of the way, the curtain falls for good on Hubly's and Naughton's high school careers at some point in the next three weeks.

Franco gets the final word on the two EG seniors. His Conant team is led by another one of Illinois' top players in Kentucky-bound Courtney Raetzman, currently Top Drawer Soccer's No. 4 player in the Midwest and a Sockers FC teammate of both Hubly and Naughton.

"I joked with Dan (Klaus) that if we had Naughton and Hubly I'd pencil us in as state champions," Franco said. "It's just rare to have two players of that caliber on your team."