2012 ROSTER

Coach: Steve Keller

Christine Piasecki
Jr., GK
Rachel Tenuta
Jr., GK
Shannon Norris
Sr., GK
Emily Basten
Sr., D
Tracy Bourgon
So., D
Cassie Etelemaki
Jr., D
Katherine Ernst
Jr., D
Courtney Norenberg
Jr., D
Bri Frys
Jr., M
Kelsey Beschta
Sr., F
Allison Wade
Jr., M
Molly Canace
Jr., M
Caroline Wagner
Jr., F
Bekah Bostrom
Sr., M
Hailey Eick
Jr., D
Hannah Burton
Jr., M
Karolina Cholewa
So., M
Kira Heggeland
Sr., F
Rebecca Freeman
Sr., M
Jessa Rizzo
Jr., M
Brielle Bailey
Jr., F
Jessa Corso
Jr., F
Claire Mitzner
Jr., D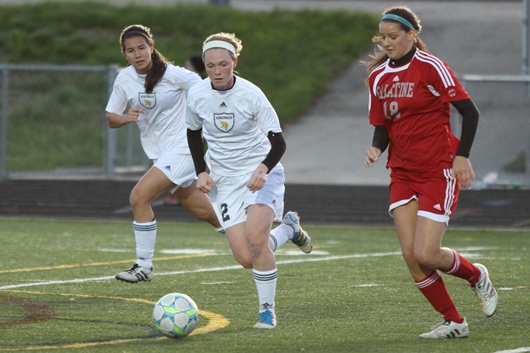 Basten's work ethic marked a stellar 3-year career
By Mike Garofola
CLICK HERE FOR VIKINGS' TEAM PAGE
The soccer season for Fremd and its sensational backline star Emily Basten ended too soon in 2012, but the best is yet to come for the Central Michigan-bound three-year varsity veteran.

In a long-line of marvelous Vikings' defenders, including 2009 all-stater Danielle Romano, Basten quickly became a remarkably consistent fullback, having the added dimension of being able to play inside or wide, while proving to be a natural leader and hence a captain for her side and manager Steve Keller.

"Emily is the hardest working player I've ever had at Fremd," says Keller, which is astounding, considering he's nearing a combined 400 victories from both the boys' and girls' programs.

"She epitomizes the work ethic and attitude of a true student-athlete."

Keller says he lost track of how many times his top player called during off days to grab a bag of balls to practice serving, or practice her shot, or to get in some extra training in on the ball.

"There's never a day off with Emily, she just doesn't take the time off," Keller said. "She is responsible, mature, highly competitive, and does it all with integrity and tremendous sportsmanship."

Perhaps the groundwork for this terrific young woman and player began from the moment her parents got her involved in the sport of taekwondo.

Like most individual sports, such as speed and figure skating, taekwondo requires absolute dedication in order to compete at the highest level, and a self-discipline which allows the athlete to cope with tireless training and travel, most of the time, after your primary high school sport or activity is completed.

"My parents thought I was too shy, so when I was 4 or 5 years old, they signed me up and soon it became a huge part of my life," says Basten.

Indeed.

Basten would slowly rise up the ranks, to the point of earning a second-degree black belt, nationally ranked status, and a trip or two overseas to compete while a member of the high- profile Team Elite TKD club, when in 2009, she participated in the Dutch Open in the Netherlands.

"I am sure being involved in a sport like taekwondo really helped me stay focused in my sports life, as well as my work in the classroom, and it might be the biggest reason for me being able to juggle my schedules and my school work," offers Basten, who was called up from the JV as a freshman, prior to the Vikings post-season run in 2009.

"It (taekwondo) was hard work, but it was worth it and it really was great fun, and it's an experience I will never forget."

Basten did her best Houdini act to balance the rigors of the physical and mental demands associated with taekwondo, as she continued to rise up the ladder of success. She continued to do so on the club soccer level, where she currently plays for FCX.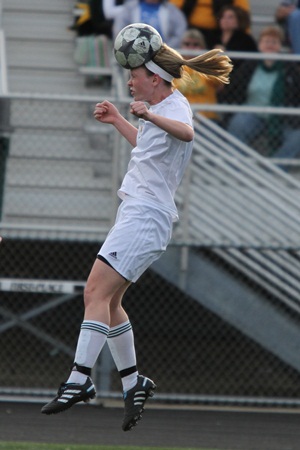 "It was a lot of going from one (sport) or training session to another, like a lot of girls do, but it did become a (7-day a week grind) and I knew that in order to play at the next level, it was time to say good-bye to (taekwondo) in order to concentrate solely on soccer."

"Her toughness and determination is what sets Emily apart, and she will excel at anything she does due to her desire to achieve success," says Keller, who in 2011 watched Basten roam an almost air-tight backline during the Vikings' run into the state's Final Four.
Fremd carried off the 4th-place trophy at the 3A state tournament, two years after doing the same with the aforementioned Romano (now at East Carolina) running the show.

"My first two years I was able to learn a lot from watching Danielle, but (playing) for Keller has been the real difference for me," admits Basten. "He's a real black and white guy, and I like that a lot in a coach.

"He's been the coach who has influenced me more than any other, because he's been there, played the position from high school into the pro's, and is so good at bringing a team together, from the start until the end, where we always seem to be playing our best soccer. And he has done so much in helping me build my confidence as a player, and (in) preparing me for the next level."

Basten considered Augustana, Miami of Ohio and Valparaiso, among others, but the campus in Mt. Pleasant, Michigan made a quick impression on her, as did Neil Stafford and his staff. So did the academic environment at the school, which is most important to her.

"I immediately fell in love with the campus," began Basten. "It's a beautiful place, and I was very happy with the coaching staff, and what coach Stafford had to say, and everything else that I heard about the balance of soccer and academics."

Basten says Central Michigan soccer program is among the top in the country in overall GPA averages, and it showed when the university announced that eight of its women's soccer players were named to the all-MAC academic team, including senior Liesel Toth, who was named an All-American Scholar at the end of the season.

"My plan is to begin in the Physicians Assistants program, and I've already talked to a few other players who are involved in (that) particular program, and others like (that) and they tell me the balance between playing soccer and academics is tough but not so overwhelming that it's impossible to continue playing," said Basten, who finished with a 4.20 GPA this past school year.

Central Michigan went 15-3-3 overall last fall, and Basten knows playing time as a freshman may be hard to come by for her ever-improving new side, but nonetheless she will be ready when the pre-season comes around.

"I know the atmosphere will be intense, and that the competition will be really at a high level, but I intend to show up in great shape, and ready to play from the very first day," Basten said.

That's the way it was for Basten this spring, following a memorable 2011 where the Vikings where played near flawless soccer in the final third of the season, ending when its MSL West rival Conant beat them in the 3rd-place match at Naperville Central.

"It was an unbelievable year, and we had so many great players, most of the seniors, like Elise Kotsakis, who played so hard, all of the time," said Basten.

This season, with just a half-dozen seniors, and so many new and inexperienced players, the Vikings would go 8-10-4, falling in OT to Buffalo Grove in a regional final.

"Emily played her best game of the year when it really mattered most in our 2-1 loss to Buffalo Grove, which again, showed just how much of a leader she was for us," said Keller. "She was mostly responsible for us conceding just 17 goals in our 22 games this year."

Not a get in your face player, Basten led by example, allowing her performance speak for herself instead.

The 2-time all-MSL defender, would earn her first all-sectional honor, as well as Daily Herald all-area honors following the end of this season.

Basten was a ferocious 80-minute defender, and skillful tackler, who was also a brilliant air-ball winner. She could also get forward in the attack, or on set- pieces, where she could thump a ball into the back of the net (4 goals in career), deliver excellent free-kick service or a quality ball out of the back.

"Her ability to mark the best from the other team was second to none," added Keller.

"It was a tough year this season compared to last, but it was important for me to stay positive, and to play my best each time out, in order to set a good example for the next group coming through here at Fremd," said the Vikings captain.

"There's a lot that I am going to miss about Fremd, and the girls that were my teammates, but I also know that I have a lot of good things waiting ahead for me."