2012 ROSTER

Coach: Ignacio Ponce

Katie Oldach
Sr., GK
Emily Vachon
Jr., GK
Elise Dellegrazie
Jr., GK
Renata Voci
Sr., D
Wren Osler
So., M/D
Sanya Ovonovic
Sr., D
Zoe Snelling
Jr., D
Katherine Skrine
Sr., D
Patricia Witt
Jr., D
Claire Cekander
Jr., D
Sara Richert
Sr., D
Emily Verticchio
Jr., D
Naomi Johnson
Jr., D
Mikaela Gillman
Sr., M
Joy Dennis
Sr., M
Tess Trinka
So, M/F
Maggie Blaha
Jr., M
Meredith Blatner
So., M
Erin Schrobilgen
So., M
Rebekah Dempsey
Jr., M/D
Jacque Bono
Jr., M
Sophia Pappageorge
Sr., M
Nicole Smart
Jr., M
Olivia O'Sullivan
Jr., M
Mogbaola Ana Agboola
Sr., F
Ruby Gonzalez
So., F
Alicia Gerin
Jr., F/M


Huskies earn first win over visiting Elmwood Park
By Dave Owen

CLICK HERE FOR HUSKIES' TEAM PAGE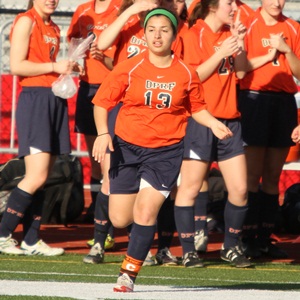 Sophomores and substitutes combined to light a fire under Oak Park-River Forest on Tuesday.

After a shortage of finished chances left the Huskies up just 2-0 after 52 minutes of play against Elmwood Park, the Huskies (1-1) struck for four goals in a span of 6:41 midway through the second half to pull away to an eventual 8-0 runaway win.

Two leaders of the deluge were sophomores Erin Schrobilgen (two goals) and Ruby Gonzalez (three assists). Classmate Tess Trinka scored the first goal of the game just under 10 minutes into the match, and sophomore Wren Osler was a standout defender.

"We've played together since maybe fourth grade, with Tess and Meredith (Blatner)," Schrobilgen said. "We all work together really well on the field and see each other really well, and because of that we're able to contribute a lot to the team."

The scoring column isn't the only area where the sophomores are making an impact.

"I've kept telling them they need to step up as leaders," Oak Park coach Ignacio Ponce said. "Even though they're young they're the future of the program. And they obviously showed that they can take that step forward. We want to focus on this year, but it also shows our potential for coming years."

Oak Park began to show its potential Tuesday with an unlikely boost after the halftime break.

"We put the second string in and it seemed they got more fired up than the first string and started scoring," Ponce said. "Sophia Pappageorge (who scored the last Huskies' goal) and the entire back were second string: (defenders) Zoe (Snelling), Sara (Richert), Emily (Verticchio) and Sanya (Ivonovic). They really stepped it up."

Starting defenders Claire Cekander, Osler, Katherine Skrine and Renata Voci were just as instrumental in helping senior goalkeeper Katy Oldach to a three-save shutout.

While the defense played its part, Oak Park's offense was ignited by long upfield passes to the wings from the midfield. Four offside calls resulted from the strategy, but so did almost all of the Huskies' goals.

A pinpoint long pass from Mogbaola Ana Agboola hit Trinka for a breakaway goal and 1-0 lead at the 30:13 mark of the first half. Then 16 minutes before the half, Cekander's found Gonzalez on a long pass breaking in on left wing, and her cross to Schrobilgen open in front was pounded home for a 2-0 lead.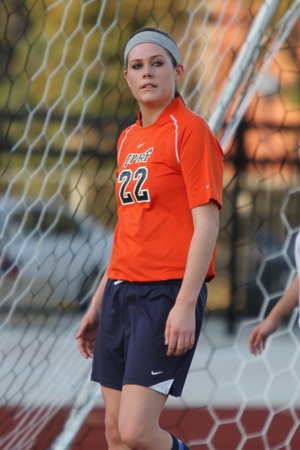 "We've been really trying to have our wide forwards being used," Gonzalez said, "along with our wide defenders and just moving around and looking for the wide outlet so that we can move in and have everyone kind of work together."

Gonzalez was in the middle of the second half blitz. She took Schrobilgen's long upfield pass with 27:57 left in the game and set up Maggie Blaha's 15-yard rocket into the net for a 3-0 lead.

Just 44 seconds later, Gonzalez's cross to Joy Dennis in front resulted in a pretty touch pass to Mikaela Gillman for the goal and a 4-0 advantage. Then at the 22:59 mark, Gonzalez assisted on Agboola's goal for a 5-0 lead.

"I really wanted to score a goal," Gonzalez said, "but I was in the position where I could help my teammates and help them score almost for me. I really wanted us to have a good game and a big win, and I was glad we were able to do that."

The offensive continued to roll with 21:16 left when Schrobilgen sent a pass to Dennis at the left post, whose sliding pass back across the crease reconnected with Schrobilgen for an open net putaway.

"It seemed their outside backs got a little tired, and I guess that motivated us a little bit," Ponce said of the scoring outburst. "We tried to also contain and just work on some plays. They started following up the ball."

Goals by Alicia Gerin (20-yard blast with 1:23 left) and Pappageorge (with 52 seconds left off a Nicole Smart cross) finished the scoring.

"Our halftime talk went really well," Agboola said of the Huskies' fast finish. "Coach was telling us we need to communicate a little more, win the 50-50 balls and I think we all really took that to heart. We started connecting and playing the ball to space, instead of directly at the players' feet. That created a lot more opportunities for us as well."

"We were playing really well in the first half," Schrobilgen said, "and we kept up the intensity and focused on what we were doing well."

First half near misses for the Huskies included a Trinka shot off the post and saves on quality shots by Schrobilgen and Gonzalez. Agboola capped her strong game with a shot off the crossbar with two seconds left.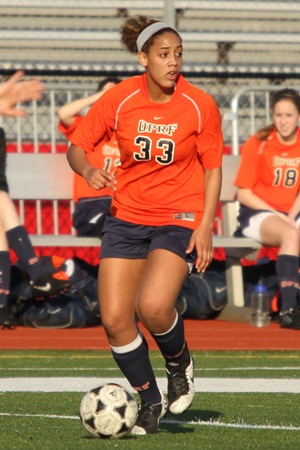 After a season-opening loss to Naperville Central, the Huskies were unanimous in seeing Tuesday as a big step forward.

"Our season is going to go well," Agboola said. "We started off I want to say a little bit confused, starting with a new formation and learning how to play with each other. I think once we get everything down pat, when we get to those hard games we'll have our passes and our shots on point."

"I think If we just keep up the intensity and keep working hard we're going to do well," Gonzalez said. "All of us are sure what our goals and hopes are for the season, so we if keep that mindset we can be really successful this year. "

Coach Ponce had a similar view.

"We're going in the right direction," he said. "We had a lot of errors but they can be fixed, and it seemed like they started to apply a lot of the tactics we've been working on. That was a wonderful thing."