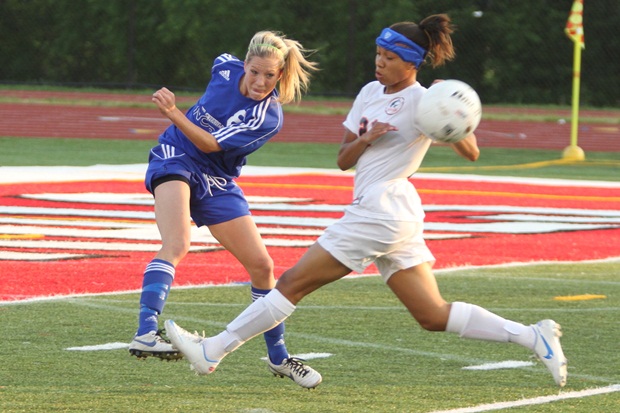 North Stars fall to Huskies in 4 OT for 3A championship
By Curt Herron
CLICK HERE FOR NORTH STARS' TEAM PAGE
As the longest large-school championship in state history entered its 120th minute, Christa Szalach was determined to finally put an end to the drama.
And with just 42 seconds left before the outcome of Saturday's Class 3A finals would be decided on penalties the Naperville North junior did just that.
Following a flick from senior Hunter Drendel, Szalach fired in a liner for the lone score in the Huskies' 1-0 win over St. Charles North in Naperville.
The title match at North Central College also featured the longest scoreless stretch in the 24-year history of the finals, covering 40 championships.
But excellent defense was no surprise for a Huskie team that allowed 10 goals all season and a North Star squad that had yielded just one playoff goal.
It was a fitting ending for the Huskies, who had been aiming for a title ever since falling 1-0 to Granite City in last season's Class 3A championship.
The Huskies joined Libertyville (1990-91) and New Trier (2005-06) as the only programs to follow up on a second-place showing by winning a state title.
This marks the second state championship for the Huskies, with the previous title coming back in 1988 under Al Harris in the initial state tournament.
Steve Goletz's state champions finished their season with a 24-1-2 mark, with their lone defeat coming in penalties to Naperville Central on April 28.
Goletz, who succeeded Brent Terada as the Huskies coach, becomes the first coach in state history to capture a large-school title in his debut season.
The North Stars missed out on their initial state title and wound up duplicating their 2004 finish, when they lost 2-1 to New Trier in the title match.
Ruth Vostal's squad, which finished with a 19-6-2 mark, was hoping to become the ninth state champions from their community and the first since 2000.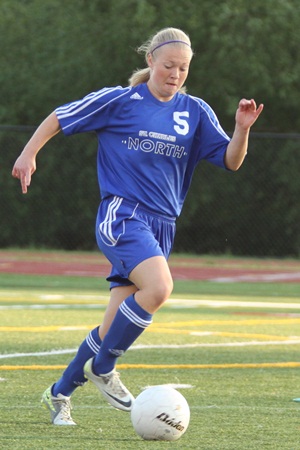 "Hunter made a great pass and I knew I had to just take a shot since time was limited," said Szalach of her eighth goal of the season. "So I just kind of took a touch and then took a shot. I didn't really have time to look up at the goalie much in order to put the ball on frame.
"When we started the overtimes I was thinking the whole time that we might go to penalty kicks, but I didn't want that to happen and none of our team did, either. The goal was a team effort and there's no way that I would have gotten it if Hunter hadn't set me up with a great pass.
After watching the Huskies fall just shy of a state title a year ago, Szalach and her teammates were determined to not suffer the same fate this season.
"Last year we got here but took home the number-two trophy and every team's goal is to be number one," Szalach said. "Being back here, a lot of the feeling from last year came back. We had a lot of returnees who wanted to win and that's what we came here to do and I'm glad we did.
"I don't think it's really sunk in yet. Obviously it was a great feeling when we had the dog-pile afterward, and all I can say about it is 'Wow'. I'm so happy that it was with this group of girls and on this team. I love them all and we're like a family."
The dramatic goal capped an evening where both Northside squads were frustrated by excellent defensive efforts which limited offensive opportunities.
But that came as no real surprise to the Huskies coach, who expected the underdog North Stars to give them all they could handle in their title quest.
"What a cool way to win a state title," Goletz said. "Obviously would we have liked to win it earlier and easier and less stressful? Yes. The game could have gone either way but it's just a testament to the girls that they kept going. Christa stepped up and made a big play for us.
"St. Charles North is a phenomenal team and they gave us everything that they had and they played hard. They played great defensively and had some real nice attacking pieces. I thought they had the better of the play during the majority of regulation but we stepped up in overtime."
Goletz realized that his squad was on a mission this season. But even though that was the case, wanting a title and winning one are different matters.
"I loved this team's character," Goletz said. "They truly bought into their roles as a group and they fought for each other, and no matter how much they played in every game, they wanted the best for each other. They checked their egos at the door and then went out and got it done.
"After we started our schedule with a 15-0 record, I realized that we had a chance to do something special this year. We know that there have been so many talented teams that haven't come out on top but that start gave us hope that if we played well then we could hang with anybody.
"As a first-year coach, I'll be hard-pressed to ever find a group of kids like this again, since they're just a special, special group. They genuinely love each other and that's a huge reason why we were here. We'll always remember the memories that we all made together as a group."
While the Huskies celebrated their championship, the North Stars watched in disappointment as they realized that their upset bid had fallen just short.
But despite the outcome, Vostal and her staff could take pride in knowing that their squad fared far better than most besides themselves had expected.
"It was an awesome championship game," Vostal said. "I told my girls that we were disappointed with the loss because everyone wants to end their season on a win. But the girls fought hard and you couldn't have asked them to do anything else. It was a great effort by our girls.
"I thought that we had a great portion of the play and had many chances to score. There were a couple that hit the crossbar, we could have finished some early and we created some good corners. But that's what a championship game is like and it comes down to seconds and inches.
"We didn't have an easy road to get here and there wasn't one easy game along the way. We had two beat two rivals in St. Charles East and Geneva and then had to beat Schaumburg at home and Barrington at home. And then we have to face Downers Grove South and Naperville North."
The positive for the North Stars is that they will be in a similar situation as the Huskies were this year, since many of their regulars will be back.
"Toward the end of the regular season we worked on different things and got the girls to understand that there's a lot of talent in the postseason but it also comes down to heart and fight," Vostal said. "I knew that they had it in them, we just needed time to pull it together.
"These girls came together really well and had great team chemistry but it's their fight and their heart that I'll remember. We only graduate five players and a lot of the girls who are coming back had a lot of field experience so I think the expectations will be high next year."
In the four overtime periods, both squads had their chances with the Huskies getting a few more better opportunities than the North Stars collected.
Cora Climo, Zoe Swift and Drendel were all denied by North Stars keeper Carly Dietrich during the initial 10-minute extra session of the overtimes.
In the next two OTs, Maria Grygleski had a try stopped before Huskies keeper Allison Hitchcock halted shots from Jorie Clawson and Natalie Winkates.
Hitchcock made a diving save on an attempt by Lauren Koehl and Dietrich stopped a Swift try a not long before Drendel found Szalach for the winner.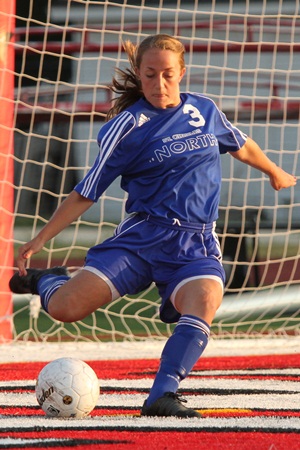 "I don't know if we were thinking about penalty kicks, but then it just ended," Koehl said. "At first I didn't see the last play developing, but when I saw her kick it back, I was hoping that she would miss it, but we weren't so lucky. It was just a great fight by both teams.
"Yes, it stinks, but we were still second in state and that's pretty awesome. It's my senior year so it was a great way for me to end things. There's only five seniors graduating so a lot of people are coming back and I'm sure that they'll fight hard in order to get back here."
The final 40 minutes of regulation play featured a couple close calls for both sides where shots hit the crossbar and rebound efforts just missed.
After Drendel and Winkates were thwarted shortly after the break, Kelly Manski fired a liner off the crossbar and Winkates' header was cleared away.

Dietrich stopped a liner from Meghan Lee and hauled in a long free kick from Jen Korn before the Huskies nearly connected during the 75th minute.
Abbie Boswell smacked an attempt off the crossbar and Swift's rebound went up and over the frame. A bit later, Swift and Korn were denied on tries.
"St. Charles North is a great team and this was a tough game so we just kept trying to push through it," Climo said. "Hunter got a great flick to Christa and she finished on a great ball. This is an unbelievable feeling and words can't express the way that we feel right now.
"We lost a lot of good players from last year but we knew that we were going to have a great team again this year. Our goal from the beginning of the season was to work hard in order to get here and we did it. This was a great season because we got to where we wanted to be."
There were fewer good chances in the opening half, with most of the best opportunities coming after the initial 20 minutes of play in the match.
Manski had a corner kick that was punched away and a short time later she sent a pass to Clawson, whose header was grabbed by the Huskies keeper.
Climo then had a free kick punched over the net and directed another free kick from just outside of the box that went over the top of the frame.
Only a dozen members of the two title match squads are seniors, with seven playing for the Huskies while just five competed for the North Stars.
And just six of the starters, Naperville North's Anna Prescott, Korn, Hitchcock and Drendel and St. Charles North's Koehl and Dietrich, graduate.