2012 ROSTER

Coach: Mike Taylor

Maggie Farwell
Sr., F
Morgan Hess
Sr., GK
Melissa Stawicki
Sr., GK
Abby Moynihan
Jr., D
Sarah Cooney
Jr., M
Megan McCollum
So., F
Molly McMahon
Sr., M
Frankie Skinner
So., M
Chloe Luthringhausen
Jr., F
Katelyn Hammarlund
Sr., F
Katherine Petrovich
Sr., M
Micaela Lonigro
Jr., D
Frankie Smeriglio
Jr., M
Katie Gavin
Sr., M
Lauren Falotico
Sr., M
Emily Zahrebelski
So., D
Erin Renee Murphy
Jr., M
Liz Graff
Jr., D
Erin Malone
Sr., M
Molly Murphy
Fr., M/D
Maria Petrillo
So., F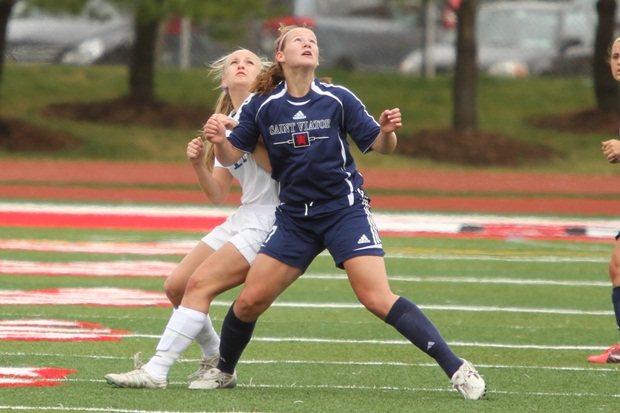 Viator ends 2012 with a win and a trophy
By Mike Garofola
CLICK HERE FOR LIONS' TEAM PAGE

That old sports axiom which says that it's not how you begin but how you finish was never truer than it was last weekend at North Central College in Naperville.

Anxious to get off on the front foot at the 2A state tournament, Saint Viator would slip on the proverbial banana peel in its opener on Friday against Wheaton St. Francis. 24 hours later, the Lions came back with a vengeance to dominate Normal University High in 4-1 win to carry off 3rd-place honors and add yet another piece of hardware in the trophy case back home in Arlington Heights.

"None of us still don't really know and understand what happened in our semifinal with St. Francis, and the bus ride home really didn't provide any answers, because it was so insanely quiet," said senior Katie Gavin, who will be off to UW-Parkside next fall to continue playing her favorite sport.

"But today when Taylor sat the entire team down in the bleachers in the baseball stadium (at North Central) and began to tell us some things about the team, and what everyone meant to him in our final game together, and lots of other things, I began to tear up. That's when I knew this was it, and that we had to go out and play Saint Viator soccer the way they we knew it, and the way that (Taylor) and our friends and family expect us to do.

"We didn't want to lose the last two games of our season -- and our careers, for the seniors -- and we didn't."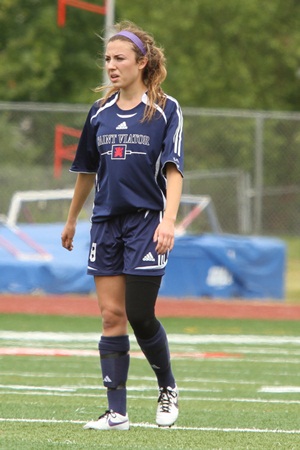 Taylor couldn't help but compare Saturday's 4-1 win with Friday's 1-0 loss.

"Maybe if we played that way against St. Francis, we're the team playing Glenwood for the state title," Taylor said.

"But our effort wasn't even close to the one we gave against U-High today, and that's just the way it goes sometimes. But I was very proud of the work rate, and the way that we possessed, and played the ball from the back, and the fact that we came out and showed that we wanted to play, and how when this team plays the way they know that they can, that we are a pretty good ball club."

St. Louis University-bound Katelyn Hammarlund gave the Lions a half-time lead when she converted her spot kick at 10 minutes. After that, the 4-year star and her mates made certain that she and seven other seniors would go home with the best ending any could want.

"It was kind of hard to grasp the feeling most of us had after that loss on Friday, it was so sad, because we overcame a lot of adversity with so many injuries this season to get here, and then we went out and played our worst game of the year," said Hammarlund.

"I don't think (Taylor) was mad at us after that loss on Friday, just really disappointed," said Gavin.

"This group meant so much to me," Taylor said. "They always will because this is the first group through for me after taking over in 2010, and this is also the first group that I took to Europe, so yeah, I was disappointed, because I really felt if we got here that I would get them into the final."

Playing as if it were the final, the Lions (16-9-4) didn't mess around with U-High (19-7-1) who were outplayed for most of the match as a tenacious Saint Viator midfield enjoyed most of the exchanges in the middle of the park, while Hammarlund, Chloe Luthringhausen and supersectional hero Katherine Petrovich built a head of steam from the opening whistle.

Luthringshausen caught the U-High defense dawdling, and when the unchallenged junior collected a wonderful pass just inside the box from Hammarlund, a Pioneer defender could do nothing but haul the Lions striker down. Hammarlund converted an easy strike into the back of the net on the penalty kick.

It was all one-way traffic after the break. Hammarlund doubled the Lions lead with her 14th goal of the season, with Luthringhausen getting the credit for the helper at 46 minutes.

The Lions continued to make U-High pay for its continued miss-placed passes in its own third. After a patient and well-played build-up from Petrovich, Gavin, and then Kayne Stanley, Erin Renee Murphy scored from the left side to make it 3-0 in the 51st minute.

Soon afterwards, Taylor would begin to bring off several of his first-11, and replacing them with the next wave of future starters, many of whom were introduced to the big club, and its high- profile opponents as an array of season-long injuries took Taylor and his staff by surprise.

"The silver lining of all of the injuries we suffered this season was that we were able to get a lot of minutes for many of our new players, players that we'll be counting on for the next couple of seasons. You could see the progress all of them had made as we got deeper in the year," said Taylor.

"The ironic thing about all of the injuries? Friday was the first time this year that we were at our healthiest, and that's the day that we just weren't ready to play."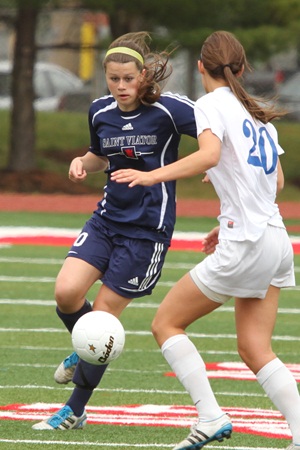 Erin Malone, who was the glue that bonded together a young and inexperienced backline, finished the day's scoring for the Lions in the closing stages of regulation, after a handful of corners, served in near flawlessly, failed to find Gavin, who tried her best to score in the final game of her marvelous career.

"Once we got Malone back and healthy, you saw our youngsters, Maria Petrillo, Emily Zahrebelski and Liz Graff really come together as a unit along the back, and (goalkeeper) Morgan (Hess) who took a verbal beating from me all throughout the regular season, came on to play just great in the playoffs, making big saves when we needed her to, and taking control of the box, especially in the air," said Taylor.

The long-time head coach would endure the most injury-filled season he could remember, beginning just before Saint Viator's season opener with Buffalo Grove on an unusually pleasant mid-March afternoon at Celtic Park in Palatine. Four Viator players were sidelined with various woes that day, and the injury bug continued from there, including a late season concussion that sidelined two-year starter and senior Molly McMahon. McMahon was fit enough to earn a cameo role in the St. Francis match to be with her teammates, but did not dress for U-High.

"You expect to lose a player or two during the spring, but we just went through one player after another this year. I had never experienced anything like it," said Taylor.

"We struggled with it at times. It was hard to find any rhythm because we never had the same starting lineup together, and in turn, our rotation was all messed up as well."

"I wasn't as confident as Taylor was about us getting into the tournament," Petrovich would admit following her game-winner over Freeport to send the Lions into the state's Final Four. "But we had to trust a coach who has been there so many times, and he was right, because once the playoffs began, we started to play our best soccer of the year."

Indeed.

Taylor was bothered with his club following a lackluster performance after a 1-1 draw with eventual ESCC champion Nazareth, and the pain continued one week later when the Lions conceded 6 goals in three matches at the Palatine tournament – four of them coming to Evanston.

One week later, the hopes for a piece of the ESCC title vanished after a 3-1 defeat at rival Benet.

"One of our goals is always to win the conference, but once that was over, we had to turn our attention to a bigger prize, and that was the state tournament," said Taylor.

After the Benet defeat, the Lions would allow just one into the back of its net (vs. Stevenson) while scoring 14, including the Petrovich goal in overtime.

"We challenged the defense, and told them not to allow any goals in the playoffs. They did, and that's a big reason we advanced," said Taylor.

The big South African will have a lot to replace next spring, including two of the best to wear captain's armbands in Hammarlund and Gavin, but the pieces are in place for another long run for the next year or two, beginning with Luthringhausen, who had a break-out year, netting 9 and creating so many chances with her enterprising runs.

Erin Renee Murphy, and Graff, who worked themselves into the first-11 will join Luthringhausen as veteran senior returnees. After that, no less than a half dozen current sophomores and freshmen, who all earned plenty of minutes this season, will have their chance to make an imprint in Lions history.

Petrillo will be one of the Lions' building blocks as a junior, as will Zahrebelski, but Taylor will lean heavily on several youngsters including Stanley, Micaela Lonigro, Molly Murphy, Megan McCollum, and others, who were part of his regular rotation in the final weeks of the season.

"With all due respect to my seniors, Hammar and KG will be impossible to replace," said Taylor.

"But we've got a terrific group of players returning who now know what it takes to get this far, and believe me, we'll be back here sooner than later."