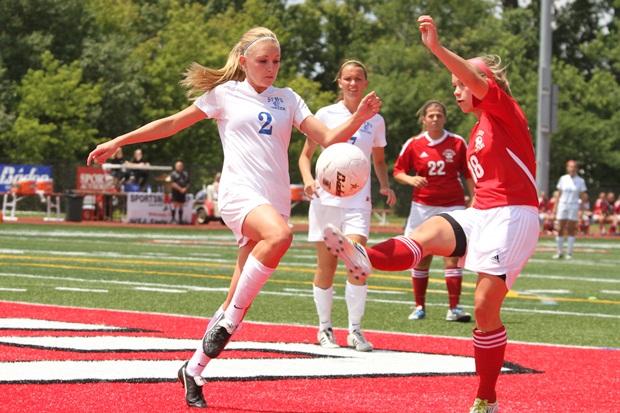 Spartans found belief in 2012
By Gary Larsen
CLICK HERE FOR SPARTANS' TEAM PAGE

Nothing is possible until you believe. The best teams in soccer have always been those that step on the field with the expectation to win, not just the hope or suspicion that they can win.

The best teams know they can win, and St. Francis had one of those teams in 2012. It was a young Spartans team in 2011 that went 15-9-1 and lost 2-0 to rival Wheaton Academy in a super-sectional game – the third consecutive season the Spartans went into the postseason with high hopes, only to have them dashed by the state power Warriors.

"Last year I had to kind of raise their expectations because at that point they were still kind of an afterthought," Spartans coach Jim Winslow said. "This year I knew we were going to be too good for teams to overlook us. As a coach you just try to slowly change the mentality of the program."

St. Francis went 22-4 in program founder Tim Dailey's last complete season as head coach in 2009. The Spartans went 18-7-2 under former SF star and coach Meg Boler in 2010, before Winslow led them to a super-sectional last season.

Only seniors Sydney Fox and Katie Ramsey played for all three coaches as the program has risen to the top of the heap, capping 2012 with its first state title.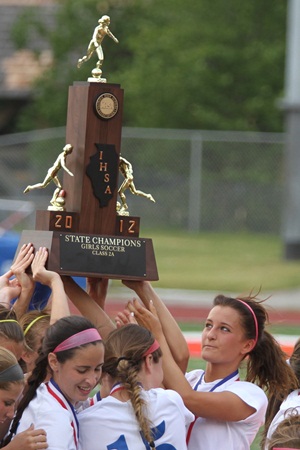 After the Spartans' 2-1 state title win over Glenwood on Saturday, Fox talked about the evolution of belief that took root during her four seasons.

"Each year, we've grown in confidence," Fox said. "After my sophomore year, when the freshmen class came in with numbers of good players, we had more talent and that gave us more confidence. Last year we went to a super-sectional for the first time and that gave us even more confidence.

"This year we were done losing at sectionals or super-sectionals. We wanted to get there, and we pushed ourselves so hard even before the season started. We were talking about it and getting ourselves excited to get here."

Ramsey also saw last season as a turning point.

"Last year was when we really got serious about going to state," Ramsey said. "This year we came in completely confident that this was our year."

The Spartans opened the season with wins over 3A programs West Chicago, Glenbard North and Wheaton Warrenville South, and the win over WW South was their first over the Tigers in the program's 12-year history. They beat Class 2A rival Wheaton Academy for the first time this year, then won their first supersectional title to earn their first downstate berth.

A first-ever state semifinal win gave way to Saturday's crowning jewel, a 2-1 win over Glenwood that was finalized on a late Taylor Bucaro freekick, and gave the program its first state title.

Bucaro's freekick capped a year of buying into what Winslow and assistant coach Kristin Keigley were selling in 2012.

"It's a really, really good group of kids," Winslow said. "Everything Kristen and I talked about, they tried to do. I'm humbled because you have kids that are very good players and they also committed to trying to do everything we've asked them to do."

"It's our coaches that get us playing as well as we do," Fox said. "They say all the things that need to be said to get us to play hard and play together."

Vonderhaar spoke to Winslow's demeanor as another factor at play.

"He's very calm and composed, all the time," Vonderhaar said. "And he knows what to do to make us play better."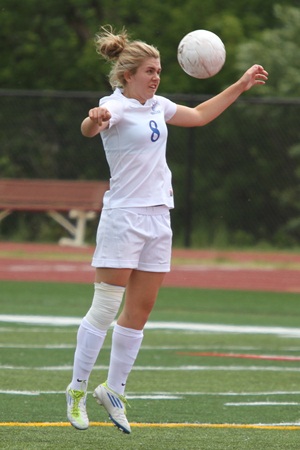 At 24-3 this year, St. Francis' only losses came to state-ranked Class 3A Metea Valley, a Class 3A Iowa team in Bettendorf now playing in the Iowa state finals, and Wheaton Academy.

The Spartans posted 16 shutouts and only gave up 11 goals in 27 games thanks to a stable of juniors in goalkeeper Jenna DiTusa and backline stalwarts Bucaro, Meghan Wagner, Kate Roback, and Alyssa Mastroianni.

Ramsey and the junior Vonderhaar held down the midfield this year, midfielder-forward Fox led the team in assists with 11, while senior Amanda Gaggioli led the team in scoring with 14 goals and 2 assists. Junior Kaity Bucaro had 4 goals and 5 assists, while Taylor Bucaro finished with 6 goals and 5 assists.

Juniors Sarah Rahman (2 goals, 1 assist), Emma Fickle (2 goals), Lauren Shields, and Christy Peplow all return next year, along with a sophomore class led by Andrea Ravlin (7 goals, 4 assists), Samantha Radel, Alexa Zepeda, Brianna Miulli, and Brittany Douglass.

A pair of key freshmen in Courtenay Hart (10 goals, 1 assist) and Taylor Van Thournout (3 goals, 2 assists) will only get better and help give the Spartans a chance at another exceptional season.

"We're losing some very good players (seniors Fox, Gaggioli, and Ramsey) so we'll need to find someone to step up and fill the gap," Vonderhaar said. "We'll go into next year the way we went into this year, knowing that if we put the work in and play together, we can do it."