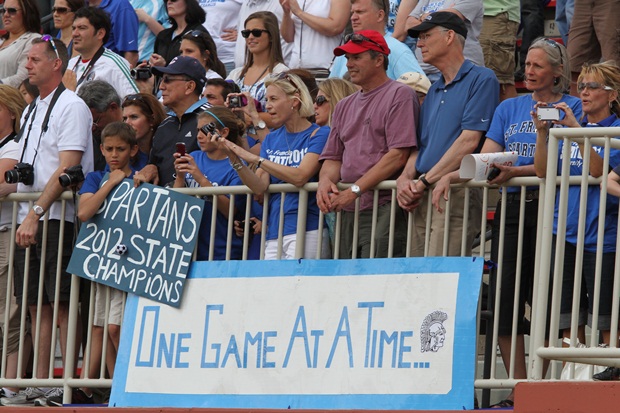 Spartans win state title on Bucaro's freekick magic
By Gary Larsen
CLICK HERE FOR SPARTANS' TEAM PAGE

"I'll always remember this day. I'll never forget it," St. Francis senior Sydney Fox said. "The whole atmosphere, everything. It was the best day ever."

There is nothing quite like winning a state title.

The clock was ticking its way towards overtime late in Saturday's Class 2A state title game when one of Fox's teammates, junior Taylor Bucaro, lined up a free kick from 25 yards out on the right side.

Bucaro might well have had her coach's words somewhere in the back of her mind.

"I told her at halftime that great players make plays in big games," Spartans coach Jim Winslow said. "I'm not overly vocal but I kind of challenged her. I wanted to make a point because the big thing we've talked about is taking advantage of our opportunities."

"When (Bucaro) got that free kick I was thinking 'take the shot, Tay'," Fox said. "I knew she could do it because she's done it before."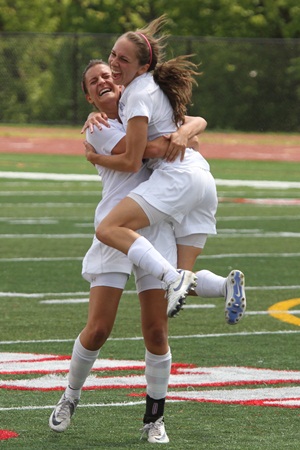 One menacing shot later, the ball tore a path inside the netting at the far post, just under the crossbar, that great nomad's land where no goalkeeper can get to it. Bucaro's goal gave the Spartans a 2-1 lead over Glenwood and with five minutes left to play it stood up as the goal that won St. Francis its first state title in the 12-year history of the program.

"The keeper was up a little bit and I knew that if I aimed back post either I'd score or someone would get something on it," Bucaro said.

In fact, the Spartans' state crown is the first for any girls' team sport at the school outside of coach Peg Kopec's state power volleyball program.

"It hasn't actually hit me yet that we did win state," senior Katie Ramsey said. "All year we've been saying 'state '12, state '12' but now that we're actually state champions it's surreal. But it feels awesome."

"It's great to get this far and to go all the way," junior Anna Vonderhaar said. "Once we got here we thought if we got down to business, we could do this."

Just as it was in the Spartans' 1-0 state semifinal win over St. Viator on Friday, Saturday's state title game against Glenwood had no dominant team at work either way. In both of their downstate wins, the Spartans simply got it done in a pair of evenly-played games.

St. Francis (24-3) struck first on Saturday when Kaity Bucaro won a ball at midfield near the touchline on the right side, sending it ahead to Fox in the game's ninth minute. Fox took it deep into Titans' territory before cutting it back to her left and making a decision.

"I was looking at the goal but then I saw that no one was on Andrea," Fox said. "I just played it to her and she finished it."

Let history show that Andrea Ravlin had a hand in two of the Spartans' three downsate goals. The sophomore fed senior Amanda Gaggioli for the game's lone goal in the win over Viator, and tucked a goal of her own inside the near post past diving Glenwood keeper Cara Moody.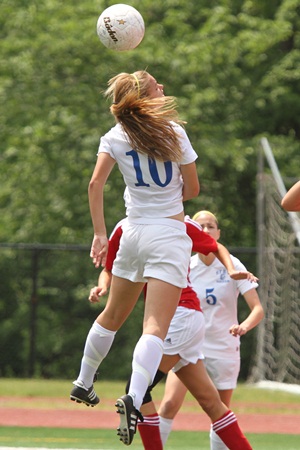 The Spartans' lead lasted less than six minutes. Glenwood sent a ball into the Spartans' penalty area that keeper Jenna DiTusa charged out to gather, but the ball deflected off the back of a Titans' player and squirted past DiTusa towards the far side, where Glenwood's Kassidy Sheedy buried the open-netter.

"The first fifteen or eighteen minutes I thought we started to find a rhythm, and that goal killed us because it felt like we kind of hung on by our fingernails for the rest of the half," Winslow said. "But still, we didn't give them much and I thought they were more dangerous on a couple of those throw-ins in the second half. We only gave them a few corner kicks and they had some dangerous throw-ins."

The Spartans' earned a 7-5 edge in shots on net for the game, the Titans' earned a 4-1 edge in shots off frame, and St. Francis finished with a 3-1 edge in corner kicks.

DiTusa was relentlessly aggressive off her line in cutting off serves, made four saves on the day, and the junior consistently sent booming clearing shots back to midfield all day. "Jenna was the 'man of the match', so to speak," Winslow said. "She kept us in it when things got scary today.

"It goes back three weeks. She had to get past the trepidation she had from the (regional) Elmwood Park game, when they scored that first goal because she stayed frozen on her line instead of coming off and getting the ball. For lack of a better word, that kind of woke her up and she has played great ever since."

Junior Kate Roback contributed a huge moment of her own, racing back to clear a ball off the goal line when the game was still tied in the first half. DiTusa and defenders Roback, Meg Wagner, Taylor Bucaro, and Ally Mastroianni were the spine of a defense that only gave up three goals in 7 postseason games. St. Francis posted 17 shutouts and only gave up 12 goals in 27 games this season.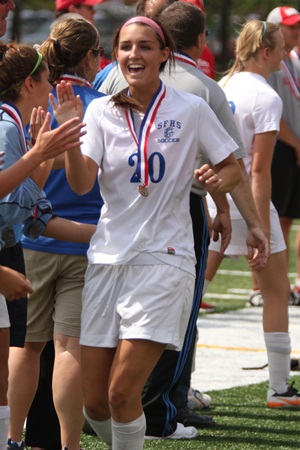 Saturday's second half played out on a hot day made even hotter by the artificial surface at North Central College. Neither team established consistent control and the title game seemed destined for overtime, which was not something Winslow wanted his girls to have to deal with.

"They're dead. They have no legs," Winslow said. "The wars we had to go through just to get here took their toll. Meg Wagner is out here playing on one leg. I just told the kids at halftime that they had to challenge themselves for forty minutes. And we had to start winning the fifty-fifties, and in the second half we did that."

With defender Wagner and midfield workhorse Vonderhaar limping around the field and fatigue setting in for both teams, Bucaro's late game-winning shot was just what the doctor ordered.

The Spartans now bid farewell to seniors Fox, Ramsey, and Gaggioli, and while Winslow's team figures to be rock-solid again in 2013, their departure leaves a few big holes on the field.

"Awesome, awesome kids," Winslow said. "I've coached Syd here and in club for a couple of years and she's just wonderful, Katie has just become such a tough, tough kid, and I'm absolutely privileged to coach a kid like Amanda."

"We're losing three great seniors. They're unbelievable," Bucaro said. "I've been playing with them forever and they're going to be missed."