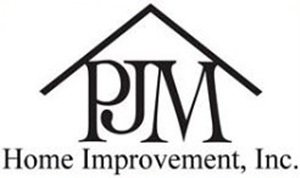 BREAST CANCER AWARENESS NIGHT March 21 @ North Central College
Naperville Central vs. Waubonsie 5 PM
Neuqua vs. Naperville North 7:30 PM
Donate to Edward Cancer Center below

2012 ROSTER

Coach: Steve Goletz

Allison Hitchcock
Sr., GK
Zoe Swift
Jr., F
Meghan Lee
So., M
Hunter Drendel *C
Sr., F
Maria Grygleski
Jr., F
Abby Mangefrida
So., D
Christa Szalach *C
Jr., M
Cora Climo *C
Jr., M
Anna Prescott *C
Sr., D
Jillian Van Kampen
Jr., D
Angela Widlacki
Jr., F
Emily Bromegen
Jr., M
Jen Korn
Sr., D
Melanie Hegner
Sr., D
Kristin Deichstetter
Sr., D
Britney Weizeorick
Sr., M
Caroline Rico
Jr., M
Sarah Feder
So., M/F
Kayla Sharples
Fr., D
Abbie Boswell
Fr., F

*C denotes captain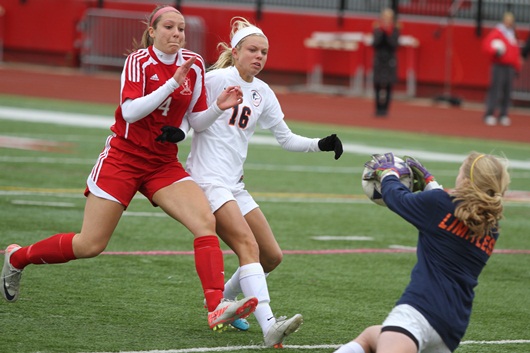 Huskies' 'D' one for the record book
By Gary Larsen
CLICK HERE FOR HUSKIES' TEAM PAGE
Jen Korn, Jill VanKampen, Anna Prescott, and Kayla Sharples put their stamp on Naperville North soccer in 2012.

"They're going to go down as one of the best back fours we've ever had. There's no question," North coach Steve Goletz said.

Add a goalkeeper in Allison Hitchcock that Goletz believes has been under-recognized and a defensive midfielder in team MVP Emily Bromagen, and all the pieces were there this year for a team that only gave up 10 goals in 27 games en route to winning this year's Class 3A state title.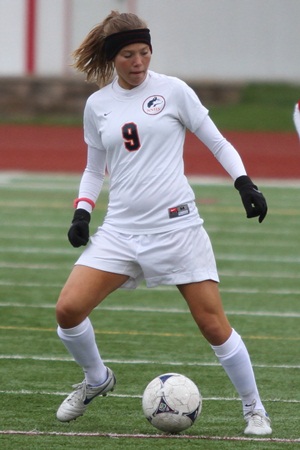 "Everyone steps when they're supposed to, everyone flexes, and everyone goes in hard, every time," Hitchcock said of her defense. "It's an amazing group of girls that I can call my back line. They're there for me and I'm there for them when they need me."

When North junior Christa Szalach buried the game-winning shot in Saturday's fourth overtime against St. Charles North, the Huskies had their 16th shutout of the year, putting them third all-time in program history.

From program founder Al Harris to coaches Jay Konrad, Jen Hodson, and Brent Terada, North's program has always stressed, first and foremost the importance of playing strong defense.

"You can't lose if you don't give up any goals," Harris said. "It's like they always say: 'defense wins championships'. It was always our main focus."

As a former high school and college goalkeeper, Goletz was practically bred to be defensive-minded.

"When you have players like Zoe (Swft), and Abby (Boswell), and Christa (Szalach), and Cora (Climo), who can get goals, if you can lock down defensively, you're going to be in good shape. And that was us this season," Goletz said." Was the soccer always pretty? No, but that's us."

Somewhere out there, possibly scattered around the country, are former Huskies' defenders Kelli Warren, Clare Bradley, Jennifer Thompson, Kristen Knight, and Kristi Taheri. Former goalkeepers Christy Munson and Amy Liska are out there somewhere, too.

Twenty-four years ago under Harris, those seven players set the standard for defensive play at Naperville North in the modern era of girls' high school soccer, a defensive unit that only gave up 9 goals en route to helping North win the first official IHSA state title in girls' soccer in 1988.

Korn, VanKampen, Prescott, Sharples, and Hitchcock met that standard

"It was all year long," Goletz said. "From Day One, we worked a ton defensively. At the start of the year we had Angela Widlacki go down (to injury) and we had four kids step up and have a phenomenal season.

"To play those four kids pretty much the entire year and to give up ten goals playing our schedule is a testament to them. They played a great game tonight and Allison Hitchcock – who doesn't get enough notice – made two or three phenomenal saves tonight. But that's the thing; they pick up for each other."

Bromagen's role on the team was pivotal to this year's effort.

"Emily was our team MVP this season and that says something," Goletz said. "The kids realize that without her, we don't go. Emily does the dirty work for us, game in and game out, and she covers so much space. She tackles the ball, she wins balls in the air for us, and she isn't going to get a lot of goals and assists but she gives us everything she's got, every game. Without her we wouldn't be nearly the team that we are."

Hitchcock made the save of the game late in the Saturday's second half, preserving the scoreless tie that stood until Szalach's game-winner, which came on a feed from Hunter Drendel.

"It feels incredible, indescribable – ineffable, if you will," Hitchcock said. "It feels amazing. Knowing what it feels like to get second (in 2011), because I was on that team too, we came into the season knowing everyone had high expectations but we went into it not with expectations, but with goals. Our goal was to get here, rather than expecting to get here."

Where the program's all-time numbers are concerned, Harris' '88 team gave up 9 goals in 23 games, and Goletz's 2012 team gave up 10 goals in 27 games. But this year's team posted a .37 goals-against average, putting it ahead of the '88 team and its .39 GAA.

The '88 team also posted a program record 18 shutout and did something that can be matched but never topped, burning through the state playoffs that season without giving up a single goal.