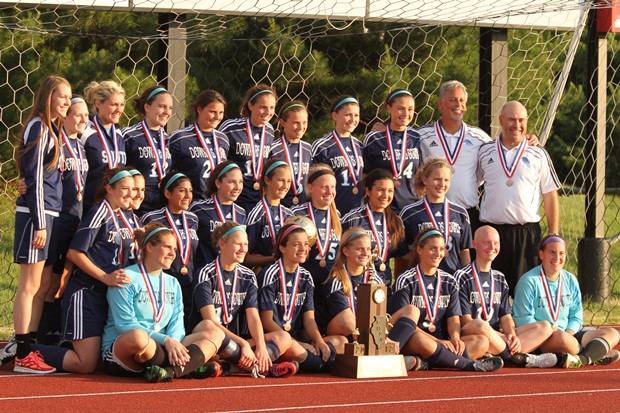 Mustangs send Jacobson, Topor out in style
By Matt Le Cren
CLICK HERE FOR MUSTANGS' TEAM PAGE
Downers Grove South coach Barry Jacobson and his players walked off the field Saturday night at North Central College in Naperville amidst a jovial atmosphere that had an air of finality to it.

The Mustangs' 2-1 shootout win over Glenbrook South in the Class 3A third place match marked the end of era for both Jacobson and Downers South's seniors, who sent themselves and their retiring coach out with a victory.

Jacobson, the winningest girls' soccer coach in Illinois history, leaves behind half a lifetime's worth of memories, while the senior class of Flo Beshiri, Jessica Bronke, Cassidy Hermann, Sarrah Ludwig, Amanda Meyers, Jessica Pikul and Rachel Ruggiero graduate with memories that will last a lifetime.

The final match of Jacobson's illustrious career was a thriller worthy of the state championship match the Mustangs (20-6-3) barely missed advancing to thanks to a 2-1 semifinal loss to St. Charles North the night before.

"Both teams played a great game," Jacobson said. "It was very competitive and a hard game but I can't ask for more. I'm proud of the kids and our program and the way they finished it out. You get to go out in the state finals with a win, so I'll take it."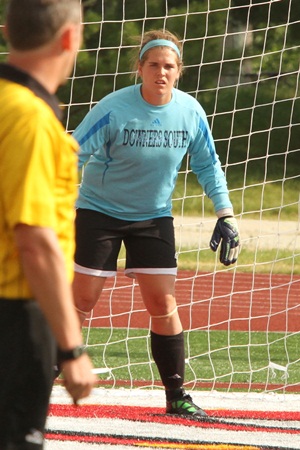 Jacobson, a Maine North alum, was just two years out of college when he started Downers South's program in 1984, four years before girls soccer was sanctioned by the IHSA. Under his direction, the Mustangs went 489-144-58 over the past 29 years, advancing to the state finals seven times and winning five trophies, including a second place finish in 1993 when they lost 3-1 to Schaumburg in their only appearance in the title match.

This year's team matched the 1992 squad for the second-best showing in school history.

Jacobson informed his players of his decision to step down two weeks before the playoffs started. He wants to spend more time with his two sons, Matthew, 15, a swimmer and water polo player at Neuqua Valley, and Daniel, 12, who plays soccer.

For the Mustangs, Jacobson's retirement announcement added emotion and fuel to their goal of qualifying for the state finals for the first time since 2008.

"It was really emotional," Hermann said of the season. "We had our off, we had our on, but obviously we proved ourselves getting third in state. That is pretty awesome.

"I think we worked that much harder because we did know it was Coach's last year and he deserved it and the [group of] seniors that's been playing together forever, they deserved it too. I think the younger girls really stepped it up, we stepped it up as a team."

Unlike Ludwig, Pikul and Bronke, who were three-year starters, Hermann was a newcomer, recruited to join the team by Pikul, her teammate on the volleyball team, at the request of Jacobson, who was looking to upgrade his goalkeeping.

Hermann hadn't played soccer since junior high but she proved to be up to the task, allowing only 16 goals in 29 matches playing behind one of the better defenses in the Chicago area.

Hermann saved her best for the postseason, coming up with terrific performances in two shootout victories. She stopped one penalty kick during the Mustangs' 3-2 win over Hinsdale Central in the sectional final and outdid herself in the shootout against Glenbrook South, saving back-to-back attempts to allow the Mustangs to win the session 4-2.

That took away some of the sting from the loss to St. Charles North, in which the Mustangs grabbed a 1-0 lead on a goal by Stephanie Hall just 93 seconds into the contest, only to see the North Stars rally to take the lead early in the second half and hold on for the win as both Miami [Ohio] recruit Bronke and the Valparaiso-bound Ludwig, who scored 29 goals this spring, hit the crossbar with shots in the final 10 minutes. St. Charles North went on to lose to Naperville North 1-0 in four overtimes in the final.

"As soon as we got home [after the loss] everybody sent a text message, went to Facebook and said, 'girls, we are an awesome team, we just got to know that, leave it on the field and bring it tomorrow," Hermann said. "So as a team we really came together, which was amazing."

Jacobson and Bob Topor, his assistant for the past 22 seasons who is also stepping down, realized the import of the moment before Saturday's match, but once play began the competitive juices started flowing again and those thoughts were shunted aside.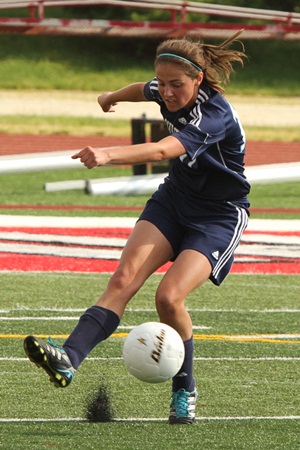 "We were just coaching," Jacobson said. "I think this morning [it was] a little [emotional] just realizing this will be our last time out, but once the game starts you just coach. You yell and scream, try not to get [yellow] carded."

But for the players, it was a different story. They took Jacobson's pregame advice to heart, playing, as did Glenbrook South, with a passion not always seen in consolation matches, which some teams treat as a glorified exhibition.

"He told us before the game that as a team collectively we have to decide if we're just going to play for fun and get fourth or if we're going to work hard and try to come out with a win at the end of today and we all agreed that we wanted to come out with a win," Pikul said. "We did what it took to get it."
Working hard has been a chief trait at Downers South, courtesy of a coaching staff that demanded it from players for more than two decades.
"They've both worked so hard and they've been great coaches," Ludwig said of Jacobson and Topor. "They taught me so much skill and they never stopped working you, pushing you, and those are the kinds of coaches you need. They know how good you can play and they push you and push you until you get there. And (Jacobson) puts it in our head -- we never let any ball just roll right by us, on the ground, in the air, fifty-fifty ball. We need to win it."
After the Titans (21-6-4) took a 1-0 lead with 23:57 left in the second half, the Mustangs went into all-out attack mode and tied the game when Bronke headed home a corner kick from Beshiri with 17:30 remaining. If not for the play of Glenbrook South goalie Kelsey Byers, who made three saves on Bronke and Ludwig down the stretch, the Mustangs would have won in regulation.
"We all told each other this is our last 80-minute game for some of us in soccer," Pikul said. "We basically dedicated this game to one another. It was the last time we were going to play together so it was a really huge experience of just coming together as a team.

"It was hard a little bit when we were down but you could see, we still came back right away with fire. We were determined."

Beshiri, who will continue her career at Creighton, said she was inspired by Jacobson's last pre-game talk.

"He talked a lot about pride, about having pride in your school and representing your school," Beshiri said. "A lot of teams don't play that well for third place. They're like it doesn't matter, but we wanted to be one of the teams tonight that wins.

"Both of our coaches are retiring so we kind of wanted to give them something to go away with, like a good feeling, [especially] coming off of yesterday where we wanted to win really badly. Those were our expectations, to come out and win and play in the [title] game tonight, but things didn't happen, so we at least wanted to go out with a win in our last game."

The Mustangs did that, coming through in the always nerve-wracking shootout. Four of Downers South's five shooters converted, with Ludwig and Pikul drilling theirs before Bronke was stopped by Byers. But Hermann thwarted Glenbrook South's second and third shooters, Beshiri made her kick to put the Mustangs up 3-1 and, after Eleni Haramaras kept the Titans alive momentarily, junior Brittany Dietz delivered the clinching kick.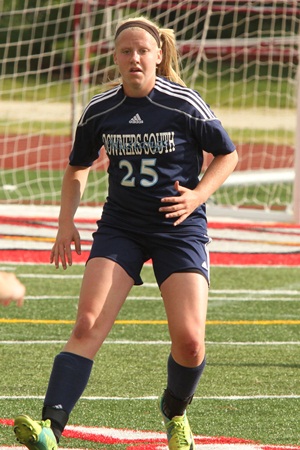 With that, the tension dissipated and the ensuing trophy ceremony was filled with glee. As the Mustangs awaited their turn to step up to the podium and receive their individual medals, the seniors desperately went about the important task of finding enough water to fill a cooler so it could be dumped on Jacobson's head.

The girls had used most of their water during the grueling game and had to slowly empty what was left out of small bottles. But then their fans tossed full bottles of water out of the stands and the deed, which somehow managed to surprise Jacobson, was done.

"That was the plan," Pikul said. "We're like if we win, we're dumping water on him. It was pretty funny."

Jacobson, who is incongruously soft-spoken for a man known for his yelling during games and practices, admitted the day was emotional.

"A little," he said. "It's one chapter but something always opens up. I'm proud of the girls battling back like that and playing to the end."

The end of a high school career is often bittersweet, the completion of a rite of passage for so many, and that's especially true for Downers South's Class of 2012.

"We're all very close so it's going to be sad to leave, but I couldn't have had a better senior year than this one," Beshiri said.

Nor could Jacobson have asked for a better career.

"I met all of my best friends through this and a lot of good kids and good people," Jacobson said.

One of those friends is former Naperville North coach Al Harris, the man who previously held the record for career wins. Jacobson surpassed Harris' total of 339 back in 2004. Ironically, Harris also ended his career with a third-place finish, back in 2001.

"First of all, I'm an even number man so I'm kind of disappointed that he's going out," Harris said. "Next year would have been his 30th season and he would have reached 500 wins.

"Barry has always been an intense competitor and you always knew Downers South was going to be good on restarts. I give him a lot of credit for walking away, because if I was that close to 500 wins I probably would have stuck around another year. But family is important to him and I think that was the deciding factor in his decision."