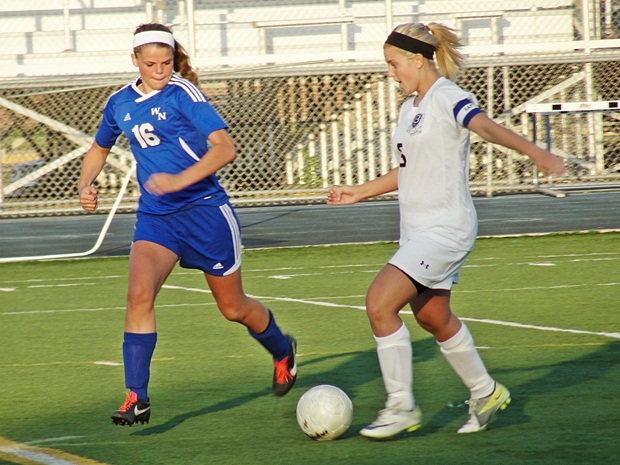 Battling Hawks see season end with four OT loss to Falcons
By Curt Herron
CLICK HERE FOR HAWKS' TEAM PAGE
As Bartlett's players walked toward their bus following a heartbreaking season-ending loss on Wednesday, Wheaton North coach Tim McEvilly summed up the scene perfectly.
"I don't know if I've ever been more impressed with the heart that another team played with," said McEvilly of the Hawks. "This is about as emotional as I've been toward feeling disappointed for another team.
"They didn't have much of a bench but had kids out there who were getting injured pretty seriously and still playing. Number 10 (Jessica Cosentino) played the last 40 minutes on one leg. It was very impressive."
On a night where neither squad deserved to see its year conclude, the Falcons prevailed in a match featuring a roller coaster ride of emotions that lasted nearly two hours.
Sydney Sharkey ended the Class 3A West Chicago Regional semifinal match in the 113th minute when she fired in a liner for the only score in North's 1-0 win over Bartlett.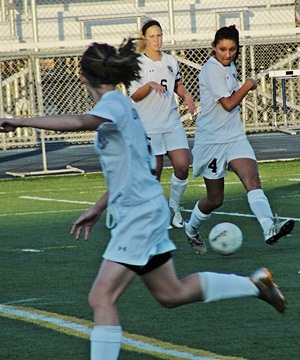 The victory advances the Falcons to Saturday's noon title match with Geneva, which beat the hosts 8-1 earlier in the night. Geneva edged North 2-1 in overtime on April 20.
Bartlett (11-9-2) withstood a withering attack from North (10-9-1) during the final half, only to turn the tables on the eventual winners in the overtimes.
But on an evening where both Bartlett's Natalia Grodzki and North's Jessica Kiely stood out in goal, there wasn't much that anyone could do to prevent Sharkey's winner.
Despite seeing her squad's season end in disheartening fashion, Hawks coach Heather Thomas was understandably proud of how her short-handed team battled throughout.
"I can't be more proud of my team," Thomas said. "It stinks, quite frankly, but they played well and we played well and it was a valiant effort on both teams' parts. Unfortunately, we just couldn't make it work in our favor.
"We had girls going down left and right but still fought through it. Physically their bodies were telling them no but mentally they were still strong. I thought that we actually played better in the overtime than in regulation."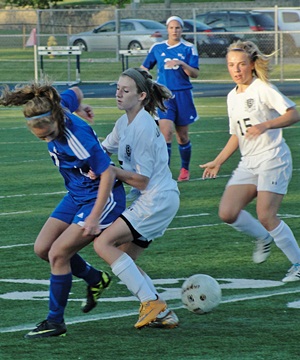 Case in point were two of the Hawks' four seniors, Jessica Cosentino and Nicole Gobbo, who both were helped off the field, only later to return to try to help their team.
Cosentino went down shortly after the break and missed over half an hour before returning before the end of regulation and then toughing it out in the overtimes.
Gobbo exited twice, first after getting hit in the face about midway through the final half and then later, missing a few minutes during the third extra period.
The loss was particularly disappointing for the Hawks' senior foursome of Ashley Johnson, Cosentino, Gobbo and Grodzki, who were all four-year varsity players.
"I knew that this could be my last game, so I owed it to my teammates, my coach and to myself to play since I've worked hard for four years," Cosentino said. "The athletic trainer told me that I couldn't go back in but that wasn't going to be how I ended my last game.
"It was a very good game and both teams played hard. We played with a lot of heart and truly left it all on the field. I've played with the seniors since before high school, so it's hard to lose, but we all played with our hearts."
Just as Bartlett's four veterans were determined to stay alive in the playoffs, North's equal-sized contingent of seniors refused to walk off the field as losers.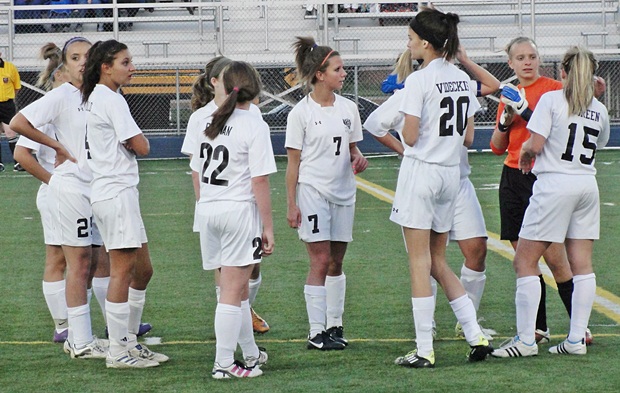 With Jordan Fowler, Tiffany Traxinger, Sarah Weatherred and Sharkey leading the way, the Falcons got their wish of earning a rematch with the top-seeded Vikings.
"My mind set was that this was not going to be my last game since it would have been terrible to go out that way," Sharkey said. "But I give Bartlett so much credit since they were hurt and had no subs but still worked their butts off.
"Every time that we got a corner kick or free kick in the second half I got so excited but we couldn't finish them. We were ready for PKs but I didn't want that. This is definitely the best goal that I've ever scored and probably the best moment of my life so far."
The reason that things got so close to being resolved by penalties was due to not only great work from the keepers, but also from their defenders in front of them.
Bartlett's back line and Grodzki were under steady pressure during the final half while Kiely and her defense had to rise to the occasion over the next half hour.
"Our girls played outstanding soccer for the first 80 or 90 minutes," McEvilly said. "We pressed and pressed and had corners and shot after shot. We were talking about making an adjustment since we hadn't scored but we couldn't create any more chances than we did.
"Their keeper made a couple of really nice saves, including a great one over the bar. That young lady is one of the top keepers in the state of Illinois. She's the real deal and she makes a difference. Some times she made a difference just by getting in your head."
And naturally, the Falcons coach had complimentary things to say about his keeper and defense, which recorded the squad's third shutout in their last four matches.
"Jessica made a save at the end that probably saved the game for us," McEvilly said. "What she did tonight was that she was much more patient off of her line. When she stays in the net, she's a tall, athletic kid who can cover the frame of the net.
"Linnae Giuliano has done a brilliant job all year, but when she got hurt, Emily Barry really picked things up in the central defensive role. She knew that she had to do more since Linnae couldn't cover the same amount of ground.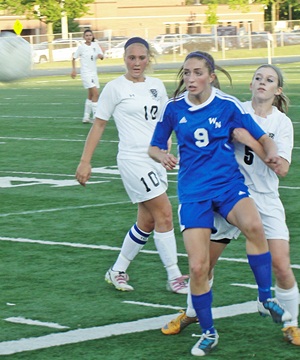 "Lyndi Armstrong does such a good job on the outside stepping to the ball and not allowing people to get possession. And we got a lot of possession going forward from her aggressive play. And Sarah Weatherred is very composed and made some smart decisions tonight."
After watching her side dodge one threat after another during the second half, the Hawks' coach had plenty of praise reserved for her keeper and the back line.
"Natalia kept us in the game for sure," Thomas said. "She made some key saves during regulation and overtime that definitely kept us in it. And our defensive line has been playing great all season long. They're solid and work well together.
"Ashley Johnson is our stopper and is kind of our enforcer back there. Aubrey Czekajlo and Melissa Gal are incredible outside defenders who make runs forward. And Tina Fairbanks has been a solid sweeper who is so good at containing forwards."
In the initial overtime, Nicki Noreen had a pair of shots denied by Kiely, who also stopped two tries from Gobbo. Sharkey had North's lone threat of that period.
Gobbo was thwarted two more times in the second OT and the Falcons keeper also halted a short attempt from Josie Dombrowski just before that 10-minute span ended.
Kiely stopped two more shots from Noreen in the third overtime, including one on a diving effort, while Sharkey responded with a line drive that Grodzki hauled in.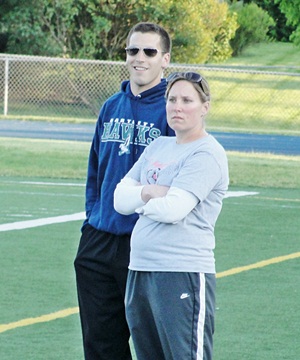 Shortly after Traxinger was denied on an attempt early in the final overtime, Sharkey got free and ended things with just under eight minutes left before penalties.
North's corner kick flurry by Traxinger began shortly after the break, beginning with a short shot by Anne Denz and a liner from Traxinger that were both deflected.
After the next two Traxinger corners were deflected, Grodzki stopped a header from Emily Barry. Not long after that, Fowler placed a short attempt over the net.
Bartlett countered with a Gobbo shot that hit a defender and the subsequent corner by Johnson, which was thwarted by Kiely shortly before the half's midway point.
Perhaps North's best chance in regulation play came during the 61st minute when a Fowler throw in led to a shot by Traxinger that the Hawks keeper punched away.
Following that, Traxinger lined an attempt off the crossbar and then later in the half, Denz was denied on two attempts and Traxinger saw a late free kick halted.
The Hawks had most of the good threats in the opening 40 minutes, however the majority of them came from a distance and were easily stopped by the Falcons keeper.
Cosentino and Kendra Videckis were each thwarted on a pair of attempts while Johnson sent one free kick to Kiely while a similar effort sailed just over the net.
After seeing his squad survive a close call in their regional opener, McEvilly is looking forward to seeing how the Falcons perform in their rematch with Geneva.
"Geneva's the number-one seed in the sectional for a reason," McEvilly said. "They're a high-quality team that's dangerous through the midfield and up top with multiple kids. But we've got a chance against them and that's all you can ask for."