2012 ROSTER

Coach: Ignacio Ponce

Katie Oldach
Sr., GK
Emily Vachon
Jr., GK
Elise Dellegrazie
Jr., GK
Renata Voci
Sr., D
Wren Osler
So., M/D
Sanya Ovonovic
Sr., D
Zoe Snelling
Jr., D
Katherine Skrine
Sr., D
Patricia Witt
Jr., D
Claire Cekander
Jr., D
Sara Richert
Sr., D
Emily Verticchio
Jr., D
Naomi Johnson
Jr., D
Mikaela Gillman
Sr., M
Joy Dennis
Sr., M
Tess Trinka
So, M/F
Maggie Blaha
Jr., M
Meredith Blatner
So., M
Erin Schrobilgen
So., M
Rebekah Dempsey
Jr., M/D
Jacque Bono
Jr., M
Sophia Pappageorge
Sr., M
Nicole Smart
Jr., M
Olivia O'Sullivan
Jr., M
Mogbaola Ana Agboola
Sr., F
Ruby Gonzalez
So., F
Alicia Gerin
Jr., F/M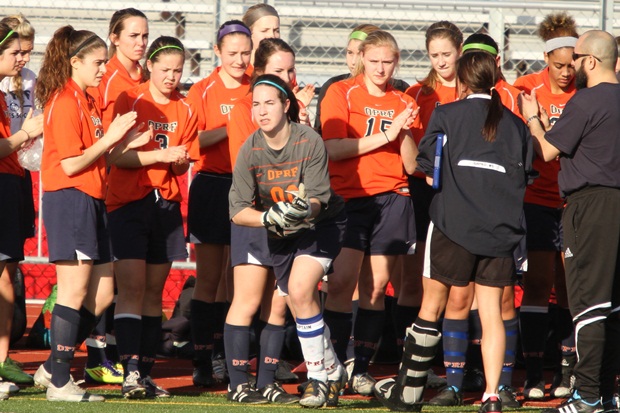 Game One a learning tool for the Huskies
By Gary Larsen

The sometimes ragged, sometimes sharp nature of season-opening soccer games can tell a coach more than he can possibly know beforehand.

"You can't tell in practice," Naperville Central coach Ed Watson said. "You think you're okay but what you see in your first game is what you need to fix, and what roles you have to redefine."

Watson and Oak Park and River Forest coach Ignacio Ponce learned a bit about both what needs tinkering and what looks promising on Tuesday, as Central won 3-1 over the visiting Huskies.

Sophomore Abby Joyce scored twice and senior Katherine Short tallied once for the winners, while sophomore Ruby Gonzalez netted a goal for OPRF.

Watson pulled then-freshman Joyce up to the varsity for last year's postseason, but a starting spot in the lineup on Day One of this season was a slightly different animal for the sophomore.

"Of course there were butterflies, but I was really pumped for the game," Joyce said.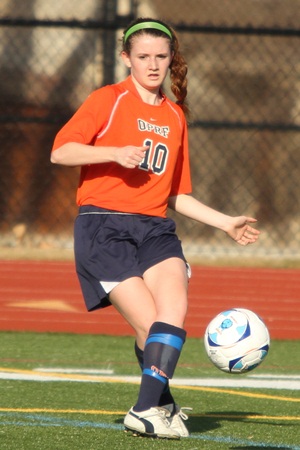 Through 40 minutes, Naperville Central (1-0) won nearly every ball in the air in keeping steady pressure on OPRF (0-1). And Huskies senior keeper Katie Oldach saw another factor at play in the first half.

"We have a lot of new girls and I really think they were fighting first-game jitters in the first half," Oldach said. "Naperville Central is a big, physical team. At halftime we talked about how soccer is a physical game and that we had to be more aggressive."

Joyce's first goal came on a right-side cross from Short to the back post, just six minutes into the game. Joyce had plenty of space to calmly bury the Redhawks' first goal of the season. When the net looks as big and open as it did on that play, Joyce's goal was simple.

"Just keep calm and don't miss," Joyce said.

Through 40 minutes, the Redhawks' persistent presence in their attacking third came for one primary reason.

"The thing I take from this game that was a real positive was that the ball in the air was won by the Redhawks more than it was lost," Watson said. "If we can win balls consistently in the air, then we're going to be successful.

"I thought Grace (Orndorff) and Meredith (McEniff), especially, were real good in the air today. And they need to be, because that's their primary role in what we're doing."

Short tested Oldach from long range at 35 minutes, Oldach saved Joyce at 39 minutes, and Short liked the chemistry she saw on Tuesday.

"I think our first game went well," Short said. "It's hard because you're playing with a lot of girls for the first time so you're getting adjusted to how they play, but I feel like we got off to a really great start. We won a lot of balls in the air, which usually takes us some time to get used to, and I thought we worked well together today."

Despite losing the battle in the air and defending for most of the first half, the Huskies nearly tied the game at the 9-minute mark when Mogbaola Ana Agboola hit a free kick from distance that Central keeper Jill D'Amico had to tip over the crossbar.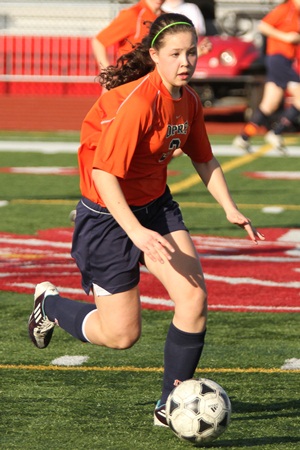 But trailing 1-0 at the break, OPRF knew something had to change.

"Their physicalness was a big threat to us," said Ponce, in his first season as head coach after taking over for Paul Wright. "They knocked out three or four of our girls, all on clean hits. But this is soccer; you have to learn to go in there physically, protect yourself, and win the ball. If you're going to go for a fifty-fifty ball, you're going to get contact. But a lot of our players are new to the varsity so as a coaching staff we have to teach them that when you go in there you have to expect the hit. That's soccer."

A shift in formation, more physical play, and better success in the air all had the Huskies spending time in their attacking third in the second half. They went down 2-0, however, when Joyce took a ball across the top of the penalty area and fired left-footed from 20-plus yards out, in the game's 57th minute.

Nine minutes later, Gonzalez gave her team its first goal of the season on a feed from Erin Schrobilgen, Despite struggling to find quality shots, the Huskies were combining well and were again one goal from tying the contest.

"I believe we have huge potential," Oldach said. "The goal we scored and some of the combination play we showed today, that was really good soccer. If we can continue to play like that and continue to connect with each other on the field, we'll be fine. I saw a lot of good things today."

Ponce was pleased with a better ability to find feet from his girls in the second half.

"When we got two and three combinations we showed that we can be effective," Ponce said. "On (Gonzalez's) goal, it started in the back with a four-touch combo that ended with a simple touch. We had a few combinations here and there, we switched the field and looked more productive."

Short dribbled in alone on net at 72 minutes on the right side but Oldach saved to a corner kick. But three minutes later, Maddie Thompson served a ball from the end line on the left side to the near post, and Short flicked a shot inside the far post.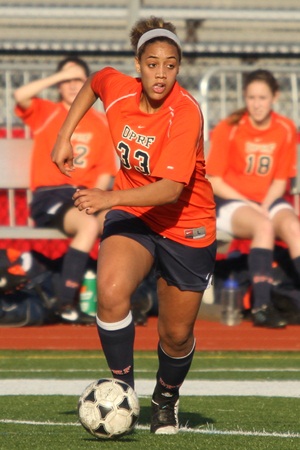 "That was exciting for me," Short said. "I had a breakaway and I didn't quite aim it right, and the keeper was able to block it, so that got me fired up and I wanted to make up for it for my team. So when that ball came to me, I really wanted that one to go in."

Short's goal was the back-breaker for OPRF.

"(Joyce) scoring two goals, that's a nice start for us, and Katherine's goal was a big goal for us," Watson said. "Abby is a big forward. We're asking our forwards to hold the ball early and she'll do that, and she's two-footed. She doesn't have breakaway speed but that's okay.

"Our freshman (Meredith Tunney) got her first varsity game in and I thought she played pretty well, so that's a good sign," Watson continued. "She's very steady and capable back there. I think Amanda (Alberts) and Alyssa (Angelo) played real well in back, and another rookie back there in Autumn (Muckenhirn) who has played a lot of soccer but is more of an attacking player and we're trying to find her a spot that she can make her own at outside back."

Once three of the Huskies' starting defenders recover fully from recent bouts with the flu, Ponce expects central defender Renata Voci to be a leader in back, in front of a solid keeper in Oldach.

"Katie was good, Ana Agboola was putting her body out there and challenging them physically, and Ruby Gonzalez picked it up in the second half," Ponce said. "She was making some combinations when we were on the attack. And Joy Dennis – we played her at the outside mid, at center mid, at center back – she's one of those players that we know we can count on.

"We just need to work out some kinks in back in terms of communication. We're trying some different systems, and learning a different attack rather than the traditional 4-4-2. If we can the ball on the feet of the right players I think we can do some damage."