Warriors fall to Triad in 2OT in semifinals, settle for fourth place

CLICK HERE FOR WHEATON ACADEMY'S TEAM PAGE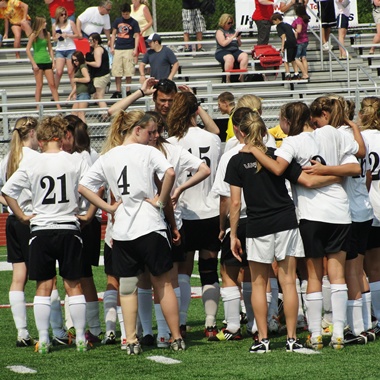 By Curt Herron
Just a couple of days after returning from five months of mission work in Rwanda and Congo, Lindsey Burke had a very difficult task.
In her first match back competing for Wheaton Academy this season, the senior had to try to slow down Triad all-stater Rachel Tejada.
And that would not be as easy assignment considering that the Knight forward entered Friday's Class 2A semifinal match with 37 goals.
Despite not playing with her teammates until Friday, Burke did a good job of keeping the Illinois State University-recruit in check.
But Tejada managed to find the net twice, with the last score proving the be the difference in a 2-1 victory at Naperville Central.
The Knight senior tapped in a shot to the opposite side of the net 59 seconds into the second overtime off a pass from Claire Stark.
As a result, Triad (20-2-1) advanced to its first state title match since 2003 when it faced Marian Central Catholic on Saturday afternoon.
Tejada went on to score another goal and the Knights won 4-1 in penalty kicks to claim a 2-1 victory over the Hurricanes in the Class 2A championship.
Wheaton Academy (15-8) was denied of its second title berth in three years and met up with Lemont in the third place match.
That's a rematch of the 2009 Class 2A championship, in which coach Scott Marksberry's squad won 3-0 to capture the state title.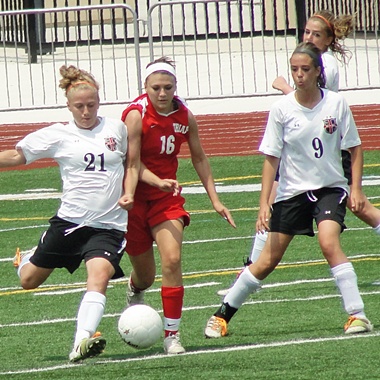 On Saturday, Lemont scored twice during the opening half and went on to record a 2-0 victory over the Warriors to claim third place.
Although the Indians (23-5) only had a couple of shots on goal, they made the most of them, receiving two scores from Kim Jerantowki.
Wheaton Academy went 57-15-3 in three years under Marksberry, who will become the women's coach at John Brown University in Arkansas.
The Warriors, who took third place a year ago, were seeking a championship match with Marian, who beat them 4-0 earlier this season.
If that had played out, it would have been the first time in the sport that two teams from the same conference faced off for a title.
Instead Tejada and Stark teamed up for the second time during the match to advance the St. Louis-area school into the championship.
"Normally we tell the girls after they lose a game that you want to learn from your losses, but we told them that they had nothing to learn today since it was just a battle," Marksberry said.
"One team has to win and one team has to lose, and that's just the way that the game goes. I'm very, very proud of them. Just to be in a position to get here is an awesome thing for our team.
"We're very proud of the girls and what they've accomplished to get here. After you lose nine girls off of last year's team, people don't think that you're going to make it back the next year."
The Warriors coach was proud of how his team defended against Triad, a squad that had outscored its opponents 24-0 in the playoffs.
"Lindsey Burke played her first game of the season and marked Rachel Tejada the whole game," Marksberry said. "She was in a study abroad program but we made sure that she was cleared to play.
"Once she got it all sort out and acclimated to the game, she did an awesome job. But our whole defense did. Kerrin Clancy was fantastic and Rachael Nasralla left everything she had out there.
"And Kristen Morency has always been good and makes good saves. But in the end, Rachel Tejada is a nice player and she scored a nice goal. She just has a knack for putting the ball in the goal."
Tejada nearly ended it in the first overtime but was denied on a short try by Morency, who then stopped a liner from Alyssa Patterson.
Following that close call, Ally Witt was denied by Triad keeper Kassidi Nudd and then Morency halted an attempt from Alyssa Wilde.
Shortly after the second overtime began, Tejada got free and got a toe on a try, which was good enough to produce the match-winner.
"In the last two months I didn't do anything since we were in Congo and it wasn't safe to be on the streets," Burke said. "I said, Oh my Gosh, I have to play the state game, are you serious?
"I knew she was faster and a better player than me but I wanted to give it all I had and try my best. It was rough watching that last one go in but I don't know what I could have differently.
"This was a great match between two evenly-matched teams who both worked their butts off. We lost nine of our starting players from last season and here we are so I'm very proud of our team."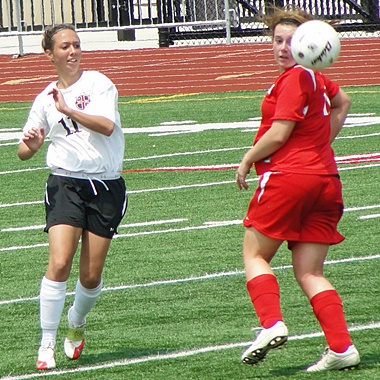 The other scoring took place in the opening 14 minutes, with Triad connecting first and the Warriors responding not long afterward.
Shortly after Tejada and Erin Sullivan were denied on tries, Tejada found the net, off of an assist from Stark, in the tenth minute.
Then a few minutes later, Crystal Thomas fired in a liner that was deflected away by a diving Nudd, which resulted in a corner kick.
Molly Cook sent the corner toward the net and after it hit a defender, Rachael Nasralla put in the loose ball during the 14th minute.
There wasn't much more drama throughout the rest of the opening half but the chances increased for both sides right after the break.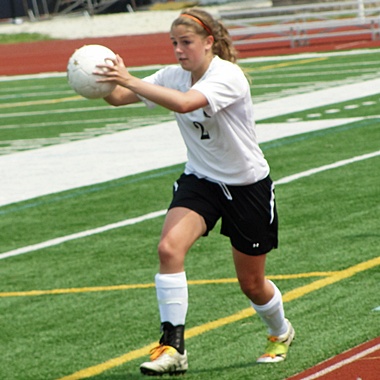 During the 41st minute, Witt sent a cross to Abby Olson, who couldn't get a touch on the ball to fire off a threatening attempt.
Later, Thomas dribbled past several defenders to set up her own corner, but Nasralla's header from close range went wide of the net.
Shortly after Morency stopped a long free kick from Brianna Schmitt, Lizzie Bergquist got off a shot that was halted by Triad's keeper.
As time wound down in regulation play, Thomas had a pair of free kicks from about 30 yards away but one was wide and the other high.
Triad threatened several times in the last seven minutes as Heather Seger was denied on a header and Schmitt sent a corner to Morency.
The Knights had a good chance in the 80th minute but Tejada's short try was deflected off the post, leading to an unsuccessful corner.
Seniors Kerrin Clancy, Brigitta Engebretsen, Lexi Youngberg, Bergquist, Burke, Cook and Nasralla were on all three of the state teams.
Three juniors, Morency, Thomas and Witt, also have been a part of the trio of state placing teams and figure to lead the way next year.