Swift scores twice to lead Huskies past Dukes in super-sectional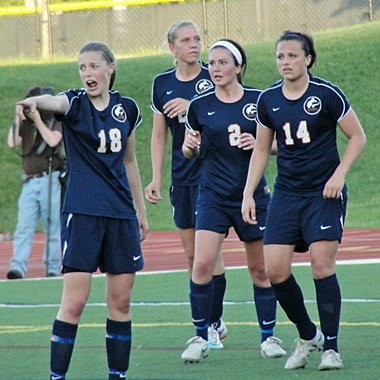 CLICK TO SEE MORE PICTURES FROM THE MATCH
CLICK HERE FOR NAPERVILLE NORTH'S TEAM PAGE
By Curt Herron
Although Zoe Swift was understandably disappointed, it was pretty clear that if she got another opportunity, she'd try to make the most of it.
Less than 20 minutes after misfiring on a penalty kick that would have put her team ahead, Swift left no doubts when she got her next good chance to score.
That came with 11:21 left in Tuesday's Class 3A Benedictine University Super-Sectional and proved to be the difference in the Huskies' 2-1 victory over York.
The winning score came after Kirsten Anderson sent an initial pass toward Hunter Drendel, whose backward flick then found its way over to Swift.
Swift, who scored on a penalty kick for North's initial goal, fired off an attempt from close range that went into the opposite side of the net.
As a result, the Huskies (17-5-1) earned their first state trip since 2004 and now advance to Friday's Class 3A semifinals at Naperville Central.
Coach Brent Terada's squad, which has won eight straight, meets up with Conant (20-4), who advanced after claiming a 1-0 win over Loyola Academy.
The Huskies and Cougars previously met on April 28, with North claiming a 2-0 win in that match, which was part of the Naperville Invitational.
North won trophies in its previous five visits and is assured of a sixth. It played for titles in 1988 and 1998, winning it all 23 years ago.
It marked a tough ending for York (21-5-1), which fell one win shy of reaching the state finals for the first time in the program's history.
Coach Krzysztof Halupka's Dukes started the season at 3-3-1 but had won 18 of 19 matches since, including 11 straight heading into Tuesday.
Although York became the first team to score in the postseason against North, it couldn't prevent the Huskies' fourth straight one-goal win.
That was assured during the 69th minute when the Anderson to Drendel to Swift combination clicked, allowing the Huskies to grab a 2-1 lead.
"After I shanked the PK, my team had to pick me up because I was so mad," Swift said. "But I knew that I couldn't stay down since I had to support my team by scoring another goal for them and I was able to do that.
"Kirsten got it to Hunter and she got it to me. We kind of have a thing, I don't know if it's telepathy, but she sent a good ball and found me. I knew that once we got up again that there would be no stopping us.
"Give York credit since they scored a goal against us which caught us off-guard. No one had scored against us and we were kind of down after that. But we had to pick it up since there was another whole half to go."
The Huskies almost added another score three minutes later but Swift's deflection off a free kick by Anderson was disallowed due to offsides.
That was the closest that either squad got to scoring during the match's final 10 minutes as North's defense kept the Dukes from threatening.
While North's defense allowed its first postseason score on a 50-yard shot from Allie Whitcomb late in the first half, it kept York at bay.
The Dukes had scored at least two goals in each of their last 19 matches but were held to only about half a dozen good tries by the Huskies.
Wrapping up the victory proved to be extra sweet for several of North's seniors, who recalled a different outcome in the 2009 super-sectional.
That's when Hinsdale Central scored in the second overtime to claim a 2-1 win over the Huskies and then went on to capture the state title.
"This means everything to us," North senior co-captain Adrienne Schertz said. "We were in the same position two two years ago and lost it so a bunch of the girls knew the feeling on the other end. That's why we really wanted to win this.
"We've beaten some really good teams along the way to get here and did that because we haven't given up and I think it's our heart that has kept us in this. We had one of our best games against Neuqua and knew we had to bring that today.
"Zoe came in big for us today by holding the ball and controlling a lot of the game. I have a lot of confidence in our team right now and I know that we'll do really well at state. I'm excited to see how we well we can do this weekend."
The two squads exchanged good chances during the initial part of the match, but none were so threatening that they figured to lead to scores.
Not long after Swift was denied from close range by keeper Anna Bell Landsdowne, York's Shari Lund sent a grounder that Abby Green collected.
Just before the midpoint of the first half, Angela Bianchi was stopped by Green on a grounder and Drendel had a similar try halted a bit later.
North's fortunes changed in the 29th minute when senior co-captain Jamie Meno fired in a liner that led to a call for a handball in the box.
After the clock was stopped with 11:36 remaining before the break, Swift fired in the penalty kick to give the Huskies the early advantage.
"I don't think this was our best game but we got the result we wanted, so that's what matters," Meno said. "We had to pick our heads up after getting down on ourselves a few times but we had a lot of chances so we thought we'd get one in.
"Honestly, this team has the best group of girls and we're so close. We may not have all of the talent, but we have all of the heart and we all go out there and play for each other. We battle until the end, that's the thing we do well.
"We were in the same spot two years ago and I still remember how awful it felt, it was the worst feeling of my life. We've had to beat Metea, Central, Neuqua and York, all very good teams. So to get to state is just an incredible feeling."
Just as it looked like the Huskies might be ready to take their 1-0 lead into the break, the Dukes stunned them with a long shot that went in.
Whitcomb's attempt with 5:05 left at first resembled a pass but it quickly became evident that the try was dangerous and it wound up finding the net.
Suddenly, York was back in the match and then it came out after the break with a pair of good chances, including a liner from Megan LeDonne.
That set the table for Swift getting taken down in the box during the 49th minute, but the subsequent penalty kick did not happen right away.
Following a few minutes of delay in which the clock was reset to 30:46 left and Swift readjusted the ball, her attempt sailed high and wide.
"It's hard to score twice on a PK against the same keeper," Terada said. "That stuff happens. But I'm proud of the fact that she was able to stay focused, keep positive and really work hard to get forward and create dangerous opportunities.
"We're pleased but right now it's all about moving on, not necessarily about style points. The whole year has been focused on doing things the right way but now we've changed gears and it's about just getting it done, that's all that matters.
"If the girls respond like this after just beating Neuqua Valley, then I'm not that concerned about a rebound effect at state. We know that Conant is as good as anyone around and I'm pleased that we'll get to see them again in the semifinals."
There was a long lull where neither squad created many real threats but that changed as things approached the final quarter hour of the match.
Ellie Ordonez started things off with a liner to Green in the 64th minute and then Danielle Vujovic was high on a free kick a short time later.
Perhaps York's best chance came in the 67th minute when Christina Ordonez got past three defenders and sent a liner that just went over the net.
Just over two minutes after that attempt, Swift got free for what proved to be the winning score, dashing the Dukes' state hopes in the process.
"I'm satisfied with the effort from my girls since they left it all on the field," Halupka said. "In the end, you have to solve the other team's puzzle, and I don't think that we did that tonight.
"When it was still 1-1, Christina showed her speed and got behind their defense and she hit a ball that she thought would go in but sailed a little high or wide, and that was our chance right there.
"On our goal, a ball came to Allie and she played it back in. It was opportunistic and it goes in, and that kind of got us back into it. But it was a second half game and they scored and we didn't.
"For me coming in as a new head coach, it was kind of like a transition time. I want to thank the girls for believing in me. Once the girls started doing the things that we worked on, we had success.
"I'm extremely proud of them and this is obviously a huge moment for our program. We won conference, regional and sectional championships but to come so close here leaves a sour taste in your mouth."