Cougars return to state semifinals with win over Loyola

CLICK HERE FOR CONANT'S TEAM PAGE
By Gary Larsen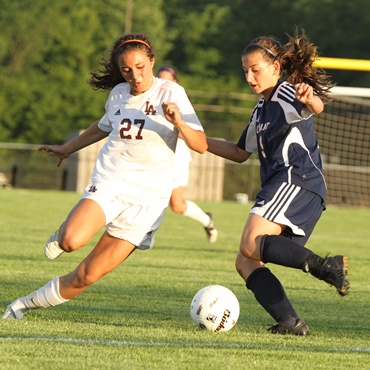 You can count the goals Loyola has given up in 2011 on the fingers of one hand, and one of those fingers now points at Conant's Sammie van de Linde.
Loyola goalkeeper Carly Stevens is one of Illinois' finest, but her leaping stab at it couldn't keep van de Linde's determined blast from burning a path to the upper ninety, from 18 yards out, 17 minutes into Tuesday's 3A supersectional game.
And that was all she wrote.
Conant (20-4) handed Loyola (24-1-3) its first defeat of the season on van de Linde's goal, which was only the fourth goal the Ramblers have given up all season.
The Cougars will head back to the IHSA state semifinals for the second time in the last three seasons. They'll take on Naperville North (17-5-1), which posted a 2-1 supersectional win against York (21-5-1) on Tuesday.
"This is amazing. My whole body is just shaking. I don't even know what to say right now," Conant defender Kelsey Foss said. "When there were six minutes left I started to think 'we've got this'. We all know what it takes to push it out, because we did it two years ago. We did it in the end and it just feels incredible."
Once van de Linde had given the Cougars a 1-0 lead, Loyola found a bit more spring in its step. The Ramblers' big and athletic midfield earned an edge for much of the rest of the contest, leaving Conant's girls in back with the chore of keeping the slate clean.
Mission accomplished, courtesy of a solid performance by goalkeeper Lindsay Fillingim and back line contributors Kelly Lomas, Kelsey Foss, Drew Wentzel, Kim Trinco, and Hailey Andress.
Conant's 15th shutout of the year and its fourth in five postseason games was hard-earned against a Loyola attack fueled by the desperation of a season slipping away.
"They've done that for me the whole year," Fillingim said of her defenders. "I've said it before, but I really need to take them out to dinner for everything that they do for me."
The game's first minute suggested the potential for a high-scoring contest. Five minutes in, Conant's Kaitlin Chiero split a pair of defenders on the right side and forced a diving stop from Stevens. One minute later, Fillingim had to dive at the post to swat away a long free kick off the foot of the Ramblers' Carrie Schoenberger.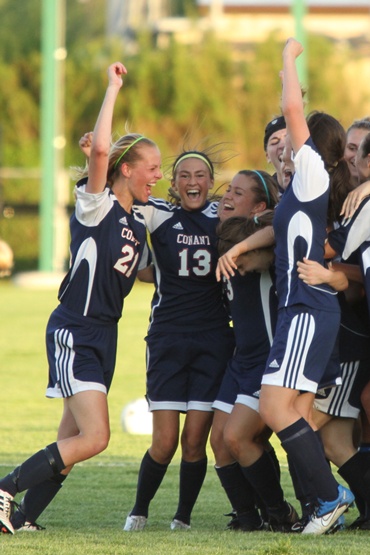 The Cougars' Courtney Raetzman broke in up the left side with a defender on her hip at 7 minutes, but her shot sailed high.
It was Raetzman who set up the game's lone goal, when she slid a ball across the top of the penalty area from right to left. van de Linde gathered it, touched it back to her right foot, and let fly.
Since moving up from the back line, van de Linde has embraced the unassuming life of an outside midfielder. The junior has simply punched in for work to the tune of 11 goals and 10 assists this season.
"She just works hard and she has scored a couple of big goals for us," Conant coach Jason Franco said. "She's had a nice year for us and it's nice that she came up big for us in this game. I had a feeling that Courtney (Raetzman) and (Kaitlin) Chiero were going to be the man-marked targets for them, so it had to be somebody else. And Sammie broke free and buried one.
"The question going in against a team like (Loyola) is 'are we going to be able to break them down at all?' They only gave up three goals all year, and I saw one of those goals and it was kind of fluky. But I thought that if we could get some chances we might be able to get one."
van de Linde was happy to get her side a goal against the Ramblers.
"I knew we were up against such a tough goalie, and Franco told us to get as many shots on goal as we could because the more shots, the better chance we had," van de Linde said. "I cut it back, saw an opening, and I just hit it. It was an amazing feeling. It's unexplainable, really. I'm just so shocked. Since moving from the defense I've tried to use my speed on the outside and I've worked on getting it to the corner and crossing the ball, and shooting."
After the goal, the question became whether Loyola would be able to find an equalizer.
Fillingim smothered a free kick that arrived at her doorstep at 26 minutes, and two minutes later the senior keeper had to go high to stop a long-range shot and then stop the rebound attempt on the ground at the post.
The Ramblers sent another chance wide and Stevens cut off a Chiero cross before halftime. Loyola's Meeghan Smith nearly broke in alone on Fillingim three times after the break, but Foss raced back to deny her twice, and Fillingim dove to take a shot off Smith's foot at 53 minutes.
"They threw everything at us, especially in the second half, and we let them get through a couple of times," Fillingim said. "And they were in our attacking third for the last two minutes of the game. You see the clock and you start thinking 'we're about to win this game' but then it's 'oh my god, I can still get scored on'."
Fillingim was a backup keeper on the Conant team that went downstate two years ago, and the senior is now ready to embrace the pressure of a state semifinal come Friday.
"For a lot of these girls it's our second time going (downstate) and this is the time for me to really step up," Fillingim said. "We have a couple of seniors that didn't get too much time in two years ago, so this is our time and we want to end it the right way as seniors."
Foss doesn't have any doubt that her goalkeeper is up to the challenge.
"Lindsay is incredible. She comes out and makes great saves, and when you think it's going in she gets to it and makes the save. She's a ninja back there," Foss said.
The Ramblers sent a few shots wide to the final buzzer but Fillingim and Conant's backline didn't break.
"We had to keep our composure on the ball. We had to take our time," Foss said. "If it was on, make the long pass over the top, and otherwise play to feet. We made it this far and we just can't panic in the back. We're pretty composed in the back as it is, so we just had to take our touches and do what we've done in practice. We just never gave up and we toughed it out."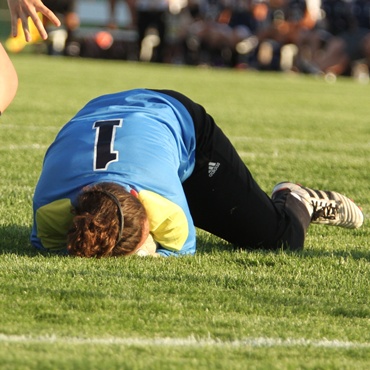 Conant has nine players that played on the Cougars' team that advanced downstate two years ago. The Cougars lost their state semifinal in overtime to rival Fremd and finished fourth in Illinois.
van de Linde, Andress, Chiero, Raetzman, Lomas, Fillingim, Foss, Chrissy Rosales, and Paige Wentzel all played on that 2009 Conant team.
"I'm very proud of the effort. All year I've been questioning them, whether they have that drive and fight that you need, and they brought it tonight," Franco said. "It was fun to watch. It was one of those team efforts where everybody had to make a play. And they made them. Now we'll go back (downstate) and see what we can do on Friday."