Fillies can't get past Fremd in bid for downstate berth

CLICK HERE FOR BARRINGTON'S TEAM PAGE
By Mike Garofola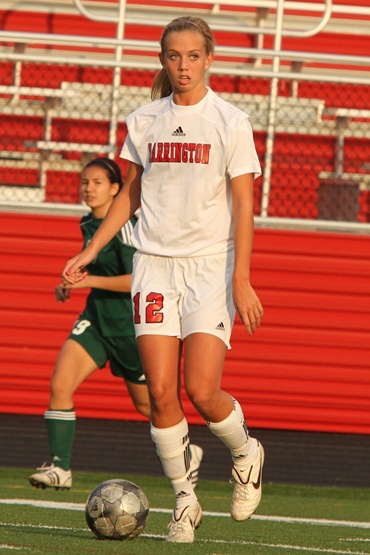 For Barrington's Ryan Stengren, some things never change during this time of the soccer season.

The Fillies head coach has watched his club fall just short three consecutive years on the final Tuesday of the spring campaign, this time to Fremd, which continued its magical tournament run with an exciting 2-1 victory over the Fillies on Tuesday.
Fremd captured the Barrington supersectional crown earned a spot in the last 4 of the 3A state soccer tournament this weekend at Naperville Central. The Vikings (17-3-2) will face downstate Granite City (16-6-0) at 7:00 in the second state semifinal on Friday.

"You really begin to wonder when it might be our turn after running into a team like Fremd, which has a great chance to win it all this year. We lost to St. Charles North (last year) and Conant in 2009 in the supers, but the players left it all out there tonight, and that's really all you can ask for when you get beat by a team which is a little better than you are," offered Stengren.

The Fillies had their struggles in the first 40 minutes, not only with a stiff wind in its face on what was otherwise a gorgeous night for soccer, but also due to the Vikings' domination in the middle.
Fremd senior Alexis Tice won more balls in the air and on the floor than any other, to give the visitors a distinct advantage in the 50-50 battle.

"Alexis would probably tell you she had a one of her worse games of the postseason, and while I would disagree with her assessment, I can also tell you that if any of that was a fact then just look at how she played and how much she disrupted things, on a night when she thought she could have played better," said Fremd head coach Steve Keller.

The Vikings quickly asserted themselves in the early stages, but despite their bright start it was evident that leading goal-scorer Elise Kotsakis (35 goals) would need some help up top on Tuesday. The Fillies threw a blanket over the all-state striker, hoping to keep the 4-year veteran far away from keeper Kelly Pedersen, who was searching for her 15th shutout of the season.

"Elise is such an explosive player up top for them, and I really felt we did a pretty good job of neutralizing her, but we just couldn't keep up with their midfield, which beat us to nearly every ball and appeared to be so much quicker to the ball than we were tonight," said Stengren.

"There are going to be times when the opposition sets out to stop Elise, and I thought Barrington did a good job of that, but it was rewarding to see others step up and make things happen," said Keller.

The Vikings would begin to flood forward on more occasions than the tourney hosts after each side threw a few test shots at Pedersen and her counterpart, junior Shannon Norris. Each keeper was up to the task, much to the appreciative applause of the huge house that was on hand.

At 20 minutes, the Vikings would begin to supply extra amounts of pressure to the Fillies, most coming from several deep throws and on a handful of dead-ball serves from Kristin Abruscato, Michelle Mottonen and a looping 40-yard ball sent in from Emily Basten.
Pedersen could do nothing but watch the first goal of the game get into the back of the net after Jen Freeman's corner sat alone long enough for Kira Heggeland to steer it to the opposite side of Pedersen to give the Vikings a 1-0 lead at 36 minutes.

"We could have scored 2 or 3 times more, but although we had most of the run of play in that first half, maybe some of it was because of the wind at our backs, or maybe just some hard work from our people in the middle," suggested Keller.

The Fremd head coach had promised to mark the Fillies speedy striker Emily Hyde with Ashley McConnell if his club entered the break with the lead, and the athletic sophomore was alongside the 11-goal scorer after intermission to help slow Hyde. The Barrington senior had created far too many dangerous situations in the Vikings' end in the final 10 minutes of the first half for Keller's liking.

"Ashley did a wonderful job on Hyde, and we never really saw her as dangerous in the second half after causing all sorts of problems for us in the first half," Keller said.

Sophomore Molly Pfeiffer ran hard at the Vikings' vaunted defense in the first half, and provided plenty of energy, pace, and a few moments of brilliance in the second half. Pfeiffer never felt her club played at its peak performance, until later on when she brought the Fillies within one goal of the Vikings near the hour mark with her 14th goal of the season.

"We were playing hard, but we were losing the battle in the middle tonight, which was a key factor in the eventual outcome of the game," said the sophomore.

"We kind of got going after my goal, but just weren't sharp enough in the final third to take advantage of anything we had created in their end."

Basten came freely into the box to meet another well-driven left-footed corner from Freeman to double the Vikings' lead at 52 minutes, but Pfeiffer gave the home crowd a reason to celebrate when she had sufficient height and pace on her bending ball around the Fremd wall to finish inside the far post from 25 yards.

The Vikings would brace themselves for an all-out onslaught from the Fillies, who were looking confident as they went after the equalizer, and Fremd was up to the challenge.
"All we really talked about at the half was that it would take 40 minutes of quality soccer in order for us to hold Barrington and go to the state tournament," Tice said. "Although we defended more than we wanted to, and allowed them to get back into the match, we still were able to accomplish what we set out to do."

"It's a tough way to go out," admitted Pedersen, who stayed around to chat, despite the heartbreaking loss which ended a superb career, which included 40 shutouts in 3-plus seasons as a starter in Stengren's first 11.

"We were never able to get past this game and into the state finals for three straight years, and that might be the toughest thing to deal with right now," Pedersen said. "But on the other hand, we also got to this game three years in a row, which many teams would have liked to be in, and that's something to be proud of as well."