Radloff capping off a fine senior season at West Chicago

By Gary Larsen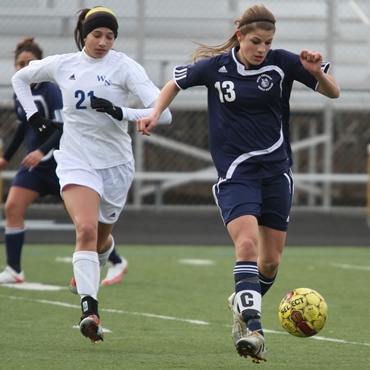 Every soccer player in the world is a work-in-progress, and for attacking player Meagan Radloff the journey so far has been all about fusing the strengths she's always had into being the best player she can be.
And it's no coincidence that as Radloff has gotten better and better, so has West Chicago.
"I think the ability she has now has changed the level of play for everyone else there," Wheaton Warrenville South coach Guy Callipari said. "She not only stands out for West Chicago; now West Chicago stands out for itself and she has been a big part of that development in the last four years.
"She has helped them raise their standard of play. She's still the face of that team but now it's a team, and she deserves credit for her role in that development. She has done so much for that program, as I'm sure Cesar will tell you."
West Chicago coach Cesar Gomez took over the program three years ago when Radloff was a freshman, and Callipari is right, Gomez can't say enough about his Eastern Illinois-bound senior, especially when it comes to her desire to be a team player first.
"When you ask her to do something, she'll do everything she can to get it done. She listens to you and as a coach it's always nice when your best player will do whatever you ask of her," Gomez said. "And she'll sacrifice herself on the field. If we tell her we need to hide her at midfield during a game, she'll just say 'okay' and do it. Some players wouldn't do that but Meagan will. The team comes first for her. She's unselfish to no end."
It's a long-time standard in sports that the best players on any team make their teammates better, but first you have to care more about the team than you do about your own individual stats and accolades. Radloff has always done just that.
In fact, it has taken the humble senior striker some time to embrace her role as her team's most important offensive player. Radloff posted 11 goals and 8 assists and was named the team's offensive MVP as a freshman, and then had 18 goals and 12 assists in another team MVP role as a sophomore.
Along the way, she worked at coming to terms with the reality that even as a young player in the attack, she was the big dog on the block.
"I've never been afraid to shoot but as a freshman maybe I didn't do it as much because I didn't want my team to be upset with me," Radloff said. "It takes a while to get past that and accept that you're the one they're looking to, to score. And I don't want to let my team down so I do the best I can. As you get older you learn that you just have to do what's best for the team."
Radloff plays club soccer with the Fox Valley Strikers, where Strikers coach Jim Winslow has watched her grow for three years. Winslow has also seen Radloff's mentality on the field mature to match her abilities.
"She's one of the most talented kids I've ever coached," Winslow said. "But two years ago if you'd have said I had to start a program, as good as she was, she wouldn't have been a kid I'd have picked. She wasn't a kid that I felt was going to go out and win a game for me. Now I would take that back and say yes, she is. She has turned herself into that player."
Radloff's skillset starts with a big leg, a nose for the net, and a willingness to mix it up physically. But it's her ball-winning ability along with her distribution skills that will have her playing in the central midfield at Eastern next year.
"Is she the fastest kid on the field?" Winslow said. "I don't know, but she's always faster than the kid she has to beat to get to the ball. Is she the biggest, strongest kid on the field? Again, I don't know but whenever she's in one-v-ones she'll beat up the kid that she's up against. Meagan is a great athlete."
Radloff posted a single-season record for goals in a season at West Chicago last year with 26, to go with 12 assists. As a striker she has continued to develop the ability to negotiate the power of a wicked shot.
"The ball flies off her foot so effortlessly," Gomez said. "She has had to learn when to place it and when to power it. And from the eighteen, her placing the ball is better than most people's power shot. We've tried to harness those things in her. Anything around the eighteen from her has to be a placement ball, just because of the way the ball explodes off her foot."

The Wildcats went 9-15-1 last year but have jumped out to a 7-3-2 start this season. Radloff has 10 goals and 7 assists thus far.
The DuPage Valley Conference can be unkind for smaller programs like West Chicago's. Napervilles Central and North, Wheaton North, and Wheaton Warrenville South are perpetually top-four finishers in the DVC, ahead of West Chicago, West Aurora, Glenbard East, and Glenbard North.
Radloff knows full well what her side is up against. She knows that the skill that feeds West Chicago is largely uncultivated by club soccer, unlike the skill that feeds the Naperville and Wheaton-area schools.
"It's a very strong conference with the Napervilles and the Wheatons, and I recognize a lot of the girls at those schools from playing club. But West Chicago doesn't have many club players. And when you're a little school from West Chicago, playing those schools is tough. You just try to play your best. Sometimes your best isn't good enough but it's still good to see when your team is playing well against those teams. Sometimes losing 2-1 or 1-0 to them means we played a good game."
West Chicago's Bianca Navejas and Jenny Amaro are two players among many playing well for the Wildcats this season. As a center mid, Navejas appreciates the work that Radloff does.
"She makes it easy. She moves very well and she's always working to make is easier for me to find her. She's a really good player to play with," Nevajas said. "She makes everything easier for us on the field."
"She's a good leader for the whole team," Amaro said. "She scores, which obviously helps, and she puts a lot of work into getting the ball. She works hard and that encourages us to work hard as well."
If Radloff wonders if she has gained the respect of coaches in the DVC, she can stop wondering.
"You can't let Meagan shoot, and you can't give her time to find people because she'll find them," Wheaton North coach Tim McEvilly said. "She'd be a difference-maker on any team in the DVC."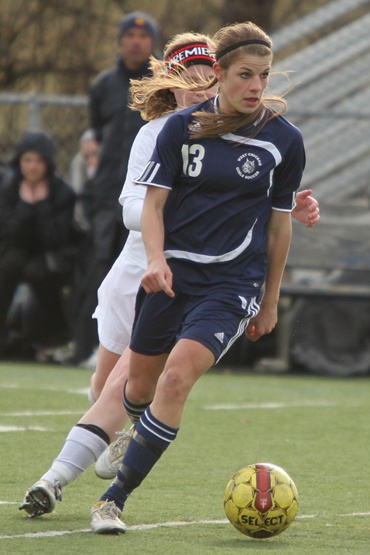 "You certainly can't lose track of her," Naperville Central coach Ed Watson said. "If you do, she'll make you pay for it."
Callipari agrees.
"You have to play mistake-free against any player of her stature," he said. "You can fall into a false sense of security, thinking you have it all under control, but if there's any time left on the clock there's always time for her to shine.
"She's one of those players that is a game-breaker. You always have to be aware of where she is, deny balls sent into her, and watch her runs off the ball because she's always plotting, to the final whistle. That's what makes her so difficult."
West Chicago won 3-2 over Wheaton North this season, the first time in Radloff's high school career that West Chicago managed to beat the Falcons. She hopes wins like that have helped her side turn the corner.
"We need to get used to the idea that we'll be beating teams," Radloff said. "We can't be too surprised when we beat a team like Wheaton North. We need to expect it.
"We've made it to regional championships but we've always lost. Our goal is to get something up on the wall of our gym. There's nothing under 'girls soccer' on the wall so our goal is to get listed under there. That's what we're all working for."