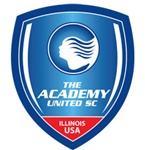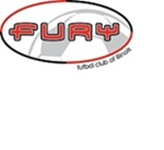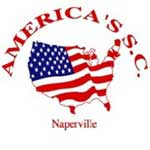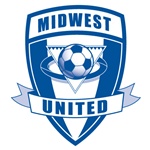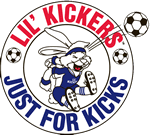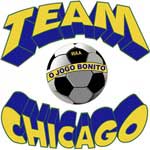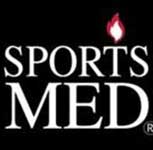 Holbert more than just a soccer player
Lions' senior, teammates donate time, energy to charity and community


CLICK HERE FOR LYONS TOWNSHIP'S TEAM PAGE
By Matt Le Cren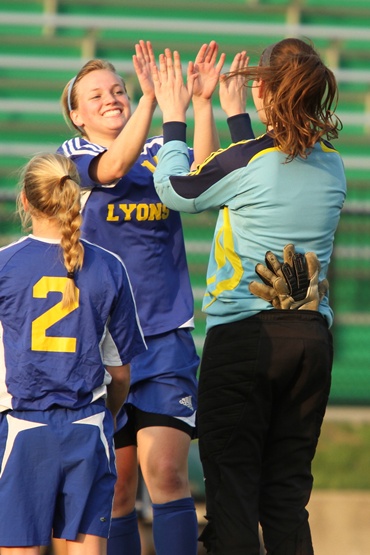 Anyone who has seen Kelsey Holbert play can attest to her brilliance on the soccer field.

The Lyons Township midfielder is having an outstanding senior season and is regarded as one of the best players in the Chicago area.

But many people are unaware of her brilliance off the field, where Holbert has quietly built an admirable record of achievement in the classroom and service in the community.

Despite battling an incurable disease and nagging knee problems, Holbert has missed only one game, a 2-0 loss at Lincoln-Way North on April 2 over spring break. Unlike some other kids who spend their spring vacation partying on the beach in Florida or Mexico or hanging out with friends at home, Holbert was in Georgia helping build a house for Habitat for Humanity.

Holbert has done that for three straight years, donating her time in Biloxi, Mississippi, her sophomore year and Florida last spring. She travels with a group of 100 kids from the youth group at her church, First Congregational Church of Western Springs. This year that group included two teammates – her freshman sister, C.C., and sophomore defender Ari Kowalski.

"It's definitely eye-opening and cool to be able to donate that time," Holbert said. "I hate that it's during the season and I wish I could be both places at once, but it's a really important thing to me and it's been a good part of my experience.

"I've always tried to find time for service and I've been involved with a couple different types of service, but mostly through my church and that's where the youth group is. My older sister (Emma) went on the work tours and then I got started with it too. I hope that I'll be able to keep introducing different service things in college."

Holbert has already introduced two significant charity drives in her community. The first began three years ago when she and former teammates Steph Condon and Katie Nasenbenny began a 4-on-4 soccer tournament, with proceeds donated to research into Celiac disease, a condition in which the body's immune system becomes intolerant to gluten, which is found in most grains such as wheat, barley, rye and some oats. Eating food that contains gluten leads to severe stomach problems and weight loss.

Holbert was diagnosed with Celiac disease in seventh grade and had to radically change her diet.

"I was pretty sick before so I feel pretty lucky that it's something I can just change my diet and kind of deal with," Holbert said. "After five years it's pretty easy, but college will be an adjustment."

The 4-on-4 tournament, "Celiac Attack," now in its fourth year, was held at Bennett Field last summer and probably will return there this summer.

"We wanted to do just a fundraiser," Holbert said. "We talked about doing a couple other foundations but we thought it would be good to do one that was more personal to us and something that we could kind of relate to. I feel pretty lucky that (Condon and Nasenbenny) chose that one with me. We've been able to donate and help out and think we've found a good cause."
It is not the only one. Holbert will play college soccer at Wisconsin-Milwaukee, reuniting with Condon. The university holds a breast cancer research fundraiser called Pink Out, and Holbert and Condon decided to bring it to their high school.

Selling pink tee shirts, which the Lions wore as their uniforms during a game last spring, they raised over $5,000 for the Karen Dove Cabral Foundation, which assists families of mothers undergoing breast cancer treatment.

They are on track to raise the same amount for this year's Pink Out game on Thursday, when the Lions host Glenbard East. LT will wear pink shirts with black lettering, while the visiting Rams will wear black shirts with pink lettering.

"We got the idea from (Milwaukee) and then Steph and I both like planning, so once we had the idea it was just picking a date and talking with coaches," Holbert said. "Everyone on the team has been so supportive and just made it better than we could have expected it would be."

LT has been much better than anyone expected this year and Holbert is a huge reason why. The Lions lost four college players, most notably 19-goal scorer Nasenbenny, to graduation from a squad that went 18-5-1 and lost 1-0 in the supersectional to eventual state champion Waubonsie Valley.

But despite fielding a fairly young team, the Lions are 16-3-1 and have reached the finals of the Pepsi Showdown and the Naperville Invitational, the two most prestigious tournaments in the state.

Holbert has contributed 12 goals and five assists, with most of that production coming against tough opponents. Her play was especially crucial early in the season, when she scored in the first six matches she played in. She tallied eight times in that stretch, scoring four game-winners and one game-tying goal and setting up the winner in another. She now has seven game-winners.

"(Holbert's impact) has just been huge," LT senior defender Elise Gordon said. "She makes everyone else around her better, so that definitely has stepped up the level of the team. Especially at the beginning of the year, I think we were a little bit unsure of how things were going to work, so her setting the tempo and scoring a lot of goals, that definitely kick-started it and now there's a lot of other people scoring as well and she's getting a lot of assists."

Opposing coaches routinely try – and fail – to stop Holbert and then sing her praises.

"Holbert is as good as anybody around," Naperville North coach Brent Terada said after Holbert had two goals and an assist in the Lions' 4-3 over the Huskies last month. "She is a special kid."

Natural talent has a lot to do with Holbert's success, but that's not the only reason.

"You can see it from year to year to year, she just works so hard through the high school season but especially in the off-season and she's just gotten better every single year," LT coach Bill Lanspeary said. "So that's a big part of it. That's huge in both aspects, her play and her leadership.

"The way that she works, other kids follow and it makes everybody better. And she's the kind of kid that on the ball she creates so much for other kids that they learn to play off of her. We've gotten better throughout the season and they've learned to play off her better, too."

A four-time all-conference and two-time all-state performer, Holbert has 32 goals and 28 assists in her career but was never the clear-cut No. 1 player on the Lions until this spring. A natural midfielder who plays that position for her club team, Holbert played forward the past couple years and deferred to Nasenbenny, who is now at Iowa.

"She's a very good striker but I think she's more of a natural center midfielder and allows her to be going forward and attacking, so that helps as well," Lanspeary said. "She always has her head up looking for somebody, never panics with it, even under a ton of pressure. Other teams always put at least one player on her and another paying close attention. She's very calm and makes great decisions."

That decision-making is evident whenever she gets the ball in the midfield. Fans in the stands instantly get excited and defenders get nervous when Holbert is in possession. Will she pass the ball or take off with it? The latter often leads to breathtaking runs of 40 or 50 yards followed but a rocket of a shot while the former creates opportunities on either wing.

"It's great to have multiple players who can dribble the ball and have a lot of confidence, but at the same time, there is only one ball on the field," said Gordon, who often is the player who feeds the ball to Holbert to start the attack. "So this year it's great because she can see more of the ball and definitely play a much bigger role.

"Just how comfortable she is with the ball at her feet is amazing. She can have five people on her, draw them all in and then spin out and make a nice pass and distribute the ball well.

"She's quick. It's like she has another gear. She'll be going one speed and then all of sudden she just turns it on and blows by people. I think that's why she can dribble up field so well."

Holbert regularly displays two advanced skills that only the top echelon of high school players ever learn. The first is the ability to remain patient while surveying the field to gauge her options and the second is her knack for dribbling with her head up.

"I think that one of the things I've worked on is trying to slow the game down and I guess that is relaxing on the ball," Holbert said. "(That means) just to be aware that when a situation changes to stay calm and see what the new situation is, and then sometimes it's drawing a player in to play the ball off to (a teammate) or to space. I think that's been kind of my main focus, just relaxing on the ball and seeing what the options are and then when I do have space and the ball I accelerate."

But ballhandling isn't the only thing that makes Holbert dangerous. She also has a leg strong enough to unleash hard shots on frame from up to 40 yards out and she does it with accuracy. For that reason she takes the majority of LT's free kicks and all of the corner kicks.

Neuqua Valley's UCLA-bound defender Megan Oyster, who plays club soccer with Holbert on the Windy City Pride U18 team, marvels at those skills.

"I love her to death and she is a stud," Oyster said. "She can hit the ball. She's got a bomb. She's fast, she's got skills and she's always coming to play. She's got that extra push."

Holbert and Oyster helped the Pride win the U.S. club national championship last summer in Virginia Beach, capturing the championship match in 108-degree heat with help from several other area standouts, including Andrew's Emily Scott, Homewood-Flossmoor's Kelly Leuwers and Emily Johnson, Molly Abromaitis and Katie Watt of Glenbard West and Victoria Kappel and Carson Moesle of Sandburg.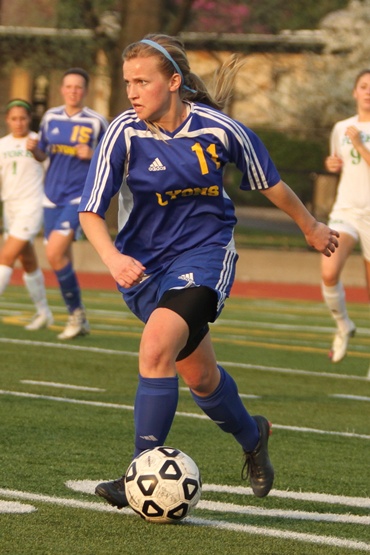 While Holbert calls that championship the biggest accomplishment of her career, she said playing for LT is more memorable.

"I think that overall as an experience there's nothing like playing for your high school," Holbert said. "You can't really describe it until you have played for your high school and I think it's different to play with your club team. It's cool to be able to play with your friends and your peers, so it's just been really exciting and fun to finish off with a good season."

The Lions are considered to be a strong challenger to win the Class 3A state championship next month in Naperville. To do so, however, they likely will have to get past Oyster's Neuqua Valley squad, which is 20-0 and ranked No. 1 in the country by ESPN Rise (LT is ranked 14th). The Lions lost 1-0 to the Wildcats in the championship game of the Naperville Invitational and could meet them again in the Benedictine University Supersectional.

"To win a state title would just be awesome, just such a cool way to finish, but I think right now we just have to take one game at a time," Holbert said. "I think we definitely have the goal to get farther than we have before.

To do that, the Lions look to Holbert and Gordon for leadership. Holbert is ranked seventh academically in her class of about 1,000, one spot below Gordon, but while she acknowledges her status, she refuses to take all the credit for the Lions' success.

"It's been fun. I like to be a leader," said Holbert, who also sings in the school choir and plans to study chemistry in college. "I like to have influence and be able to guide people. I would also say that everyone has contributed in such a big way that I wouldn't say it's two people being followed. Everyone has had their contribution and we've definitely followed them at times.

"As a unit we've kind of stepped up this year and different people have been playing great. Everyone has had a good season."

That is certainly true, but ask Holbert's teammates and they'll tell you their record would be a lot less gaudy without her in the lineup.

"Kelsey is a very crucial player to have out there," senior midfielder Coco Corrigan said. "She is a huge leader and without her (I don't want to think about it). We're very grateful to have her."

So is the community.
2011 varsity roster

Maggie Orlowski
Jr., GK
Ari Kowalski
So., D
C.C. Holbert
Fr., M
Juliet Lusson
Jr., M
Erin Fitzgerald
Fr., M
Abbie Pasquinelli
So., F
Mackie Furlong
Jr., M
Elise Gordon
Sr., D
Kelsey Holbert
Sr., M
Lauren Moberg
Sr., F
Grace Nasenbenny
Fr., D
Emma Meyering
Sr., D
Sarah Mazur
Jr., D
Madeline Pappas
Sr., D
Coco Corrigan
Sr., M
Emily Lange
Fr., F
Sarah Michaels
Sr., M
Anna Devine
Sr., D
Kristina Fiflis
Jr., M
Molly Henderson
Fr., GK