Warriors stay alive in hunt for SCC title vs. St. Francis

CLICK HERE FOR WHEATON ACADEMY'S TEAM PAGE
By Gary Larsen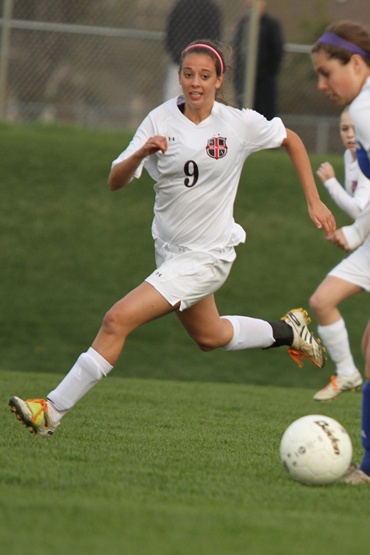 Inch by inch over the past few seasons, St. Francis has been nipping at the heels of local rival Wheaton Academy, but the Warriors remained one step ahead of the Spartans yet again on Monday.
When it was over, it was the Spartans who enjoyed an edge in possession and the Warriors who enjoyed more goals.
Wheaton Academy (7-4, 5-1) got goals from Crystal Thomas and Ally Witt in a 2-1 Warriors' Suburban Christian Conference win, while Andi Matichak scored for St. Francis (10-5-2, 4-1). All goals came in the first half of the hard-fought battle in West Chicago.

In the best rivalries there isn't a crack of daylight separating the teams involved, and the sun couldn't get between the Warriors and Spartans this season.
"We love this rivalry. If you look at the number of players who play year-round soccer you'll see that they have more of those players than we do," Wheaton Academy coach Scott Marksberry said. "We said before the game that on paper, if you stack the two teams side-by-side, the edge probably goes to St. Francis. But our girls play hard and it's a great rivalry."
Monday's game featured a pair of top-shelf goalkeepers in Wheaton Academy's Kristen Morency and St. Francis' Jenna Ditusa. Both teams also have a pair of dynamic attacking players, in the Warriors' Witt and Thomas and the Spartans' Matichak and Sydney Fox, juniors every one and all dangerous from opening whistle to final buzzer.
"They have some great players up top and overall they're a great team," Matichak said. "They came to work and so did we."
Witt opened the scoring just 4 minutes in, racing in at goal with a defender on her hip and finishing past a diving Ditusa. The junior striker has been a force in the final third for the Warriors, having netted 15 goals this year.
"Ally is just a pain to mark. She's so fast and strong," Marksberry said. "She's just a handful. She's at top speed in three seconds."
The Spartans knotted the score just 9 minutes later, on a sweet goal from Matichak. The junior chipped a ball over a defender into the penalty area, got to it first with Morency charging at her, and headed her own chip shot into goal from 14 yards out.
"When I was in eighth grade I was in a camp at the University of Georgia and a girl chipped a ball over me, and I felt so stupid," Matichak said. "When I got home I practiced it for a month and a half until I could time it right. It has paid off a couple of times with a goal."

Thomas dribbled through and around four defenders in setting up her first-half strike, taking a final touch to her left in the box and sending a left-footed shot in off the far post from 16 yards out on the left side.
"My teammates were making great runs and opening up gaps for me," Thomas said. "I just kept going, and slotted it. I was upset because someone had just hacked me, so I wanted to go score."
Thomas has 12 goals and 11 assists in 11 games for the Warriors. Wheaton Academy has scored 32 total goals this season, and Thomas has had a hand in 23 of them.
"She was so good tonight," Marksberry said. "As good a player as she is, her work rate tonight set her apart. She could probably come out and go through the motions some nights, but she just works. She probably ran six miles tonight, as much work as she was doing sideline to sideline, box to box. She was all over the place."
The game's scoring was over before halftime but the teams battled in the second 40, with the Spartans possessing well and the Warriors making them settle for long balls sent in that Morency handled with ease.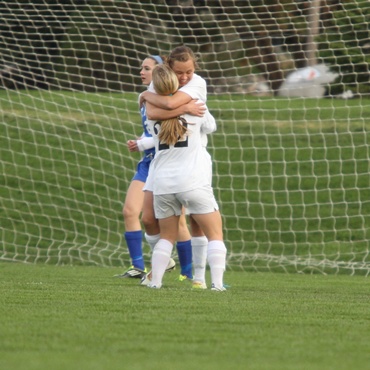 "We couldn't take a touch and we kept turning it over in the offensive third," St. Francis assistant coach Kristin Keigley said. "And the long balls we were serving were directly at the keeper. We weren't playing a diagonal ball, we were playing a straight ball, and it just wasn't working because we didn't have enough numbers up, and we had a gap in our midfield. So it's frustrating when you have possession for 75 percent of the game and you can't capitalize."
After scoring 15 goals through their first 13 games, the Spartans finally smashed open the piggy bank, scoring 19 goals in their last four games. "We have been scoring, and we need to keep going with that," Keigley said. "We go in spurts and we want to stay consistent."
Keigley applauded the play of Anna Vonderhaar, Taylor Ravlin, and Taylor Bucaro throughout Monday's contest, for a Spartans team that matched the Warriors physicality and athleticism throughout.
Wheaton Academy won a shootout over St. Francis in last year's SCC game and then beat the Spartans again in sectional play in a 4-0 victory.
"When you walk off the field after a 4-0 loss in a sectional final, it's not a good feeling," Matichak said. "That was great motivation and we have a lot of players back from last year. It was great for us to step on the field again today and give it a shot. We did everything we could tonight, played as a team, and possessed the ball probably better than we've ever done against them."
For the host Warriors, Monday's game was fueled by a little extra motivation, coming as it did on the heels of a 4-0 SCC loss to Marian Central Catholic last week.
"We knew we needed to step it up because that loss was not typical of us," Thomas said. "We just had a bad game. We've been more consistent throughout the season than that. We love playing (St. Francis) and one of the things I thought we did well was go in hard on all our tackles, we worked hard for each other, and played for the girl standing next to us."
"I have so much respect for the girls on that team," Marksberry said of the Spartans. "It's so much fun to compete with them, and I can't believe Sydney and Andi are still around and that they're only juniors. With their freshmen class two years ago, you could see this was coming. They've pulled in a lot of good players."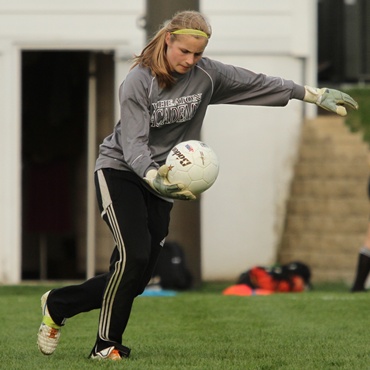 With more depth than the Spartans, the Warriors also got key efforts on the outside from Emily Nickell, Lizzie Bergquist, Ali Grant, Alli Manske, Deborah Smith, and Blythe Todd.
"We asked a lot of our outside mids tonight," Marksberry said. "We asked them to go eight-minute spurts as hard as they could, and then come out. We told them a badge of honor would be if they had to ask for a sub in under eight minutes because they were so exhausted."
Should Wheaton Academy win out against its remaining three SCC games, and St. Francis take care of business in the conference plus knock off Marian Central on May 12, there's a chance that the three teams could tie for this year's SCC crown.