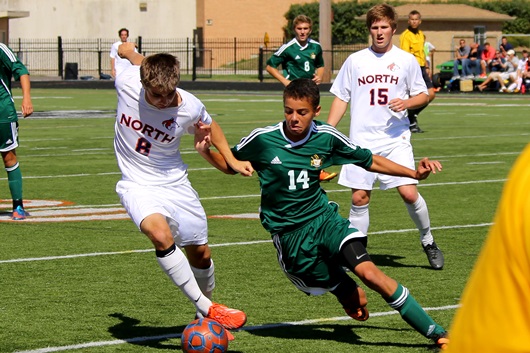 Huskies top Waubonsie on Ensign goal
By Darryl Mellema
Photos courtesy of Regina Jurkiewicz
Late in a scoreless first half of this year's rendition of the Naperville North-Waubonsie Valley nonconference rivalry match, the host Huskies appeared to surge.

Actually, the appearance was undeniable. Suddenly all chances fell to Naperville North, Waubonsie Valley had to defend – and it was in this spell that the Huskies scored the only goal of the match. The goal was a good one too – a left wing corner kick taken by Zach Peterson, dummied in the middle of the penalty area by Alec Thompson and shot firmly into goal by Chris Ensign.

"They didn't mark up (Thompson) on the front post, so I just played a low driven ball to Alec's feet," Thompson said. "He got the flick on and Chris Ensign did the rest. We practice that over and over and over, what to look for on set pieces and they gave it to us. We work and do it maybe 100 times every practice and it pays off in a game. It feels good."

That goal came with 12:49 left in the half, and highlighted the most one-sided stretch of an otherwise evenly-balanced match between these two Naperville-based schools.

"It's always great to have a bunch of fans at the game," Peterson said. "It wasn't the most pretty soccer, but we fought it out and we worked hard and we got one goal. And for the rest, we defended well and did well to get the result."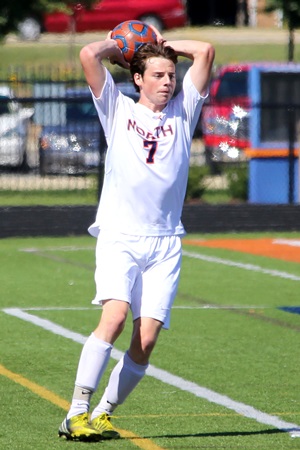 If it appeared Naperville North was surging at that point, the players certainly felt the shift in momentum on the pitch.

"At first, Waubonsie had a lot of numbers up in the middle of the field and we got a little frustrated," Thompson said. "But once we figured out what they were doing, we made some adjustments. You can tell that when we get the momentum going, the tide's definitely turned and we were pressing. The energy changes and that's what we run on a lot of the times."

Both coaches were aware of the shift on the field.

"We had about 10-12 minutes of a lack of concentration and a lack of going to the ball and a lack of tenacity," Waubonsie Valley coach Angelo DiBernardo said. "That's when they scored their goal and had two or three other opportunities on throw-ins and corner kicks because of the fact that we were just not challenging the 50-50 ball inside our box."

Such a lapse has occurred previously this season and DiBernardo was at his most-animated on the sidelines during this period of the match, urging his team to rally.


"We've been preaching to them that the game is 80 minutes," DiBernardo said. "So we have been having 20 minutes here and 15 minutes there, but never really a full game. Actually today is the closest game where we have played where the effort was almost contained throughout the whole game – with the exception, as I said, of those 10-12 minutes, where they took us to the cleaners."

But in matches between closely-balanced rivals, such surges or dips are the things that create wins and losses – at least that was how things turned out on Saturday.

"I thought it was a pretty even game," Naperville North coach Steve Goletz said. "I thought we had better scoring chances. But it was off a restart and we practice a lot on restarts. We saw space on the near post and ran something and Zach Peterson plays in a good ball and we dummy it and (Ensign) finishes it."

Following the goal and before halftime, Ensign shot over the crossbar, Geoff Horn headed off the post, a long Thompson free kick went just wide of the goal and Thomas Pliml forced a save from Warriors keeper Jordan Wood. The score remained 1-0, which set the stage for a taut second half.

"I told the guys that you can't keep letting teams hang around," Goletz said. "When you have a chance to put them away, you have to. We had a couple early in the second half that we just didn't finish. Somebody finding a way to get a toe to it or get it in the back of the net, those are the things that we're still working on with the kids."

But with such a close scoreline, when Waubonsie Valley surged at the start of the second half, the ultimate result of the match was again in doubt. Eight minutes into the half, Casey Bucz shot from a Marcos Godinez cross and forced Christian Robert to make a sharp save.

"In reality, I think we had our chances and they had their chances," DiBernardo said. "They created more chances off set pieces, that's how I saw it. The second half, they created a few chances from open play. I don't think that they created a lot more than we did, but they took advantage of those 10-12 minutes."

The match regained equilibrium shortly after and the chances remained balanced the rest of the match. Peterson forced a double save from Wood 15 minutes into the half while Mark Auden had another Naperville North shot saved shortly after. Godinez had a strong corner kick midway through the half cleared and with 11 minutes to play, Michael Miller flashed a free kick through the area, but none of his Warriors teammates was able to get to the ball.

Naperville North has some experienced players back from last year's team – but there are plenty of athletes who are settling into their first varsity season or are experienced enhanced playing roles from before. Still, the team is 5-1-1 against some very strong competition.

"The program at Naperville North is so strongly connected," Thompson said. "We've had some guys come from JV1 last year to the varsity. But the program is so tight that we know what they're capable of and they fit right into the top team and it just connects really well together with the varsity."

The Huskies have an entire week without matches before hosting Rockford Boylan in what, a year ago, was one of the season's more entertaining intersectional matches. Naperville North enters this mini-break on a three-match winning streak.

"It's a great start," Thompson said. "Everyone had us kind of written off early in the season. It's a statement to walk in and go 5-1-1 and have a bunch of big wins. We had a big result (2-2 tie) against (Lyons Township) to start the season. Then we had a win against Neuqua and now Waubonsie. We hope to continue this winning streak."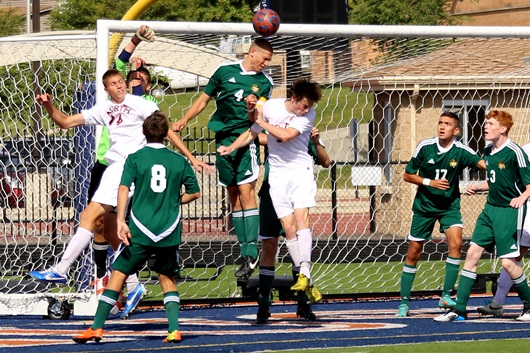 Thompson is one of the key returning players, and his play was influential against Waubonsie Valley.

"He's a four-year kid," Goletz said. "He's the one kid who's been on the team with us for four seasons. He's done a good job of trying to control the game at times. In the last four games, he's done a very good job of getting on the ball as much as possible. When he is dangerous, (Peterson) is moving the ball and we are more effective than when he isn't."

Defensively, the Huskies have not allowed a goal in three matches.

"That's huge," Goletz said. "They played another great game today. Christian Robert did a great job in goal to shut out a team with as much firepower as Waubonsie Valley has. It's a good win for us."

Waubonsie Valley, meanwhile, has seen a series of close matches go against them in a 2-4 start. Saturday's loss was the team's third in a row and came on the heels of a 3-2 defeat by Neuqua Valley.

"Right now, I think that they're down because the close matches are going the other way," DiBernardo said. "Neuqua 3-2, today 1-0, Sandburg 1-0 – we have been in every game we have lost with the exception of (Naperville) Central. So hopefully they believe in themselves that they can play with these guys. Where if there was doubt before, they should be no doubt not that they can play with them. Now it's a matter of digging inside and bringing it out."

The Warriors have abundant talent and have only suffered a heavy defeat by Naperville Central. So there is every chance the team will rally, though their next match is at a very strong St. Charles East team on Thursday.

"It's an inexperienced group from the standpoint of playing at this level and it shows," DiBernardo said. "The consistency and aggressiveness for those 80 minutes is not there yet. We continue to work so we can get it. But really, it's up to the players and the team to mentally get it done."

And despite the loss, there were still positives for the Warriors.

"What I liked today is that we came to play in the second half the way we're supposed to play in order to give ourselves a chance," DiBernardo said. "What I did not like was the let-down of the 10-12 minutes. You can't have that."