2013 ROSTER

Coach: Ricky Del Toro
Assistant coach: Adrian Magana

John White
Sr., GK
David Blaha
Jr., GK
Matt Fletcher
So., GK
Mick Wangler
Sr., D
Jack Maley
Sr., D
Luke DeSimone
Sr., M
Tim Wheeler
So., M
Dolan Hunt
So., D
Trevor Jones
Jr., M
Flynn Collins
Sr., F
Conor Morton
So., F
Gavin Sanchez
Jr., M
Jake Hutchison
Sr., M
Ricky Ruiz
Fr., M
Quinn Gratz
Fr., D
Joe Duffield
So., D
Blake Turcich
Jr., D
Kermith Bilbao
Jr., M
Quinn Turcich
So., F
Michael Bila
Sr., M
Nick Grant
Fr., D
Landon Meyer
Jr., F
Cam Sweeney
Sr., D
Sean Dickerson
Jr., M
David Carrano
Manager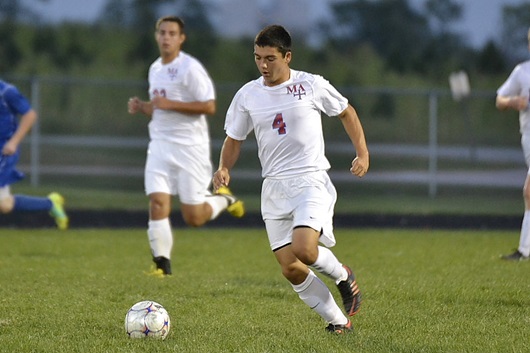 Cadets blank Spartans for third straight shutout
By Chris Walker
There have been plenty of dynamite duos on TV and in sports.

Well, perhaps Beavis and Butt-head aren't a dynamite duo, but they certainly made a lot of kids – and immature adults - laugh over the years.

Today's kids grew up watching Bert & Ernie, many of their parents grew up during the pre-cable and pre-dish era of the 70s with the crime-fighting duo of Starsky & Hutch, and undoubtedly both the young and the old have watched Jerry Seinfeld and George Costanza on Seinfield reruns.
Oh, and who can forget Wayne & Garth, whose fictitious public access show, "Wayne's World" was hosted out of Aurora, the same town where St. Francis and Marmion Academy met on Tuesday night in the Suburban Christian Conference open for both schools.

While they're no Joe Montana and Jerry Rice, Magic and Kareem, and of course, local sports icons, Michael and Scottie, Marmion's Conor Morton and and Flynn Collins put on quite a show.
They certainly showed why they're one of the better high school soccer combos in the area as the two joined forces on three goals to lead Marmion to a 4-0 victory.

"In the first half I told the boys that the smaller schools, and I consider St. Francis a smaller school, are going to try to outwork you," Cadets coach Ricky Del Toro said. "They had a lot of intensity and we needed to match it. I told them they can't be complacent and think things will be OK, but that they had to keep working."

Marmion (3-3-1, 1-0-0) had a handful of corner kicks in the first half but was unable to capitalize on any of them.

St. Francis (1-4-2, 0-1-0) didn't have nearly as many chances as the Cadets, but was able to frustrate the Cadets by denying their scoring opportunities for nearly the entire first half.

"We lost pretty much our entire defense from last year," Spartans coach Kristin Keigley said. "We're still trying to work things out and to get our midfielders to work with the defenders."

For 37-plus minutes those defenders shined.

The match seemed headed toward a 0-0 halftime until Morton and Collins paired up. Collins was able to get a shot off, but was unable to find the net. Morton was able to retrieve the ball, though.
Rather than rush a follow-up attempt, Morton waited. He briefly surveyed the field, dribbled, found an opening and sent it past goalie Jonathan Burke with 2:43 before the break.

"It felt good to get that first one, especially since we had some chances and had nothing to show for it," Morton said. "I just took (the shot) when I knew I could."

Whether or not the late tally gave the Cadets a great deal of momentum heading into the second half, as well as deflated the Spartans is debatable, but the hosts did expand their lead to 2-0 with a goal in the first three minutes of the second half.

Morton sent a beautiful long pass ahead of St. Francis' defenders. Collins was able to run it down and take on Burke one-on-one. He sent a shot past the Spartan keeper to make it 2-0 with 37:06 still on the clock.

"Conor played such a great ball over the defense," Collins said. "I missed some chances in the first half so I was a bit upset. I was happy to get another chance and this one worked our pretty well."

Sophomore Nicholas Roehl came closest to breaking the shutout for the Spartans. He was able to penetrate within 15 yards of the goal but his shot with 33:50 on the scoreboard went right at Marmion keeper Matt Fletcher who snagged it.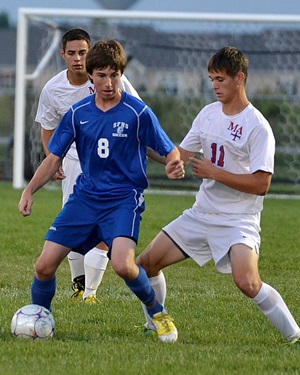 The final connection between Morton and Collins occurred with just under 20 minutes left when Collins perfectly crossed the ball to Morton who found space right in front of the goal and tapped it in for the 3-0 lead, which all but secured the victory.

"We missed some of our chances, but we kept getting chances and that's what you have to do," Collins said. "We probably should've won 7-0, but overall we got the result that we wanted and that's what's most important."

The final goal of the night came via a penalty kick by Gavin Sanchez.

"This is a nice win for us against a good team and because it's conference," Collins said. "It's my final year and I know what it feels like to have a great season like we had two years ago. We're just trying to get wins every time out."

Lately, that's exactly what the Cadets are getting as they notched their third straight victory, all by shutout. Those victories include beating Wheaton Warrenville South and St. Charles North in the Barrington Classic.

"I think the thing that I'm most pleased with is that this was our third shutout in a row," Del Toro said. "We gave up 11 goals in our first four games and had to sit down and re-evaluate. We've stepped up big since then."

After beginning the season 0-3-1, Del Toro sat down, watched a lot of tape and tried to put things in perspective.

"We had to figure out who was going to step up for us and if we had guys in the right place," he said. "With the two last games at Barrington and tonight I think we're seeing a lot of improvement."

Senior Mick Wangler is the leader of the defense and he guided the group in Tuesday's victory along with sophomores Joe Duffield and Dolan Hunt, senior Jake Hutchison and senior Cam Sweeney.

"Mick made the all-tournament team at Barrington so he's really become our senior leader back there," Del Toro said. "This is the group that we went with the summer and after talking a bit, and watching film, we decided we would stick with them."

Lately, they're shining in front of sophomore keeper Fletcher, who not only is new to the team, but also is new to the goalkeeping role.

"I've only played goalie for a little more than a year," Fletcher said. "Coming into this role I've had all my coaches and the guys behind me so that's been great for my confidence. They're trusting me to be the last line of defense and have been very helpful."

Fletcher switched clubs last year and that led to him becoming a goalie. While he doesn't dream of being a star Laker, like Irwin M. Fletcher in the comedy classic "Fletch," nor have an afro that provides 4 additional inches of height, he does have advantageous size to man the net.

"My club coach used to be a goalie so he saw that in me and told me to go for it," Fletcher said. "He said that my height and length is really helpful for the position."

Meanwhile, it appears as if it's going to be a year filled with growing pains for a St. Francis squad that lost a lot of experienced players to graduation last spring.

"We graduated 13 seniors and the majority of the seniors had been on varsity for at least three years each," Keigley said. "So we lost a chunk of our team and the last week has been really just trying to figure out who we are and what we're doing.
"Our results aren't what we're capable of because we're constantly playing around with different lineups and putting guys in different positions, trying to find the right combination."

A change in the conference schedule saw these two teams, who are usually at the top of the standings, play early in the season, rather than at the end. Things won't get any easier for the Spartans as they'll face rival Wheaton Academy on Thursday.

"This is my fourth year as head coach at St. Francis and it's always come down to Marian, Wheaton Academy, Marmion and us and it's always been the last conference game of the season," Keigley said. "For some reason they flipped it and those four teams are all playing each other first thing in the season."

The game was originally scheduled for a 4:30 p.m. start but was moved to 7 p.m. because of the excessive heat and humidity.

The change apparently had no negative effect on the hosts.

"It's tough because in school you're so excited to get done and go out and play," Collins said. "It was a big relief to not be in such hot weather, and we just had to be a little patient and wait a little longer before going out to play."