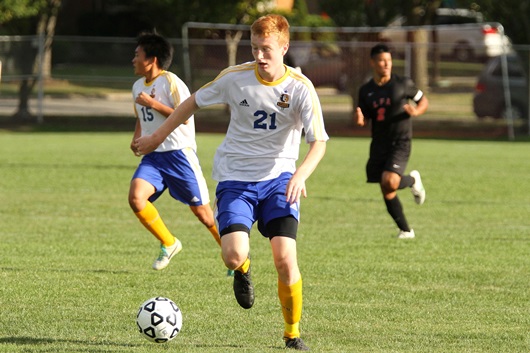 Photos by Gary Larsen
Lions kick off Pepsi Showdown with big victory
By Curt Herron
Technically, the Pepsi Showdown is not Lyons Township's tournament, but it just seems that way.
That's because Joe Trost's 32-team competition has been a key event on LT's schedule for the past few years.
The Lions play host to two Saturdays of the event, which is celebrating its 10-year anniversary this season.
As a result, there's a great deal of pride among the Lions to fare well in the tourney that they are so much a part of.
From the volunteers who work concessions to the bench personnel, it's in many ways an LT family event at West field.
The ultimate reward for LT came a year ago when the program beat Morton to capture its first title in four attempts.
Much is again expected from this year's Lions, who entered Saturday's competition in LaGrange as the top-seeds.
And thanks to a group featuring 15 players back from last year's champions, LT hopes to make another title run.
Coach Paul Labbato's squad kicked things off in impressive fashion with a 7-0 triumph over Lake Forest Academy.
Because of delays in earlier matches, the two sides didn't begin playing until 4:30, an hour and a half late.
But despite the later-than-expected start time, the Lions were raring to go against a youthful Caxys squad.
LT (5-0-2) has gone 14-1 at home in the Pepsi since 2009, during which time it has played in three title matches.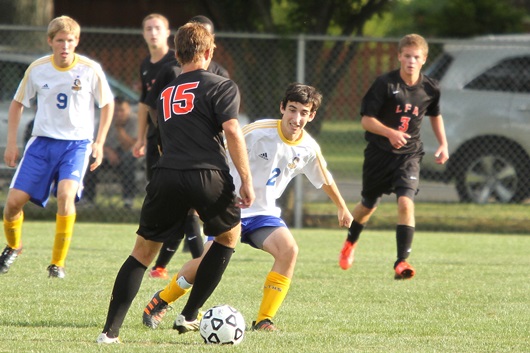 "I think the familiarity of the environment is very important," Labbato said. "This is our home field and we're out here every day practicing. We just have a comfort zone of being in this neighborhood and with our fans and it helps.
"Joe Trost does a ton of work for all of the kids in all communities. We enjoy the atmosphere that Lyons brings and the hard work that our program brings to the tournament. So we just try to put the best foot forward for Lyons.
"Both teams showed up at 2:00 for a 3:00 match that didn't start until 4:30. But the kids got into the shade and it was a beautiful day. I was happy that we were able to put it together on the field in the style of play that we would like."
A pair of quick goals and a 4-0 halftime lead allowed Labbato the opportunity to substitute liberally throughout.
Despite all of the different combinations that LT went with, it was able to secure its second straight shutout.
"Lake Forest played soccer and put the ball on the ground, which I think fed into our hands because we like to do that, too," Labbato said. "It made for a really nice game with not a lot of fouls or not much contact, just a nice passing game by both teams.
"We were able to get around them with speed in the final third of the field and then as we subbed, we continued to bring in guys who could play our system and there was no drop off for 80 minutes. We were clicking on all cylinders today.
"A point of emphasis for us has been to try to lock down and have our defense be more accountable and to work together and show more pride in shutting teams out. It's a work in progress and it's going to take some time to see which kids work best together."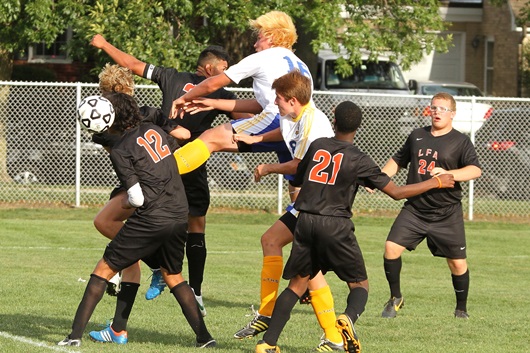 Matt Murphy led the winners with two goals and a pair of assists while Frankie Kocimski also scored two goals.
Patrick Duncan and Harry Hilling each handed out two assists while Spiros Kass also contributed on a score.
Cristian Sanchez, Pijus Dzidolikas and Pearman Clarke also connected for goals in a season-high performance.
Peter Nolan and Nick Jumic each played a half in goal for LT, which allowed nine goals in its first five matches.
The tone was set when Duncan lined one off of the crossbar and sanchez put in the rebound in the ninth minute.
And then in the 13th minute, Hilling sent a pass inside to Murphy, who connected from close range for a 2-0 lead.
The senior forward, who paced the Lions in goals a year ago, has already surpassed that total in seven matches.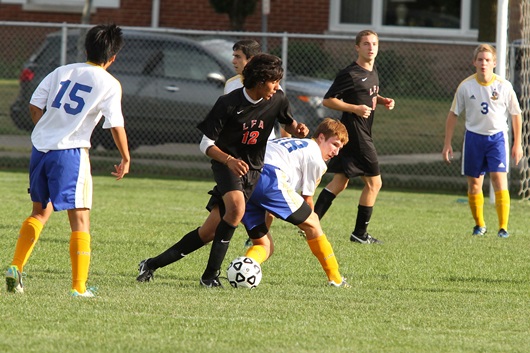 "Over the summer we did summer league all together and we had a blast," Hilling said. "We're really starting to get to know each other and we're all hanging out outside of soccer so we're jelling nicely. I like our speed up top with Matt, Frankie and Pat. They're very fast and they have size, too.
"We started off the season on a high note but our ties with Naperville North and St. Charles East were not what we wanted but we learned from them. I feel that we're really stepping it up now and we're all marking up properly. It's always nice to have a deep bench and get them some playing time.
"We all love this tournament and it's a lot of fun. It's a large tournament with 32 teams and being able to play against teams from all across Illinois is awesome. We always like to compare ourselves to others to see how we'll do."
LT added to its lead in the 26th minute when Kocimski connected for the first time, following a pass from Murphy.
And the Lions built up a 4-0 advantage in the 30th minute when Kass sent a pass to Dzidolikas, who connected.
Kocimski is one of four Lions who are hoping to reach their third straight Pepsi Showdown championship match.
The other three are Emilio Godinez, Kass and Clarke. Godinez is all too familiar with what the Pepsi means to LT.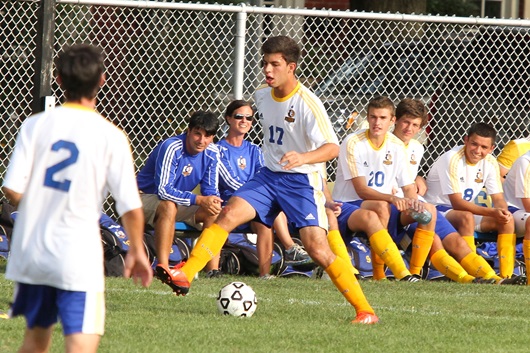 "It's always our goal to make it as far as we can in this tournament," Godinez said. "Hopefully we can keep doing well as go we go on. We like this because other teams come in even harder and that will only challenge us more so we can do even better.
"We have great chemistry, our passing is phenomenal and we connect with a lot of great combinations. Even when our bench players come onto the field, we can trust them to have it stay the same way. They've been doing a great job for us.
"We know how we play and how to help ourselves do better so that passes connect better and we transition well. We just need to keep our passion going because I think that we definitely have what it takes. I think that we can make it far."
Shortly after the break, LT scored twice within 21 seconds to go up 6-0, thanks to some of the same combinations.
Murphy assisted Kocimski and then connected following a pass from Hilling during the 44th minute for the Lions.
LT shortened the match by eight minutes when Shunsuke Fujii found Duncan, who passed to Clarke for the last goal.
Being a part of this Lions squad has been an exciting experience for Fujii, a foreign exchange student from Japan.
"I joined this team one month ago and my first impression was that this team is really good," Fujii said. "My teammates are really kind and friendly and they have treated me really nicely. I've been really lucky so far.
"This is a really big tournament and I love playing in it. This team is really good and I love being able to play on it. This team plays really hard and it never quits. Everyone plays as well as they can and that's what I like best."
The Lions play host to Kelly on Tuesday in a second-round match. Kelly advanced with a 2-0 win over East Aurora.