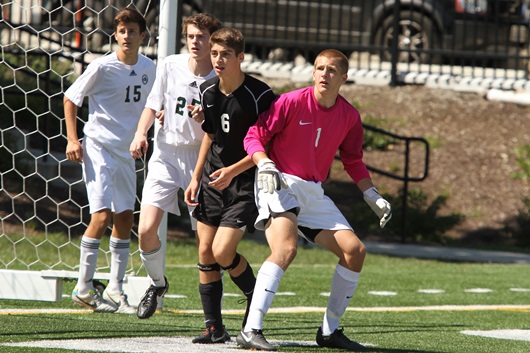 Hilltoppers prove themselves again vs. Hornets
By Matt Le Cren
Glenbard West didn't know what it had when the season started, which is understandable since over half the team is new.

Turns out the Hilltoppers may have something and maybe a little more.

Co-captain David Ortega had the first two-goal game of his career and junior William Lanzillo also scored as the Hilltoppers capped off an impressive week by blanking Hinsdale South 3-0 on Saturday at Memorial Field in Glen Ellyn.

The victory was the fourth in the last five games for Glenbard West (5-2), with the only loss being a close 1-0 decision on Thursday to powerhouse Hinsdale Central.

"As we said at the beginning of the season, we try to improve as we go along," Glenbard West coach Maciek Kusmierz said. "This week in particular was very tough for us, challenging games that were very physically demanding against Hinsdale Central and Oak Park and today another tough game against Hinsdale South.

[That is] three games in five days, so I think we've done well. We just hope to keep on building on what we have right now and hope to keep on improving every game."

The Hilltoppers jumped out to a 2-0 halftime lead thanks to a pair of long-distance goals. The first was a 35-yarder which Lanzillo lofted over the head of Hinsdale South keeper Jose Moreno. The second came on a shot from just outside the box by Ortega.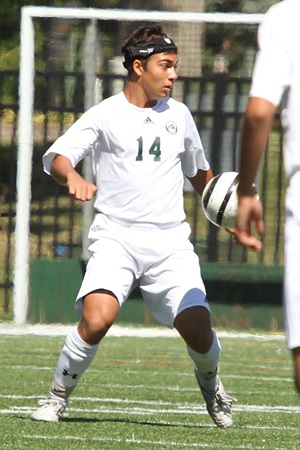 "[My goal], the ball bounced out [in the] center, it was like 20 yards out so I took a touch with the outside of my foot, put a little bit of a curve on it and the wind took it and brought it down a little bit," Ortega noted. "It hit the crossbar and hit the goalie and went in."

Ortega finished the scoring with 4:13 left in the second half against the run of play on a diving header from six yards out on the right post. John Emmanuel got the assist thanks to a long throw-in.

"I just saw it and I threw my body at it because I knew the goal was right there," Ortega said. "I was trying to do whatever I could to get it in the goal.

"It was nice because last year I only got one goal and this year I told myself I want at least three. I've got two right now."

Hinsdale South coach James VanDenburgh was disappointed about the first two goals because he felt his defense was doing well at keeping the hosts from penetrating.

"We were playing well and we're trying some new things to regroup, so to speak," VanDenburgh said. "What we started with today in terms of formation was working. It was looking nice and then it kind of took a little bit of the wind out of our sails when literally the kid looked up, recognized Jose was off his line and hit a nice long one.

"It was a good shot but in a normal game it shouldn't happen. The second one was a similar situation. It was a high ball. They were definitely two goals that I think shouldn't have been scored."

Aside from Ortega's header, the Hornets (0-6-1) didn't allow Glenbard West to spend much time in the penalty area. Junior sweeper Lucas Carlson, sophomore Mick Meilus and senior stalwart Giancarlo Cianelli turned in a solid performance that may have been their best showing to date.

On the other hand, the Hilltoppers were equally solid in the back in front of goalie Robert White, who made six saves to record West's third clean sheet. The Hornets, who have scored just three goals, were shut out for the third straight match and fourth overall.

"[The key has been] strong defense because the second game of the season we gave up four goals and ever since then we've only given up one goal per game," Ortega said. "Our two center backs, especially Ivan Barajas, our other captain, he's been strong back there and then we've got two defensive mids, me and Paul [Selman] and Paul is an animal. He runs crazy everywhere."

The second half got a little crazy at times with chippy play from both sides that led to four yellow cards and several stoppages for injury. The Hilltoppers stayed strong and that eventually paid off with Ortega's insurance tally.

"We tried to keep our composure because we knew they would come out strong the second half because they're down 2-0," Ortega said. "We tried to keep ourselves composed and play the ball simpler, so make them run around."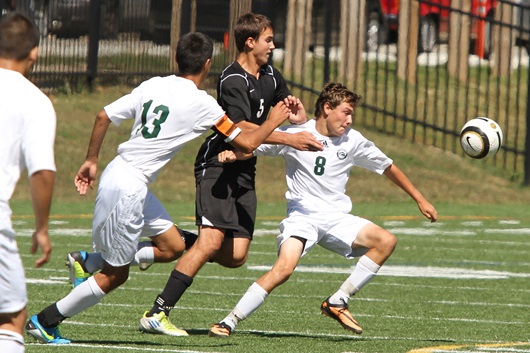 Glenbard West is by no means an offensive juggernaut, so they are focused on slowly building an attack off their stout defense.

"We're a small team but we try to play quickly and on the ground and once in a while hit long balls," Ortega said. "I'm the header guy so they try to hit me with all the headers. It's tough work but you've got to do what you've got to do."

"We knew that if we can manage the games to be close, we know we have the personnel to do it," Kusmierz said. "We might be a competitive side and with a little luck we could take some of the games away from the supposed top teams, so we just need to concentrate on that, defend well and be disciplined defensively."

For the Hornets, it is a matter of staying positive and continuing to work hard. They've added some new blood in recent call-ups Meilus and Mike Noble, a sophomore who started at forward against West.

"[Being] winless is frustrating, but they don't give up," VanDenburgh said. "It was pretty evenly matched, but [the Hilltoppers] got the better of the play, they put their opportunities away and we did not, unfortunately.

"That's our m.o. for the past few games. I think we're all eager to finally find that first 'W' and keep staying hungry."