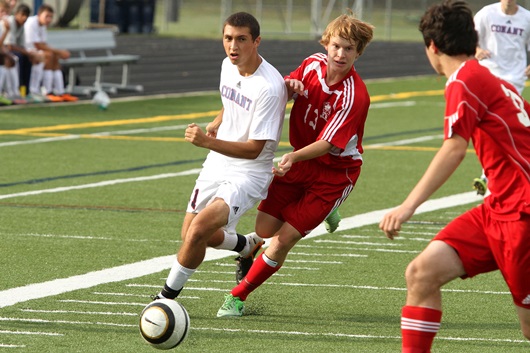 Cougars fall 1-0 to Palatine in leg-weary game


By Gary Larsen
Both teams played overtime matches on Tuesday and then went into overtime again on Wednesday, on another hot September day.
And both Conant and Palatine looked – well, a little worn out.
"It looked like two tired teams," Palatine coach Willie Filian said. "The deeper teams that have 17 or 18 kids might fare a little better in this situation but I think we're in a similar boat with Conant. We're 14 deep and going into overtime for the second day in a row. We're out of gas. And credit Conant. They played well."

Palatine (4-0-1, 1-0-1) had enough gas to pull out the win over Conant (3-3-2, 1-1-0) in the MSL contest in Hoffman Estates, getting a goal from Jahir Flores in the waning minutes of overtime to break a scoreless draw.

"I think it was (Kevin) Burke," Flores said of the pass them put him in and alone on net. "I didn't even see the keeper. I just turned and hit it."

Flores' smash from point-blank range had too much on it for Conant keeper Patryk Openchowski to do anything about. Openchowski got a piece of the ball at the near post before it stretched the back netting.

"Patryk has been very good," Conant coach Jason Franco said. "But he had no chance on that shot."
One day earlier, Conant won 2-1 in overtime against Hoffman Estates while Palatine and Buffalo Grove tied 0-0 after two overtimes.

"It looked like both teams played overtime yesterday," Franco said. "We were gassed in the middle of the first half. It was really pretty ugly.
"We're probably not going to play pretty soccer and they probably aren't, either. But even the energy tonight -- it seemed lethargic and slow, and I think it was fatigue. But I thought we played well enough to get a tie."
Through 10 minutes, Palatine offered a steady diet of throw-ins on the left side from Gavin Falotico that Openchowski and company weathered. Conant soon answered with a good handful of corner kicks and deep throw-ins of its own.
Every opponent knows that Palatine thrives on set pieces, but Franco has also been happy with the way his side has handled them on both sides of the ball.
"I thought we did a really good job of that today," Franco said. "(Openchowski) punched it out a lot, our other guys were great in the air.
"(Offensively) we scored two against Hoffman and we've had a few game-winners on throws. But against Palatine, they're not going to give you the weak goal. You're going to have to earn it."
At 12 minutes, Palatine's Sergio Hernandez raced ahead after a ball after the Pirates cleared out a throw by Conant's Joey Connolly and took off upfield in transition.
The last thing two tired teams needed was a game of constant transition, but that's the way much of Wednesday's contest played out. Persistent pressure in either half was hard to come by for either squad.
"In the first half we were connecting more passes to white jerseys than we were to red," Filian said. "We'd work so hard to get it and then we'd give it right back to them, and that's just going to drain you because then you have to run and chase."
Wednesday's end-to-end style wasn't without its scoring chances, however.
Branden Dos Santos took a corner earned by Connolly at 15 minutes and the Cougars Dino Kandalepas took a ball deep up the left side a minute later before Pirates' defender Kyle Clancy took it away and cleared it.
The veteran Clancy played his typical rock-solid game in back for a Palatine team that has yet to give up a goal through its first five games.

"I don't know what we're going to do without him because he's been doing that for us for three years," Filian said of Clancy "He and (keeper Kyle) Leber are our centerpieces, obviously, but our marking backs -- Evan Braun, Brian Mars, Kevin Burke -- they're juniors and they're solid, hard-working kids, and they listen to Clancy and stay pretty organized."
Kandalepas stayed active on the left side for Conant throughout, and Connolly reached the endline on the right side and served a ball that Leber gathered at the near post, mid-way through the first half.
Connolly and Kandalepas provided glimpses of danger in the attack throughout the contest, "and Chase (Hermanson) in the middle has been pretty good for us," Franco said. "Connolly is able to pressure, Dino usually does pretty well for us, and then we've got a handful of guys that just rotate around."
Conant defender Matt Myers fired a hard shot high of frame, set up by a Matt Moglia throw-in at 22 minutes, and Moglia whipped a freekick chance from 30 yards out just wide of the post.
Leber came out to take a shot off the foot of Conant's Isaiah Jimenez at 29 minutes, and Leber cut off a Kevin Sindewald cross at the far post at 34 minutes with Connolly charging on.
Palatine's Fabian Tovar then hit a bicycle kick inside the Conant penalty area at 35 minutes that Openchowski tipped over the crossbar.
Palatine's Rafael Esquivel reached the endline on the left side and crossed a ball that a teammate shot wide at the far post at 50 minutes and one minute later Falotico was kneed in the face in a battle for a ball with Conant's Victor Moskal.
Falotico sat out for the next 20 minutes before returning to the field. The Palatine junior is one of the best around at winning balls in the air and Moskal matched him leap for leap on Wednesday.
"(Moskal) in the middle was winning a lot of first balls," Filian said. "Gavin is one of our most athletic kids that we've had in a long time, and (Moskal) was jumping over him and was able to get him out a couple times."
Palatine's Dan Cushing established a presence in the attacking third with a few penetrating runs in the second half and at 58 minutes, Hernandez took a ball across the box 12 yards out and fired a shot that Openchowski dove for and saved at the post.
Burke served a ball from the right side but Openchowski won a challenge from Flores and came away with the ball at 60 minutes. Like Leber, Openchowski was rock-solid throughout the contest.
We've been relying on (Openchowski) to make some big saves for us," Franco said. "He's been very good and he has kept us in every game, because we're new in the back and we're new in the middle."
Leber stuffed a shot at the post at 61 minutes and made another fine save at the post at 65 minutes. The scoreless draw was uneventful from there to the end of regulation.
Cushing hit a good chance wide two minutes into overtime and Moskal headed out a few Palatine serves into the box to the 5th minute of overtime. Falotico got off a dangerous shot that went wide at 6 minutes before Flores finally ended the scoring drought on a ball sent ahead by Burke, giving Palatine the win.
While the Pirates have yet to give up a goal, they've only put two goals on the board in their last three games and Filian knows that his boys will need to finish at a better clip if they hope to keep winning.

"We still squander too many opportunities, but kids are kids and we just don't have that professional finisher, that elite guy," Filian said. "Jahir played well as usual and Danny Cushing had a great game. He made things happen offensively tonight and created some things, and so did Sergio Hernandez.But too many guys are taking too long to come along."
Palatine plays next at Barrington on Monday while Conant travels to Prospect for a game on Tuesday.

"We played well against Lake Park in a spirited game (a 0-0 draw) and yesterday we beat a Hoffman team that's pretty good. They're very technical and they're dangerous up top," Franco said.
"We've proven that we can play with some of the better teams around here. We haven't been able to beat them all yet, but hopefully we'll get a few."