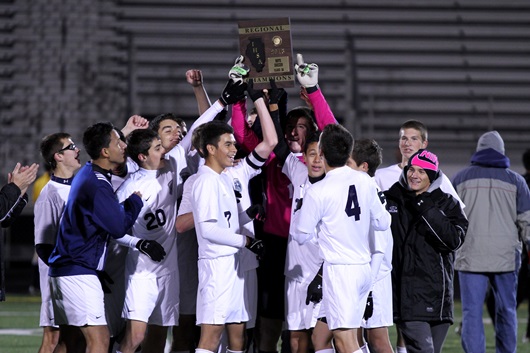 Lancers get it done vs. WW South
By Gary Larsen
Intensity and sharpness are never more important than during the state playoffs, when any team can beat any team, no matter who the favorite might be.
"We talk about it every day in practice. You watch a lot of great teams fall short and we try to tell everyone that anything can happen because it's one and done," Lake Park senior captain Gustavo Contreras said on Saturday. "You can have one bad game, one bad section of a half, and it could be over."
The Lancers took care of business in this year's Class 3A Conant Regional title game, staying sharp and keeping their intensity throughout a 3-0 win over Wheaton Warrenville South.
The win gave Lake Park its 10th regional title in program history.
Oliver Horgan, Mike Catalano, and Kris Lopez each scored to make the box score, but it was a team-wide performance that got the second-seeded Lancers (18-2-3) past the 10th-seeded Tigers (8-11-3).
"I thought this was our best overall game yet," Horgan said. "Everyone was playing good. Our goalie (Steven Mack) and defense were good and kept talking, and our midfield just controlled things the whole time."
Tigers keeper Edson Gomez-Velazquez and a backline led by senior captains Michael Stelletello and Joe Spera fought the good fight throughout, but the Lancers' firepower ultimately won the day.
"They're a really big team, first and foremost, but they also play really great soccer," Stelletello said. "They're just really organized in all parts of the game."


Midfielders Catalano, Joe Keane, and Kevin Coria spearheaded Lake Park's pressure from start to finish, with outside mids Lopez and Lorenzo Mariani both flying up the sidelines into the attacking third with purpose throughout the contest.
"Mike and Joe and Kevin -- they hold the ball well and they constantly look for each other," Lake Park coach Tony Passi said. "When they can get the outside mids involved, it's lights out. And since Oliver came back from his injury, he's like a man on a mission. He's creating so many opportunities, taking guys on, finding the one-vee-ones, and just blasting by guys."

It was a Lopez-to-Horgan connection early in the game that ultimately provided all the scoring the Lancers would need. Lopez attacked the post on the left side and crossed a ball that Horgan volleyed inside the far post at the game's 10-minute mark.
The Lancers applied pressure from there to halftime but didn't find an all-important second goal, leaving the Tigers within a goal of tying the contest.
"I thought we were very flat, very tentative in the first half," Callipari said. "We talked about fear, we talked about opportunity, and at 40 minutes (a win) was still available to us."
Ten minutes into the second half, the hill that the Tigers had to climb got higher when Catalano blistered a shot in from 20 yards out. A South team that struggled to score this season was in a 2-0 hole against a Lancers backline in Contreras, Alex Devereux, Riker Tithof-Steere, and Carlos Torres that wasn't giving any ground.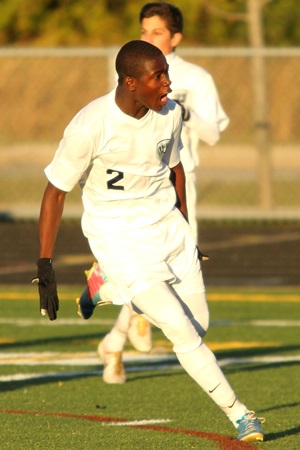 The Tigers had a goal called back on a foul early in the second half, but struggled to consistently find dangerous space against the Lancers.
"At the beginning of the season we were trying to figure it out," Contreras said of his backline. "Most of the goals we allowed came in the first five or six games of the season, but halfway through we started clicking. There are always things to fix but we feel like we're a pretty solid group in the back."
With the Tigers unable to break down the Lancers in back and Lake Park continuing to press forward, Lopez made it 3-0 at 64 minutes. A Keane throw-in was popped up near the goalmouth, Gomez-Velazquez saved a bicycle kick shot taken by Ricky Claudio, and Lopez buried the deflection from point-blank range.
"All in all, as the game rolled along we thought we still had a chance," Callipari said. "We had a goal called back that's questionable on the post, and they come down and score and get the second one. But tonight, you've got to give credit where credit is due. They played better and they were the better team this evening.
"They've got a lot of tools and kids that can impact the game in all parts of the field. They're hard to break down in the back, they're very confident, aggressive and strong, and up top they create things, run off the ball very well, and (Catalano) impacts the game every time he's standing on the ball. He's very good. And you don't want to mark him out man-to-man because then you leave somebody else to accept the ball."
Horgan had a simple explanation for his side's attacking success this year. The Lancers have now scored 72 goals in 23 games this season.
"We just try to play hard every game," Horgan said. "We try to change it up but we mainly play the same game and we're finding a way to win. And Mike (Catalano) is just a monster."
Lake Park moves on to a sectional semifinal game at Schaumburg against third-seeded Elk Grove (11-5-2), while top-seeded St. Charles East (19-1-4) plays 12th-seeded Wheaton North (7-11-1) in Schaumburg's other sectional semifinal.
"There are thirty-two teams left so there are no easy games," Contreras said. "We have to bring it, every single minute."
Passi aims to make sure the Lancers do just that.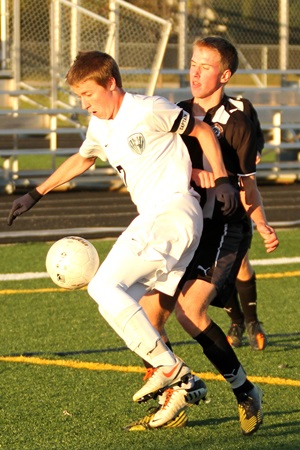 "My biggest challenge is making sure that they stay focused every day," Passi said. "They've set some goals and their goal is to get to state -- that's what they want to do. They're such a good group with such good chemistry, so the key is just making sure they stay focused."
The Tigers will bid farewell to seven seniors from this year's team in Spera, Stelletello, Jack Coutre, Dom Dalmaso, Ryan Trockman, Lalo Robles, and Max Leonard.
"We've got a lot of great young players and hopefully a lot of leadership next year," Stelletello said. "Hopefully a lot of the kids keep playing in the program and keeping moving on to better things."
Callipari will miss yet another good crop of seniors to come through his program.
"Just a tremendous effort on their part this evening," Callipari said. "(Stelletello) shouldn't even have been in the game but he wanted to play. He got his ankle taped and went back on, and he limped around and did everything I asked him to do.
"Joey (Spera) has just been stellar coming back from knee surgery and has had an all-state type of performance this year. He can play and I'm glad he's going on to play at the next level because he's deserving.
"I thought (Robles) did a great job coming from the jayvee program and Ryan (Trockman) doesn't even play soccer -- he's a lacrosse guy, and he cleaned up two balls down here tonight, and that was great to see. As a group they've all been able to contribute and they were on the field together in the last game of their career."