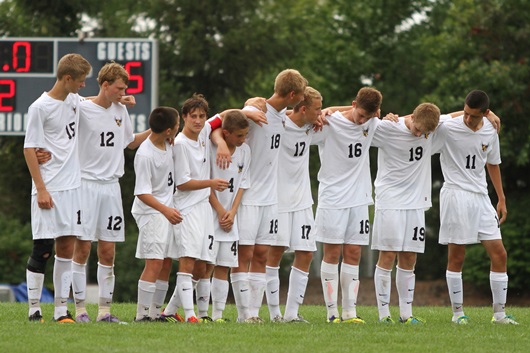 Eagles fall in overtime to McHenry
By Gary Larsen
Jacobs did all it could to upset top regional seed McHenry in their Class 3A semifinal, but it wasn't quite enough.
Keeper Spencer Dixon made an outstanding diving stop to keep the game scoreless in the second half. Austin Ryan and Ean Wilson sent in a few dangerous serves, with Tim Huber getting his head on one of them and Andrew Kaufman forcing a diving save from McHenry keeper Frankie Valle on another.

But in the end, McHenry's Evan Hying provided the game's lone goal in overtime, in a regional that is as up for grabs as any you'll find.
"This was a good regional and a favorable draw, in our eyes," Jacobs coach AJ Cappello said. "We really wanted to capitalize on it but just couldn't get it done. McHenry defends tough and they've got a great goalie in there, and he makes life tough, for sure.
"The regular season didn't go how we wanted it to at all, and I thought we were going to give ourselves a good chance today, and we did. We just couldn't capitalize."
Jacobs went into the Crystal Lake South regional seeded fourth behind McHenry, No. 2 Cary-Grove, and No. 3 CL South. Tuesday's game featured a first half that barely saw any shots on frame for either side, before a more eventful second half saw more scoring chances both ways.
McHenry's Ryan Uhl hit a ball high of frame at 56 minutes from 25 yards out and the Warriors' Phil Shelton reached the endline on the left side and headed a ball in that Jacobs' Erik Merdinger headed back out.

A Jacobs defender blocked a diving head shot by a McHenry player at 60 minutes to keep the slate clean, and the Eagles were defending in better fashion than they managed in a 3-1 loss to the Warriors in their Fox Valley meeting on Oct. 10.
"We just defended smarter," Cappello said. "We only played with three in back in this game, so we played with fewer numbers but we just kept it clean. I thought we played good enough to win but we just couldn't capitalize."
Wilson intercepted a pass at 62 minutes and took a ball deep on the right side for a cross that Hubner headed wide, and Ryan crossed a ball from the right side that Kaufman put on frame a minute later.
Valle hit the ground to stop a Kaufman shot at 67 minutes, and Dixon cut off a cross on McHenry's ensuing trip up the field. Ryan crossed a ball from the right side that Valle leapt up to cut off at 70 minutes, and Dixon cut off another serve two minutes later.
Hying struck seven minutes into the first of two mandatory overtime periods. The Eagles thus had 13 minutes to find a tying goal.

"We knew we had to get more numbers up the field and play with a little bit more desperation, and hopefully get on some fifty-fifties," Cappello said. "It didn't have to be pretty. We just had to get on a ball and find a way to get in net if at all possible."
The equalizer never came, ending Jacobs season at 6-14-1. The program will say goodbye to nine graduating seniors from this year's team, in Dixon, Ryan, Hubner, Marcus Inglisa, Abe Villa, Daniel Vandewalker, Mitch Materna, Jake Jemmi, and Nick Paganucci.
And those seniors helped to right the ship whenever it went off-course.
"They were able to keep the team level-headed," Cappello said. "We had some rough losses in there but we'd bounce back the next day and it's a testament to their character, their work rate, and their drive.
"It's a classy group of kids and they didn't quit for one second. No matter how well or how poorly we might have played they always showed up to train, they enjoyed every minute, they wanted to get better every day and they picked each other up. It's a quality, quality group of kids."