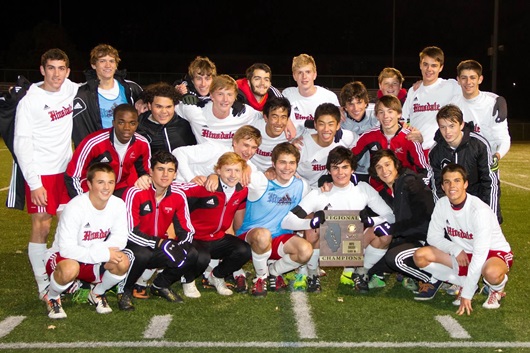 Bergevin enjoying great year for 20-0-2 Red Devils
By Matt Le Cren
An untold number of factors go into making a state championship contender.
For Hinsdale Central, a lack of ice in California is the most obscure one.
How does that have anything to do with the unbeaten season the Red Devils are having?
Well, if California had more hockey rinks, chances are the Red Devils wouldn't have junior Wes Bergevin playing goalie.
The 6-1, 175-pound junior was one of only five goalies – and the only junior – recently named All-State by the Illinois High School Soccer Coaches Association.
It is an impressive feat for anyone, let alone someone playing his first year of varsity soccer. And it may not have happened if fate hadn't intervened and turned the budding hockey star into a soccer player.
"I lived in California and when I moved there [in third grade] there were no rinks around, so I decided to pick up another sport and I said, 'Why not try soccer?'" Bergevin said.
"So I played soccer, I moved here [in sixth grade], I came to some soccer camps here and [Hinsdale Central] Coach [Mike] Wiggins recommended when I was at one of his camps that I try goal. So ever since then I've been a goalie."
When he was little, Bergevin played goalie and every other position in hockey, which is not surprising considering he is the son of former NHL defenseman Marc Bergevin, who played 20 seasons with eight teams, including the Chicago Blackhawks.
Marc Bergevin became a scout and assistant coach with the Blackhawks after his playing career ended in 2004. He was Director of Player Personnel when they won the Stanley Cup in 2010 and later became Assistant General Manager.
The elder Bergevin was named General Manager of the Montreal Canadiens 18 months ago and cheers on his son mostly from afar. His son gave up hockey when he moved to California, but the father embraced Wes's move to soccer.
"When I played hockey he was always supportive and always taking me to practices and giving me tips," Wes said. "When I tried soccer he was for it. He wanted me to do what I wanted to do, so he gave me some freedom with that."
Bergevin has taken that freedom and quietly made a name for himself, though he is not yet well-known among casual fans.
That could change if he continues to play at a high level for the Red Devils, who take a 20-0-2 record into Tuesday's 4:30 pm Class 3A Hinsdale South Sectional semifinals against rival Lyons Township.
The Red Devils have allowed just 10 goals this season and have shut out their last eight opponents and 14 overall.
A prolific offense and air-tight defense have drawn most of the attention and limited the number of shots Bergevin has had to face, but his contributions don't go unnoticed by those most important to him.
"He's a great goalie," said senior defender Max Krohn. "He came out this year and did everything he can and obviously we've got that shutout streak going. I'm not really paying much attention to it, but we're playing well and it's largely due to him.

"He's been making great saves at big times to keep us in games. We can't really replace him."
With an offense that has produced 69 goals, the other end of the pitch is easy to overlook.
Such was the case Saturday night when Justin Yi, T.J. Schmidt, Brandon Kim and Bryan Loebig scored goals as the host Red Devils beat Fenwick 4-0 to win their third straight regional championship and sixth in the last seven years.
Bergevin was called on to make just two saves against the Friars.

"I think I've played well in the games I've played and obviously our defense has just been incredible this year," Bergevin said. "That's all a goalie can ever ask for is good defense, so that obviously makes my job a lot easier in goal."
Bergevin's teammates say his role should not be underestimated.

"He's doing huge things," Krohn said. "A lot of time our offense is pushing it so he doesn't have to do too much but when someone gets through he makes huge saves for us and that's real nice to have."
Odds are there will come a time in these playoffs when Bergevin will be faced with a breakaway with the game on the line, but Wiggins isn't worried.
"He's been in that position this year," Wiggins said. "I can think back to the Geneva game we won 1-0 [on a goal by fellow All-Stater Christian Meyer with 17 seconds left] when he made a big save that kept us in it.
"That's just one example, so it's not like that thing is going to be anything new. He's been in that position before and he'll continue to do just fine."
With his dad living in Montreal, Bergevin has it tougher than most of his teammates, but he and his siblings are handling the situation well.
His sister, Elle, is a sophomore on the varsity gymnastics team, and his brother, Rhett, a sixth-grader at Hinsdale Middle School, is a hockey player.
"[Marc] is living there but he'll commute, so he'll come back to watch my games or my brother's games, so it works out pretty well," Bergevin said. "It's not easy but we get through it.
"His job requires a lot of traveling so he was traveling before he moved. We're used to it, but when he comes back we're glad to see him."
Marc Bergevin has been to a couple of Hinsdale Central games so far but even when he's away, he keeps tabs on how Wes and his teammates are doing.
"After every game and before every game he just texts me," Bergevin said. "[He says] 'let me know how you do, just give me a phone call.' So that's always good."
Having a famous father, especially one who was a professional athlete, can make kids targets for teasing, but Bergevin has been accepted by the Red Devils.
"I think they know my dad's who he is and I just play soccer when I'm here," Bergevin said. "This team, they're great to be around and I couldn't ask for a better group of guys to play with."
Bergevin said a love of running around and being outside cemented his decision to embrace soccer for good. He wants to play in college and has already drawn interest from some Division III schools.
"He's had a good year and I think the one thing that's so rewarding is to see him grow in his confidence, how he's grown in his command of the area, how he's connected with his team in front of him," Wiggins said.
"As a coach you take a lot of enjoyment watching a player grow in that confidence and so he's done very well."

With another season of high school left, Bergevin's future is bright.

"I think he really has a big upside," Wiggins said. "I don't think he's yet realized just how good he continues to be and how he's going to get better. I think his athleticism, obviously that's a big part of it and [so are] his recognition of his area and his position and how he handles his angles and how he comes off his line.
"I think his best days are still ahead of him so the fact that he's having some success now is really great to see. But I think he's got a lot of good years ahead of him."
Bergevin's favorite soccer team is Manchester United. Not surprisingly, his favorite hockey teams are the Blackhawks and Canadiens.
However, despite his family connections, Bergevin wasn't able to score tickets to watch the Blackhawks in the Stanley Cup Finals last June.

But another type of championship is coming up. The IHSA state finals will be held November 8-9 at Hoffman Estates and Bergevin and the Red Devils hope to still be competing that weekend.

No word on whether Marc Bergevin would be able to attend, but at least he'd have a connection if he wants to purchase a ticket.