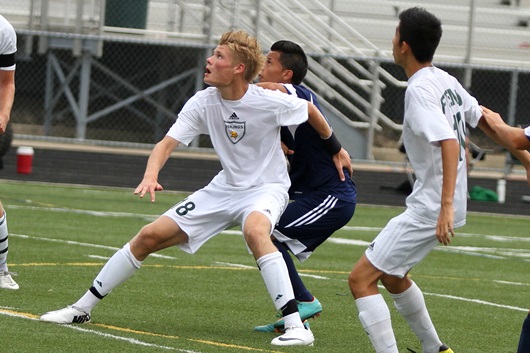 Carmel tops Vikings in a shootout
By Gary Larsen
No story of any game is told by a shootout and Fremd's shootout loss to Carmel on Friday was certainly no exception.
The Vikings spent an entire second half applying pressure and flirting with a goal that never came, as Carmel weathered the storm en route to a 1-0 win on PKs in a Class 3A regional title game.
A barrage of Zach Schoffstall corner kicks, freekicks, and long throw-ins led to a multitude of chances and near-chances, and the Vikings consistently got onto the end of long balls sent deep into their attacking third.
But Carmel had an answer for every shot that Fremd managed to get on frame, in freshman goalkeeper Jacob Spheeris.
"We had our chances," Fremd coach Steve Keller said. "You have to put them away. Both teams hung in there and unfortunately we didn't get it done in the PKs. That's how it goes sometimes and we've got nothing to be ashamed of.
"The kids played with a lot of heart and that's all you can ask."
Carmel had Fremd defending through the game's 15th minute, with Adam Cloe, Timmy Karich, and Evan Potter all playing prominent roles in helping the Corsairs to apply early pressure. First-half Fremd defenders Tomas Peleckas, Luke Kosacz, Danny Burton, and Nathan Dolan held Carmel mainly to shots from distance, however, which first-half keeper Dylan Fisher handled cleanly.
The Vikings' first real flash of danger in the attack came at 16 minutes, when Zach Schoffstall sent a ball ahead to Jacob Cuthbert, who forced Spheeris to hit the turf and make the stop.
Fremd's Gavin McCarty challenged Spheeris for a Schoffstall serve to the goalmouth at 24 minutes to earn a corner kick, which Peleckas headed just wide. Spheeris slapped away a serve from deep on the left side from Schoffstall that was headed for the crossbar at 31 minutes.
And with an increasingly strong wind at its back to start the second half, the second 40 minutes was all Fremd.
Schoffstall beat a defender and took a ball to the corner on the right side and served a ball that resulted in a saved shot by Spheeris at 42 minutes, and Nathan Dolan blistered a freekick just over the crossbar from 35 yards out a minute later.
With every freekick and serve capable of reaching the goalmouth on Carmel's 100-yard long field, Fremd set the tone early for the kind of pressure they'd apply throughout the second half.
Jacob Cuthbert ripped a shot just wide at 47 minutes, and Spheeris hit the turf to make a nice save on a Cuthbert shot two minutes later, on a feed from Schoffstall.
Spheeris tipped a Dolan flick over the crossbar at 50 minutes, and Spheeris elevated to snare a long serve at the post a minute later. Peleckas extended his leg at the far post to get a touch on a Schoffstall corner kick at 61 minutes, but the shot went wide.

That pattern of play continued to the end of regulation, with Fremd playing direct, getting deep with consistency, and earning corner kicks and deep throw-ins, but the Vikings were unable to get a ball past Spheeris.
"We put ourselves in a position to get some quality chances, which we did, and their goalie had some nice saves," Keller said. "We had some near-misses and that's how the game goes sometimes."
Fremd's attack continued, with Spheeris leaving his line to get a piece of a Peleckas shot at the post late in the game, and Spheeris saving a Peleckas flick off a Schoffstall throw-in at 74 minutes.

It was more of the same in the first overtime before the field turned around and Carmel utilized the wind at its back to apply pressure in the second overtime period.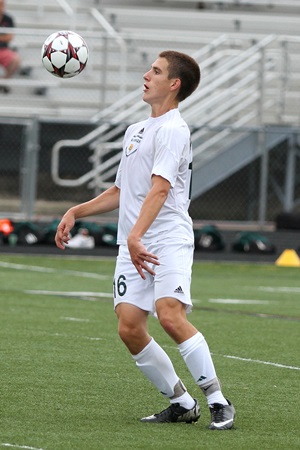 The Corsairs won the shootout 4-3, putting an end to the Vikings' season.
Fremd has a long tradition under Keller of playing its best soccer in late October, and this year was no different. The Vikings were 8-7-6 heading into Friday's regional final but went 6-2-4 in their last 12 games.

"That's always our goal," Keller said. "I look at the season as a building process, learning what we need to do to be successful at the end.

"They bought into it and did a good job of it. You look at our season and every game that we lost -- with the exception of Naperville Central and Hersey -- was a one-goal game. We were right there. That's the thing we improved on -- learning how to win those types of games. And we put ourselves in position, in the end, to win games."
Nine seniors will depart the program, including Dolan, Fisher, Brock Von Holt, Austin Bratkiv, Jon Smith, Dave Blanchette, Keigo Oharu, Robbie Ng, and Jong Lee.
"They're a nice group of kids. They're very hard-working," Keller said. "Austin Bratkiv was with us this year and he, Smith, and Dolan were three of our captains this year and they did a good job of leading. You can tell they care. They've got nothing to be ashamed of. They're quality kids and they worked hard for us this year."