2013 ROSTER

Coach: Rob Shepard
Assistant coaches:
Phil Aliano, Julian Barraza
Ryan Zaremba, Scott Scholten

Edgar Soto
So., M
Ivan Corona
Jr., M
Gio Garcia
Sr., M
Manny Pillado
Sr., D
Avery Chang
Sr., D
Hugo Sanchez
Sr., F/M
Artur DaSilva
Jr., M
Sergio Aguirre
Sr., D
Jonathon Arzeta
Sr., M
Carlos Miranda-Gomez
Jr., F
Arnold Aguilar
Sr., M
David Bahena
Sr., F
Deion Morales
Sr., D
Jersson Pachar
Sr., M
Alberto Centeño
Jr., M/GK
Kenneth Kozak
Sr., D
Daniel Hadler
Jr., D
Eric Pillath
Jr., F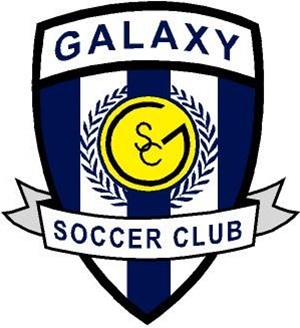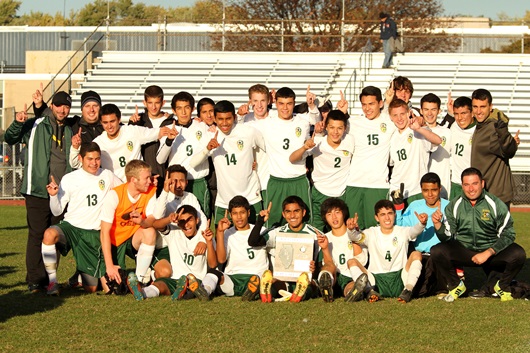 Pillath goal gives Elk Grove a regional title
By Gary Larsen
You don't get to witness or experience pure joy nearly often enough in life, but Elk Grove junior Eric Pillath did what he could to provide his team, his fans, and his coaching staff with just about more than they could handle.

Pillath's first goal of the season was the game-winner in a Class 3A regional title game at Elk Grove on Saturday, and it helped give his program its second regional title in history and also its second in four years.

Elk Grove senor Gio Garcia was a freshman when the Grens won a regional crown in 2010.

"I played on the freshman team and I was here watching," Garcia said. "My cousin (Francisco Ortiz) was the goalie on that team. It was great for them and now we have another one."

After starting the season at 8-1-0, this year's Grenadiers hit a rocky patch playing through another rugged season in the MSL. But their final few games of the regular season gave way to a regional semifinal win over York and a 2-1 win over Addison Trail.

"It feels awesome and we definitely worked hard for it," Pillath said. "At the start of the season we had an 8-game win streak and then when we lost, it went sort of downhill. But we went to practice and went back to basics, and it paid off. In the playoffs everyone is 0-0 so we're ready to start another win streak."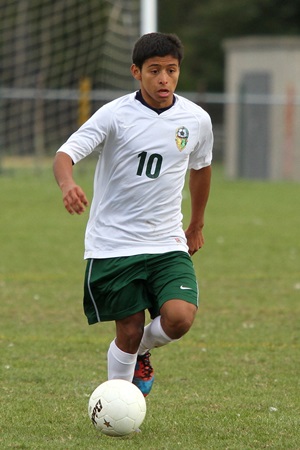 As the third seed of this year's Schaumburg sectional, Elk Grove (11-5-2) had its hands full throughout against No. 11 Addison Trail (7-10-1), which had beaten No. 6 Leyden two days prior.

"For (Addison Trail) to get an 11 seed, I'm not sure how that happened because they have several very good players on that team," Elk Grove coach Rob Shepard said. "We had a chance to see them a couple times but even when we tell the kids what's coming, they're so good that they can execute.

"Manny (Pillado) in the back did another amazing job of organizing those guys, Carlos (Miranda-Gomez) is a workhorse going back and forth, and Alberto (Centeno) made a few huge saves for us today."

Naturally, Elk Grove's joy in winning a regional title wasn't built on Pillath's goal alone. There was also Ivan Corona stepping up his game at midfield, Jonny Arzeta playing like Jonny Arzeta can play, and Pillado and Centeno overseeing things in back whenever the dangerous and skilled Blazers threatened in the run of play.

The Grens withstood a barrage of early corner kicks that the Blazers earned off of their steady pressure – five in the game's first five minutes – before David Bahena nearly got off the Grens' first shot of the contest, taking a touch ten yards out before the Blazers thwarted the attempt.

Bahena had the game-winning goal in Elk Grove's 1-0 overtime win against York in their regional semifinal match, on a feed from Garcia.

Addison Trail's Juan Briones sent a head shot just wide on a quality chance set up by a freekick at 11 minutes, and Arzeta hit a shot high in transition at 13 minutes. At 15 minutes Garcia nearly ran down an Arzeta through-ball to the post but AT keeper Jonah Moran left his line and slid to cut it off.

Garcia went wide with a shot off an Arzeta feed before the senior tallied the game's first goal at 33 minutes, and the 1-0 lead held to halftime.


"It was a great play by David (Bahena)," Garcia said. "He took on two guys and crossed it, it hit the goalie and rebounded, and the defender tried to clear it out. It went off my shin guard and fortunately it went in. I just put my foot out."

The Grens' Arnold Aguilar hit a low-rolling shot that Moran saved at the post early in the second half. The Blazers sent a few corner kicks in that Centeno elevated to cut off, and the junior keeper made a fine diving save over the endline on a freekick at 47 minutes.

Briones headed a shot over the crossbar at 48 minutes, just before the Blazers' Cesar Chavez – who was infinitely dangerous all day – buried a beauty of a shot to tie the game.

Chavez teed off from 30 yards out on the left side and sent a shot inside the upper ninety at the far post. "That ball was ridiculous," Shepard said. "Tip your hat to (Chavez)."

Arzeta took his play to another level after the Blazers knotted the game, applying pressure on the dribble and looking for teammates deep in the final third, spearheading a 10-minute spurt of attacking pressure by the Grens that ultimately paid off with Pillath's goal.

"Sometimes when Jonny isn't having as much success as he believes he should be having, he presses a little bit," Shepard said. "At halftime we talked to him about letting it come to him, possessing a little bit, and in the second half he played like an all-conference, all-area, all-sectional guy. He lived up to the billing."

Arzeta won a ball near midfield and chipped a ball ahead to Miranda-Gomez, who deked a defender and fired just wide at 59 minutes. Pillath's goal came at 66 minutes, with Arzeta constructing the play.

"Jonny crossed it in to me, I took a chest down and sort of tipped it past the keeper," Pillath said. "We started controlling it more, we saw the open spots and started making runs. We came together as a team, more than we were at the start of the game."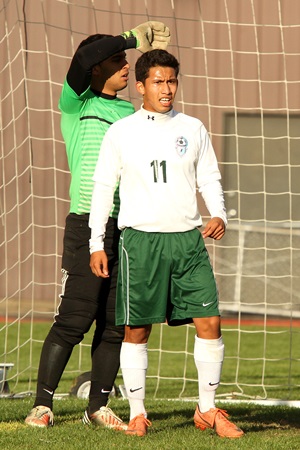 Garcia knew exactly how his Grens managed to turn the field around after AT tied the game.

"Patience was key," Garcia said. "In the past few games we've been scrambling but we found our composure, played one-two touch, found each other, give-and-gos, and it all worked out today."

Shepard was happy to see his boys answer the bell in the second half.

"When they started pushing a little bit I think we were able to respond better," he said. "I think it was about finding the ball to feet for us, and as we switch the field having whoever is filling space make the read. I just think we were better at executing that."

Bahena hustled to the touchline to win a ball and then beat a defender at 76 minutes, breaking in on net on the left side for one final good look on net for the Grens, but Moran slid out to stop the shot at the post.

And not to be lost in the win was the play of Corona.

"Ivan started poorly but when we took him out and put him back in, the whole first half changed and we won every ball in the middle," Shepard said. "As soon as he came back out and executed, everything changed for us."

Elk Grove travels to Schaumburg on Wednesday for a sectional semifinal match against second-seeded Lake Park (18-2-3). Top-seeded St. Charles East (19-1-4) plays No. 12 Wheaton North (7-11-1) in a semifinal at Schaumburg on Tuesday.