Gators' wild finish gets them past Cary-Grove
By Gary Larsen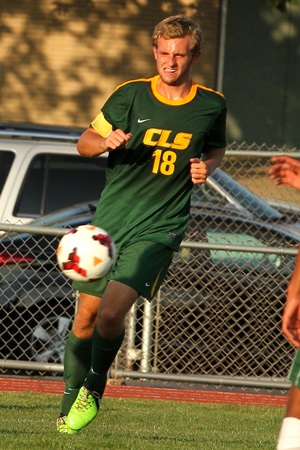 It was Christmas in late October and Crystal Lake South senior Gary Sexson gave the best gift possible to his Gators on Wednesday.
He kept them alive to fight another day.
With temperatures in the low 40s and snow falling on host South's Class 3A regional semifinal game, Sexson's overtime goal effectively capped a wild come-from-behind, 3-2 win over Cary-Grove.
"I just saw the ball coming out of the box and thought 'why not take the shot and try to be the hero?," Sexson said. "It felt great. I saw it hit the post and got scared for a second but it went in. This is the best feeling I've had all year."
Sexson's strike from 25 yards out, four minutes into a first overtime period, didn't necessarily shock Gators coach Brian Allen.
"Gary has that. He's done that a couple times this year," Allen said. "He's been in and out with (Mike) Woeste depending on how things have gone but he has never gotten discouraged with whatever I've asked him to do. He has played forward for us but today we needed him in his natural spot (at midfield), playing 18-to-18, and he didn't hesitate."
The fact that the Gators were even playing into overtime was an unlikely feat. If Wednesday's game was a four-act play, Cary-Grove starred on stage through the first three acts. The Trojans pressured the Gators well through the game's first 60 minutes, and got goals from Joey Klawitter and Kevin Wilde in building a 2-0 lead.
To that point, South's season seemed on the verge of being ended, courtesy of a Trojans team that was controlling play. South lost 2-1 in a shootout to Cary in their FVC meeting on Oct. 1., a game in which the Gators carried much of the play.
"There were a lot of similarities," Allen said. "One team was dominating for a majority of the game and they were able to come back, and in this one you have to give Cary credit. They had us on our heels for the first half and then some.
"But for the last twenty minutes the guys just said 'enough is enough, let's figure something out' and we started to get the run of play, started to win that midfield battle, we pushed people higher to see if we could get them on their heels. We got the first one and could smell blood in the water, and kept going."
Cary's 2-0 lead held until the 71st minute, when South junior Charlie Ruff won a ball at the endline near the right corner, and sent a pass back along the touchline to Austin Lamping. Lamping sent in a diagonal serve towards the goalmouth, where Orlando Tapia got a touch on it before it hit the ground.
Gators freshman Andrew Grabowski was there to bury a shot from eight yards out, cutting his side's deficit to a single goal. Four minutes later, Grabowski grabbed the spotlight again.

"(The first goal) was a rebound that was right there, and I was just in the right spot," Grabowski said. "The second one, I just took a touch and shot it at the net, hoping it would go in."
Grabowski hit a menacing shot from 16 yards out on the right side that tore a path under the crossbar, kissing the bar before stretching the back netting.
Grabowski is unselfish by nature on the field but he picked the perfect time to get a little bit selfish.
"I can't say enough about this freshman," Allen said of Grabowski. "He started the year on jayvee -- probably my mistake but we had two great strikers, and when we switched formations we moved him up and he's just been playing out of his mind.
"We've seen (Grabowski) do that at training and he deserves it. He's so unselfish but he has such a great shot, so if we can get him into that mentality... maybe this is the spark he needed going forward."

Senior captain Sexson knows the program is in good hands with the likes of Tapia, Ruff, Woeste, Jake Canfield, and Grabowski returning next year.
"Grabowski is going to be a good one. He's going to help us out a lot in the years to come," Sexson said. "Those were two great goals by him and I'm glad he got them to get us back in the game."
Sexson's game-winner came in the first of two mandatory overtime periods, with the Gators (9-11-3) keeping the Trojans (11-8) out of net the rest of the way.

Not to be lost among the heroics of Grabowski and Sexson was Ruff's play on Wednesday. The junior mid fought the good fight from start to finish in the win.
"Orlando (Tapia) is always great but today, Ruff did so much for us, 18-to-18," Allen said. "To be perfectly honest, last year against Huntley he probably had one of his worst games in that regional and I think he took that a little bit personal.
"Today, he was a man on a mission. Even in the first half when things weren't going well for us, he was constantly trying to give us something. He was eventually able to take over and free up some others for us."
David Tagatz also did a quality job of chasing the dangerous Wilde around for much of the contest, as keeper Gus Alvarez and his backline weathered a fine day of attacking soccer put in by Cary-Grove before the Gators pulled a win out of the fire.
"This is crazy. Now I believe in miracles," Alvarez said. "And it felt to get payback. They won on PKs (on Oct. 1) and they called my third blocked PK back -- they said I stepped off the line. I thought my heels were still on the line so it sort of felt like we had that game stolen from us."

Wednesday's win sends South to a regional title game on Saturday against top-seeded McHenry, which won 1-0 in overtime of its regional semifinal game against Jacobs.

South won 2-0 over McHenry in their FVC game on Oct. 3, and Allen knows what he'll get from coach Tony Caruso's side on Saturday.
"Caruso runs a first-class program. They're hard-working and they're going to make you earn everything you've got," Allen said. "We beat them 2-0 but it took two great shots to get those. You can't take micro-naps against McHenry because they will put you on your heels. You have to work for a full eighty so we're going to be in another dogfight."