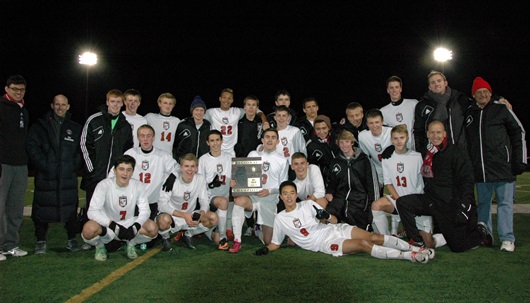 Broncos defeat Wildcats to move on to sectional
By Mike Garofola
Barrington proved too strong for Libertyville Saturday night and with its impressive 80-minute performance claimed a 2-0 victory in the Class 3A Barrington Regional.
As a result, the top-sseded Broncos (17-3-4) progress to the Tuesday's 4:30 pm Mundelein Sectional where there will face North Suburban Conference Lake champ Lake Forest (13-6-1), which defeated Hersey 2-1 in OT to win its own regional.
A long season of injuries had its bright spots for the visiting Wildcats (9-6-1), as a late season surge put Andy Bitta's club in the regional final at Barrington Community Park, with a chance to spring yet another big postseason surprise over one of the pre-tournament favorites.
"Libertyville scared me from the moment I saw the (state) draw, and even though Andy has had to deal with a lot of injuries all throughout, we knew it would take a big effort to go past them," said Broncos manager Scott Steib, who along with Bitta totals nearly 700 career victories on the boys side.
"We've changed a lot of things to try to maximize our roster and the injuries, and it worked the other night when we scored four to beat Stevenson in our semifinal," began Bitta.
"But Barrington is a different kind of team, and they have a lot of depth, and were clearly the best team in this regional, and particularly tonight - so they deserved to come out of here with the win, and the right to move on."
The visitors were in control early, creating a couple of dangerous chances in the first seven to eight minutes, but after averting disaster from their less-than-sparkling start, the home side slowly began to grab back the run of play.
That happened right up to, and after two quick goals within four minutes put the Wildcats on their heels for the rest of the first period.
"All of us knew, or read about so many of the top-seeded teams going down this week, and we obviously didn't want to be one of them," admitted Connor Hennelly.
"Our focus was on (that) and to start fast tonight, but whatever reason, we didn't, but fortunately we found our form, got a big opening goal from Austin (Grzebieniak) and added another shortly thereafter by Shawn (Owen) then did a very good job of managing the lead and keeping their chances down to just a few."
The Broncos were wary of the Wildcats dynamic duo up top of Lloyd Chatfield and Nick Vogel going in, and the two showed plenty of pace and promise during the first quarter hour.
However, Hennelly, who was superb all evening long with his distribution, inventive play, possession, and defensive work, along with Giles Phillips and Logan Morris in the middle, kept their counterparts from making an impression on the game.
"Their midfield outworked and outplayed us tonight," Bitta would say afterwards.

That the Broncos dominated play in the center of the park was an understatement, as did its backline, which continues to get stingier and stingier with each 80 minutes of soccer put into the books.
"I was real proud of the effort our backline put in tonight," said Tyler Anderson, who gave praise to his mates in the back, Jamie Tausend, Jason Frenk and Owen, who together, made sure All-state keeper Pat Deroche wasn't subject to many serious attempts on frame.
While the Broncos back four, and midfield fought and defended magnificently for 40 minutes, it was the tireless work from whomever Steib brought on up top which may have ultimately made the difference.
David Conrad, Sean Kim, Jonathan Wilson, Andrew Simek, Griffin Claes and Grzebieniak would breathe life into the Broncos attack whenever on the pitch, but the high pressure each of them placed on the Libertyville defense produced more chances and opportunities, while slowly prying open space for their teammates to attack into.
"After screaming for the guys to wake up after a horrible opening, (we did) and for the last 25-30 minutes of the first half, we played brilliant soccer," said Steib with a proud smile.

"Oh yeah, he (did) yell for us to wake up, and for whatever reason, we did," admitted Connolly.
The Broncos captain, and Anderson kept the latter's initial long throw alive, and the Wildcats' inability to stay clean in their own end made them pay the price for not clearing the scrum in which Hennelly and Anderson created.
Grzebieniak raced into the area and collected a loose ball, and while using his big body to hold off a defender, he broke away long enough to get time and space before driving his angled right-footed shot into the far back corner, to give the Broncos the only goal they would on the night.
"I was so happy and proud of Austin at that moment (his) last couple of weeks have been very good, and I told him that his time will come next year to be one of top guys up top, and tonight he showed why that will be," said Steib.
"That was a big goal for us," chimed Anderson, "getting the lead in a game like this is huge."
As the half drew to a close, Tausend and Phillips were at the heart of the Broncos second goal.
A well-aimed corner from Tausend was flicked freely away from the Wildcats defense in their own box - and once again, the failure to parry away the ball did them in when Owen ran onto a loose ball and fired past a diving Alec Shory.
"I took a quick glance down the line and their bench looked to be a little frazzled after Owen's goal," said Steib.
As expected, the Wildcats started brightly after intermission as they looked to cut their deficit in half within the first 10 minutes, but the Broncos withstood the extra energy and pace the visitors brought, mostly from Chatfield, Vogel and Liam O'Connell.
While their work rate began to improve, it appeared there was little wind in the sails of the Wildcats, whio were unable to get much quality going in their attack.
"We talked at the break of staying focused, playing smart and just trying to do what we do well," said Steib.
"We defended well, created some chances and kept them in their own end, and it turned out to be a really nice win for the boys."
Tuesday's sectional semifinal against Lake Forest features All-State MF John Moderwell, and a Scouts club which defeated NSC rival Lake Zurich in PK's last Wednesday, as well as its come from behind thriller over Hersey to advance.
"This had been a crazy postseason so far, top seeds going down all over the place, and plenty of surprises in the early rounds," Steib said.
"We kind of expected to play Hersey if we went through, but we know Lake Forest will be a big challenge because of the unknown.
"And the other side of our sectional, Buffalo Grove has gone from winning just one regular season game in the MSL, to a team maybe nobody wants to play right now - and good for them, the conference, and Rick Carlson."