Custom Search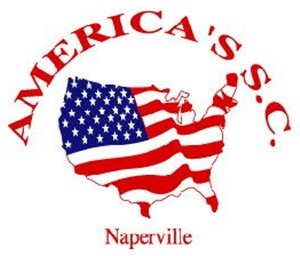 2013 ROSTER

Coach: Josh Robinson
Assistant coach: Craig Tomczak

Tim Howard
Sr., GK
Charlie Sabin
So., GK
Steven Wei
Sr., D
Brandon Espino
Sr., D/M
Jake Celinski
Jr., M
Hubert Celinski
Sr., M
Dakota Rowsey
Jr., M
Michael Adams
So., F
Jimmy Kisiel
Sr., M
Chris Freeman
Sr., F
Esteban Castillo
So., F
Pat Regal
Sr., D
Grant Bolle
Sr., D
Brian Diebold
Jr., M
Brandon Howard
So., D
Ryan Donovan
So., D
Ian Connelly
Sr., F
Nate Donovan
Sr., M
Matt Coley
Sr., D
Trevor Scarlett
Manager
Mustangs top Saints in UEC title game
By Matt Le Cren
St. Charles East coach Paul Jennison has been saying all year that no team is unbeatable.

His own team proved him right Wednesday night.

Metea Valley mustered only four shots but scored on three of them to pull off a huge upset, shocking the visiting Saints 3-1 in the Upstate Eight Conference championship match in Aurora.

It was a stunning turn of events as the Saints had beaten the Mustangs 7-0 back on Sept. 7 at Norris Stadium in St. Charles. Metea thus won their first conference title and spoiled St. Charles East's quest for an undefeated regular season. Instead, the Saints (17-1-4) saw their 33-game regular season unbeaten streak snapped.

"Anyone can beat anyone this year and I genuinely believe that," Jennison said. "I don't think there's any one team that is head and shoulders above the rest. No team is unbeatable. Unfortunately, I had to prove my own theory tonight."

It was more like the Mustangs proved it for them. They received two breakaway goals from junior Dakota Rowsey and a penalty kick goal from senior Chris Freeman to go with a great defensive effort to turn in, if not the biggest victory in school history, than certainly the most unfathomable.


"In terms of winning, yeah, it's great," Rowsey said. "It's not a playoff game but it's still pretty good. The good thing about this is we beat a great team going into playoffs.

"We've dealt with adversity the whole year. We've had our lows and maybe teams like this that have been riding high all year, they haven't had to deal with adversity as much. So going into playoffs on a high note, that's a huge key for us. We're an 8 seed and look out for us."

The Saints controlled the action for long stretches and outshot the Mustangs 16-4. But continuing a recent trend, the Saints had trouble finishing.

The visitors could blame Metea defenders Steven Wei, Brandon Espino, Pat Regal, Grant Bolle, Brandon Howard and Matt Coley for that. Oh, yeah, and Tim Howard wasn't bad between the pipes for the Mustangs (9-7-3), coming up with eight saves.

"[The Saints] were a good team," Rowsey said. "I can't say enough about our defenders. They stepped up so much, especially the seniors, and played so well.

"[The Saints] probably had 80 percent of the possession for that spell of time but we stepped up, we won our individual battles, we kept them in front of us, we stayed behind the ball and that's all we ask. Then we countered on them and it worked. You've got to take advantage and that's what we did."

Rowsey, who now has seven goals, opened the scoring when he ran onto the end of a through ball from Jimmy Kisiel at the top of the box and beat Saints goalie Chris Lucatorto with a 15-yard finish inside the right post with 15:47 left in the first half.

A Saints defender got his foot on Kisiel's pass, but it went right to Rowsey cutting in diagonally from the left wing.

"Jimmy took the ball through the middle and he played a good ball," Rowsey said. "They got a foot on it but I wanted to make my run across so I could stay onside. I just didn't want to make a straight run and then we got a lucky deflection and put it right away."

Rowsey's goal marked only the third time St. Charles East had trailed this season, but the Saints responded six minutes later when Tyler Robbins scored on a header to tie it 1-1. The play started with a Jordan Moore corner kick that was initially headed out by the Metea defense.

Moore quickly knocked it back in with a high-arcing feed that fell to the ground in a crowd in front of the net. Jarod Brown was the first to it and headed it over to Robbins for the far-post header.

The visitors pressed for the go-ahead goal but were unsuccessful despite some good chances as intermission neared. Taylor Ortiz rifled a 30-yard shot just over the crossbar with 1:40 to go and then Howard made a nice reflex stop on a 10-yard shot from Evan DiLeonardi with just five ticks remaining.

The second half was much the same, with the Saints winning the possession battle until the final 10 minutes and the Mustangs scoring on their only two shots.

Freeman got the game-winner with 27:32 remaining, burying a penalty kick after being taken down in the box. He calmly shot the ball into the lower left corner of the net as Lucatorto dived the other way.

"I wasn't nervous," Freeman said. "I don't get nervous for PKs. I practice it all the time. I know I'm going to make it. I just get there, try not to look at the goalie, choose a spot and put it in the back of the net."

Freeman was in the thick of it on Metea's third goal, which came on a counterattack with 11:41 to play. The star striker moved up the left wing and found Rowsey streaking unguarded up the middle into the box for another goal that Lucatorto had no chance on.

"I think we won some great one-on-one battles today," said Metea Valley coach Josh Robinson, who beat his alma mater for the first time. "We weren't very happy with the goal we gave up and so [in the second half] we won a lot of one-and-one battles. We preach being individually responsible for winning one-on-one battles and when you do that then we can really come together as a team and today was some really great defensive stuff, so it was good."

Jennison gave kudos to the Mustangs for the effort.

"We walk in here tonight on Senior Night and obviously these guys are extremely upset about what happened last time we played them and I think the bottom line is we just got outworked tonight," Jennison said. "Our concentration wasn't there in the back. I think six days a week we stop those goals going in.

"I think that was two defensive errors, especially when we left them wide open. We knew how they were going to play. It's no secret Metea's success is going through [Freeman] and for some reason he got far too many breaks on us."

The defensive miscues were especially uncharacteristic for the Saints, who had surrendered only 10 goals all season. This was the first time anyone had scored three against them.

"Unfortunately I think I've got to take personal responsibility for this one because this is the last game of the season," Jennison said. "I think their mind slightly drifted off task and this has been the one and only day of the year that I haven't really, really tried to emphasize that we've got to take it a game at a time. Maybe even for a split second I took my eye off the prize.

But Jennison was able to smile after the match because this wasn't a playoff game. The Saints, who are the No. 1 seed at the Class 3A Schaumburg Sectional, are still one of the top contenders for the state title.

"I'd like to think this was the best thing that could ever happen to our team this year," Jennison said. "We're going to be alright. We're still the same group of guys that won 17 games this year, so I'm certainly not worried in that aspect, but I definitely would like to think this happened for a reason."

That reason, Jennison hopes, is to wake the Saints up.

"It's going to bring one or two or three of them back to reality," Jennison said. "We definitely aren't unbeatable and as I told them, you best believe this result has already gone out around the state and now people are saying, 'Wow, maybe they're not as good as they thought they were.'

"But we've got to stay positive about this. The lads and I are obviously very disappointed but it's not like we're going home. I wouldn't be smiling right now if that were true."

Freeman and the Mustangs were smiling because they finally had the signature win they had been seeking all season.

"It means a lot," Freeman said. "The first time we played them it wasn't very good, but this is a great win for us. It gives us a huge momentum going into the playoffs. Now we're where we want to be right now. We'll be good for the playoffs."

The Mustangs open the playoffs on Tuesday when they host No. 9 seed Marmion in a regional semifinal. The Saints begin postseason play the following day by hosting either St. Charles North or Hoffman Estates.

Robinson, for one, expects the Saints to make a long run.

"Tons of credit to Paul," he said. "They knock the ball around so brilliantly and they always do. We saw them on their surface and they knocked it around fast. You see them on turf and it's like, 'Whoa.' They play with such great confidence in themselves and this isn't going to slow down their efforts to go to state."