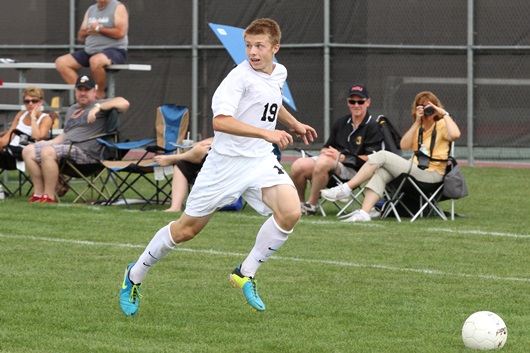 Eagles top Cary-Grove on late Wilson goal
By Gary Larsen
It was a quality win pulled out of the fire, and Jacobs' up-and-down season may be on the upswing at just the right time of year.

"The kids weren't satisfied with the results we've been getting. They know they're better than what their record has shown," Jacobs coach AJ Cappello said. "We had a great week of training last week and it finally translated to the game. Today was awesome."

The Golden Eagles' 2-1 win over FVC Valley Division rival Cary-Grove featured goals from Austin Ryan and Ean Wilson, a steady backline performance, and good flashes of solid possession play.

It even featured an outside midfielder as its man of the match.

"Jake Jemmi played a (heck) of a game tonight," Jacobs defender Dan Vandewalker said. "I was just getting the ball up to him and he was doing all the work."
It was Jemmi that sparked the game's first goal. After a scoreless first half, Jemmi headed a ball down and took a touch up the right flank near midfield, and then sent a ball up to Tim Hubner, who took it deep before letting fly with a shot in the game's 49th minute.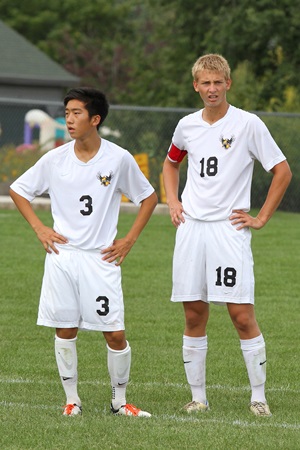 Ryan was crashing the far post. "I was putting it back post, the goalie tipped it, and Austin was there to finish it," Hubner said.

The Eagles' 1-0 lead held to the game's 76th minute, when the Trojans' Kevin Wilde knotted the game on a beauty of a freekick with just four minutes left in the game.
But before fans could settle down from Wilde's wicked kick, Jacobs turned the game on its ear.

Less than 30 seconds after Wilde knotted the game, Jemmi got on his white horse and rode it to the corner on the right side, crossing a ball to the far side. Wilson was there to settle and bury it from 10 yards out for the game-winner.
Wilson celebrated wildly -- the Sophomore who saved Senior Night. Jacobs seniors Vandewalker, Ryan, Jemmi, Hubner, Spencer Dixon, Marcus Inglisa, Abe Villa, Mitch Materna, and Nick Paganucci were all honored with their parents before the game.
All contributed to Tuesday's win. Defender Paganucci cleared a ball from goalmouth in the game's final minute, Dixon stood up well to pressure in the second half, and a backline that included Materna, Inglisa, and Vandewalker all played big against the Trojans.
Vandewalker missed three weeks of the season to an ankle injury and has been back on the field for the last two weeks.
"That was one of the best defensive games we've played all year," Vandewalker said. "In the past few weeks we've started to put it together. It was tough at first when I came back, because we didn't know if we were going to play flat in back or play sweeper-stopper.
"We were giving up goals and our shape was bad, but had a real good week of practice last week, and we've been getting it together."

Cappello liked what he got from his backline and was pleased to see Vandewalker take another stride forward from injury recovery.
"He has played the last couple weeks but it takes time to get back into it," Cappello said. "He's a hard-nosed, hard-working kid and I thought (Paganucci) did a nice job of covering, all day, instead of ball-watching. He was tucking in and doing everything we talked about."
Wilde showed throughout the contest that he can give defenses fits, but the Eagles fought hard to hold him at bay.
"I thought Daniel Kim and Nick Voss did an unbelievable job in the middle of the field, defending (Wilde)," Cappello said. "He's a heck of a player – real good on the ball, and nice and assertive. But I thought Daniel Kim played a (heck) of a game today."

The sophomore Kim showed creativity throughout a first half that saw Jacobs (6-11-1, 2-2 in FVC Valley play) work the ball up both flanks with flashes of cohesion. Kim sent a nice through-ball ahead at 8 minutes with Ryan running on, but Trojans keeper Ethan Csoka was out to gather it up.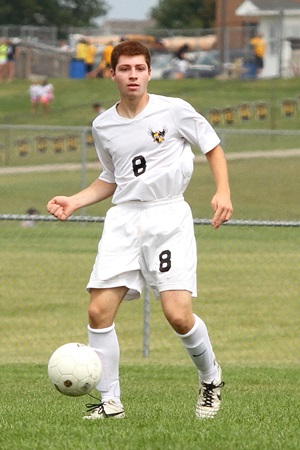 Kim sent a ball wide to Villa at 21 minutes, but his cross from deep on the right side was cleared out, and Csoka later beat Hubner to a Ryan through-ball on Jacobs' final truly dangerous chance of the first half.

Creating scoring chances hasn't always been easy for an Eagles team that has now scored 15 goals in 18 games, so striking twice against Cary-Grove was a step forward.
"The obvious thing is confidence and technically, now we're possessing the ball a little bit," Cappello said. "Instead of panicking and just knocking the ball up the field, we're trying to play a bit of soccer. So tactically, they're just playing smarter and more efficient."
Cary-Grove was persistently dangerous throughout the contest. Dixon saved a Danny Kinnerk head shot at 48 minutes, Vandewalker tracked back hard to destroy a play at 50 minutes, and Dixon sprawled to deflect a Dale Opasser shot at 55 minutes.
Ryan sent in a freekick from the left side that Hubner flicked wide to the far side at 56 minutes, and Ryan took another freekick from deep on the right side at 57 minutes that Cary cleared out.
Cary-Grove battled hard for a tying goal from there, applying pressure and earning numerous freekicks in the second half. Dixon made a diving stop on a Wilde shot taken from 18 yards out at 59 minutes, and Josh Gratz hammered a freekick in from the top corner of the penalty area that Dixon snared with two hands at 60 minutes.
Paganucci cleared out a Wilde cross at 62 minutes and Gratz hit a freekick over the endline a minute later. Wilde dove and tried to get his head onto a Luis Lemus cross at 65 minutes to no avail, and at 68 minutes Dixon hit the ground to save an Opasser shot.
The freekicks were coming fast and furious but Dixon and the Eagles handled them all until Wilde's perfect freekick from 20 yards out stretched the back netting, with Dixon diving after it to his right.

The Jemmi-Wilson connection came next, and Paganucci's goalmouth clear came on a Cary-Grove corner kick in the final 30 seconds of the game.
Jacobs and Cary-Grove (11-6, 3-3) will both compete in this year's Class 3A Crystal Lake South Regional, along with McHenry and the host Gators.
When you add the fourth-seeded Eagle's win over second-seeded Cary-Grove to third-seeded Crystal Lake South's win last week over top-seeded McHenry, there may be no true favorite to win this year's regional.
"We had a week of practice and a long break, we played a lot and I think we got everything sorted out, and we were a whole different team today," Hubner said.
"I feel like, out of the teams we've played so far, (Cary-Grove) is the best team in our regional. I think anyone can win our regional."