Custom Search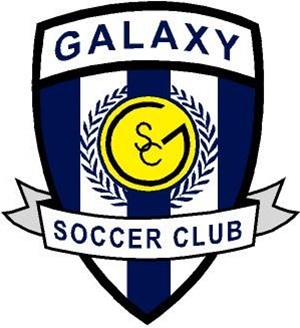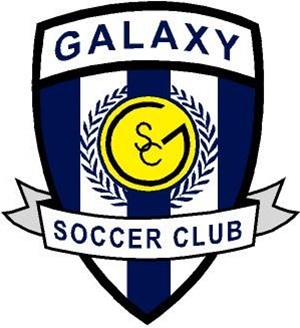 2013 ROSTER

Coach: Kris Grabner

Austen Emery
Sr., GK
Thomas Helm
Sr., GK
Kyle Carberry
So., M
Angel Sanchez
Jr., D
Aaron Koterbski
Sr., D
Reyman Solis
Sr., M
David Pardo
Sr., M
Eduardo Gonzalez
Sr., M
Scott Dorvilier
Sr., F
Niko Mihalopoulos
Sr., M
Michael Zembrzuski
So., M
Jason Zobott
So., M
Jack Bessey
Fr., M
Christian Ramos
Sr., M
Amir Dajani
Sr., M
Jakub Rys
Sr., D
Jaime Quintana
Sr., M
Allan Josue Barrientos
Fr., F
Travis Walsh
So., M
Manuel Menjivar
Sr., D
Matthew Kitsis
Sr., M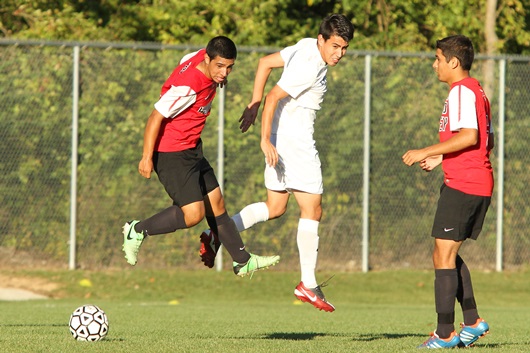 Raiders fall in physical FVC showdown vs. D-C
By Steve Nemeth
As much as Huntley coach Kris Grabner was unhappy with the outcome of Tuesday's Fox Valley Conference Valley Division showdown at Dundee-Crown, he was equally displeased with the impact of two particular decisions by match officials.

The host Chargers took control of the driver's seat for the FVC Valley Division crown by pulling out a 2-1 victory over the visiting Red Raiders after a physical battle that had both benches protesting calls throughout the contest.
In the end, Dundee-Crown remained unbeaten on the season at 16-0-1 and 4-0 in division play while Huntley dipped to 16-2-1 and 3-1.

After two Chargers were issued yellow cards during the opening half that concluded with a 1-1 deadlock, a Huntley player received a straight red card. Despite the referee's whistle preceding the halftime horn, the booking was listed as having occurred during intermission which allowed Huntley to continue the second half without a man disadvantage.

The game's winning goal came on a yellow card that gave D-C a penalty kick with 22:07 left in regulation, and the Chargers' Ben Stone converted that opportunity; however, his post-goal celebration made him the fourth D-C player to receive a yellow card.

With 19:43 remaining, Mihalopoulos had a powerful blast tipped wide by Charger goalie Jose Gonzalez to maintain the Dundee-Crown advantage.


Much more disappointing was having a potential equalizing goal with 1:54 for nullified by an offside ruling, on a free kick taken by the Raiders' Christian Ramos. Ramos' kick headed toward the far post and although a teammate missed on a head flick attempt, the ball sailed inside the left post.
Despite no apparent whistle from the match official on the play, the linesman's flag led to the offside call. "I've … never seen an offside ruling on a direct kick," Huntley coach Kris Grabner said.
"We knew they'd come out playing physically and it's a shame the refs didn't call things earlier. (Dundee-Crown) took us out of our game and I give them credit for that, however, they took two of our starters out with stuff that occurred after the play.

"(On the PK ruling), the linesman swears our guy pulled him down. I'll be anxious to look at the video tape. I hope it is the way he saw it, but I didn't see what he said. As it turned out, that was the final difference and that's a shame."

Further adding to Huntley's displeasure was a post-match red card issued to Ramos.

Charger goalie Gonzalez came up big 13:45 into the contest by stopping a five-yard try from Mihalopoulos, however, he was not as fortunate at 18:10 when Manuel Menjivar's cross enabled Eduardo Gonzalez to take a ball in stride from the right side and boot a nine-yarder past D-C keeper. It was the eighth goal of the year for the Red Raider senior while Menjivar registered his first assist.

"I saw the ball coming across from Manuel and raced toward the back post since no one was marking me tight. Once I got to the ball, I was confident I could finish it," Gonzalez added.

That lead, however, was negated by the Chargers with 14:51 left before halftime when Dundee-Crown's Carlos Ramos got his knee on the ball for a six-yarder. The play began with Francisco Nava's corner being slightly flicked by Stone.

"We needed to get the game even and I did my best to get in position in front and it worked out for the best even with my knee," Ramos said of his season's fourth goal.

Just over two minutes later, the Charger senior had a solid header stopped by Emery. Dundee-Crown's Johan Arias received a yellow 11:28 prior to intermission.

The second half saw Huntley's Scott Dorviller miss high with a header in the 49th minute just prior to the Chargers' Paul Buch doing the same at the opposite end. The Chargers nearly broke the tie in the 51st minute during a scramble in front of the Huntley goal, but an Emery save plus a Red Raider defensive clearance led to a breakaway opportunity for Mihalopoulos. However, that potential tie-breaker also sailed too high. This was the first time in eight matches that the Huntley goal leader (22 with six match-winners) was kept off the scoreboard.

"Defensively we wanted to keep track of Niko individually, but we also wanted to keep everyone else in front of us," Dundee-Crown coach Rey Vargas said. "We also wanted to control the middle of the field because that's where they (Huntley) like to attack from."
Stone put a well-kicked free kick on target in the 53rd minute, but Emery got in front of that to continue the scoreboard impasse.

"We knew it was going to be a one-goal battle," admitted Stone, whose penalty kick conversion brought his team-high tally for goals up to 11 with six match-winners. "I was nervous (on the penalty kick) to tell the truth, but … we practiced PKs a lot coming in, so I knew where I was going with it."

Both teams still have two FVC Valley Division contests, as Dundee-Crown goes to Cary-Grove before completing the regular-season with a non-conference date against Larkin and the league finale at home against Jacobs.

Huntley welcomes Crystal Lake South and McHenry for its last two Valley Division contests. The Red Raiders came up short 3-1 in last year's visit to Dundee-Crown, but posted a 2-0 triumph back home in 2011.