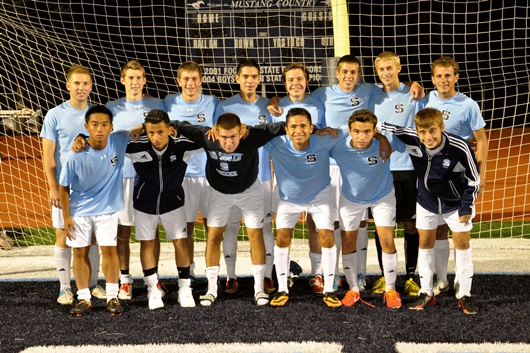 Mustangs edged by Eagles in final home match
By Matt Le Cren

The 2013 season has not gone nearly as well as Leyden had hoped, but that may be about to change.
Leyden posted one of its biggest victories thus far when Kevin Flores and Christian Hernandez each scored their fifth goal of the season Tuesday night in a confidence-building 2-1 road win over Downers Grove South.

It was the Eagles' fourth win in the last five matches and gives the squad some momentum going into Friday night's regular season finale against Addison Trail, a match that will likely decide second place in the West Suburban Conference Gold Division behind Morton.

"[Downers Grove South] is a good team and to come here and win is important," Leyden coach Mark Valintis said. "We've struggled all season and we've had a lot of ups and downs.

"We haven't really played our best against better competition and I thought today we played consistent for 80 minutes and that's the first time all year that we've done that.
"We've had good halves, we've had good stretches but for 80 minutes we played consistent and when we do that, whether we win or lose or tie, I'm happy regardless of the result. Today it just bounced our way."

That was literally the case on what turned out to be the game-winning goal, which came with 21:32 remaining in the second half.
Moments earlier, Downers South goalie Nick King made a tremendous save to stop a 15-yard bullet from Tony Guzman and the rebound caromed to the left side of the penalty area.
Arturo Vidal tracked the ball down for the Eagles and passed back upfield to Hernandez near the corner of the box.
Downers South's defense reacted quickly and was in position, but Hernandez split two defenders and somehow turned a bouncing ball into a perfectly placed 17-yard shot that bent inside the far post.

The goal stunned both teams.

"We tracked it down and Arturo passed it to Hernandez but they closed down quickly," Valintis said. "We did dribble through them but they got a foot in and the ball just bounced our way and he hit a great shot. I wouldn't have expected that."

Neither did Hernandez.

"I took a bad touch, it bounced all over the place, I got it and I just shot it and got it where I wanted it to go," Hernandez explained. "I just tried to curve it and it went in the way I wanted it to."
Downers South coach Jon Stapleton applauded Hernandez' shot but said it never should have happened.
"We didn't tackle," Stapleton said. "He split two defenders. We had two defenders behind the ball and so I think Mark's observation is right.
"We had numbers behind him and the first guy went in soft on the tackle and the second guy stepped and did the same thing and it was a great shot. In my mind it never should have gotten to that point, especially at 18 or 19 yards out."
The breakdown wasn't the first for a Downers South defense that was solid at times but shaky and ultimately exploited by the Eagles at others.
Leyden (9-8-1, 4-1) grabbed a 1-0 lead at the 30:32 mark of the first half thanks to some confusion by the Mustangs, who left Flores wide open at the top of the penalty area. Guzman found him with a pass from the right wing and Flores buried the 18-yarder.
"Tonight was frustrating because, not to say that Leyden didn't have their moments and they obviously played hard, but there were times where we sort of created our own mess a little bit," Stapleton said.
"I think some indecision in the back led to the first goal and I think our inability to tackle and win a ball resulted in the second goal."
So went an evenly-played match that could have gone either way. Both sides had nine shots and the Mustangs (8-6-3, 1-3) had just as many quality scoring chances.
The hosts converted one of them to tie the game at 1-1 with 7:24 to go before intermission when Jordan Pawlicki sent a long ball over the top of the defense to Mike Flores streaking up the right side.
Flores raced into the box and then lobbed the ball high over charging Leyden goalie Alfredo Recendez and the ball bounced twice before settling inside the left post.
While Flores got the better of Recendez on that play, the Mustangs couldn't get anything else by the sophomore, who made five saves, including a pair of spectacular stops, one of which came on a breakaway by Flores with 23:15 left in the first half.
"It's [a] nervous [feeling]," Recendez said of facing a breakaway. "I got a little rush into me and I've got to get out and try to do my best and go for the ball."
Four of Recendez's saves came in the second half. The toughest came nine minutes into the second half when Pawlicki sent a cross from deep on the left endline back through space in the middle of the box.
One Downers South player fanned on the shot but defender Scott Holakovsky raced in and blasted a 17-yarder that was ticketed for the lower right corner before Recendez lunged to corral it.
Recendez, who is now the full-time starter following a finger injury to senior Marcin Machnik, later stopped a volley from Flores at the 22:05 mark, a 22-yard roller from Eric Diaz with 9:25 to go and finally a 25-yard shot from Pawlicki with 2:25 remaining.
"He's done that pretty consistently lately, so I'm very pleased with his effort," Valintis said of Recendez. "We're going to ride him the rest of the way."
A first-year varsity player, Recendez said he is still learning the ropes.
"I'm still trying to get settled in because I'm a sophomore and it was hard for me since we weren't playing that well," Recendez said.
"I had to give my best because we wanted to get the win and finally get us prepared and get us going for the rest of the season to finish out [strong]."
A win over Addison Trail would complete an impressive comeback from a 1-4-1 start. The Eagles have lost only to powerhouse Morton (a 1-0 decision on Sept. 24) in conference play, so a runner-up finish is nothing to sneeze at.
"Getting second place is pretty good," Recendez said. "It would mean a lot because we've had a tough season. We're starting to [play better]. It's better than the beginning of the season."
"We've been playing not that great so this win really motivated us," Hernandez said. "It means a lot."
In contrast, Downers South has hit a lull. The Mustangs were strangely ineffective at home this season, going 3-3-1 on their home turf.
This was the final home game for seniors King, Flores, Pawlicki, Holakovsky, Patrick Gurdiel, Derek Griesheim, Sebastian Calderon, Jon Sleeper, Jimmy Kruse, Jack Freko, Nick Ambriz, Taulant Beshiri, Matt Pabis and Adam Azriel.

"As a coaching staff we're disappointed," Stapleton said. "We really wanted to win for our seniors in their final home game.
"Hopefully it's a catalyst for the playoffs and hopefully it's something that kind of whets the appetite to get back and play better.
"We made a comment to our kids – look at the calendar and two weeks from today you don't get a chance to come back the next day [if you lose], so hopefully we learn from it."