Custom Search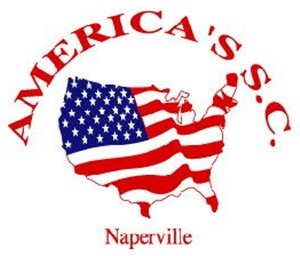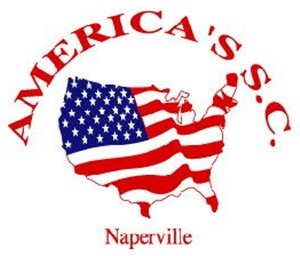 2013 ROSTER

Coach: Eric Willson
Assistant coach: Lee Burke

Chris Watson
Jr., F
Billy Larsen
Sr., GK
Kevin Sabres
So., GK
Jonathan Acevedo
Fr., M
Brandon Stricker
So., M
Nolan Pellitier
Sr., D
Logan Dunne
Sr., M
Jack Fries
Sr., D
Ryan Smith
Sr., F
Lorenzo Estrada
Jr., M
Brad Johnson *
Sr., M
Matt Frederickson
Sr., D
Phillip Legare *
Sr., F
Jake Kerr
Sr., D
Dylan Mientus
Fr., F
Ryan Olson
Fr., M
Nick Graham
Jr., D
Matt Picinich
Sr., M
Erich Olson
Sr., D
Colin Kraft
Jr., D
Alex Brito
Sr., D
Adam Hoffman
Sr., F
Zach Michieli
So., M

* denotes captain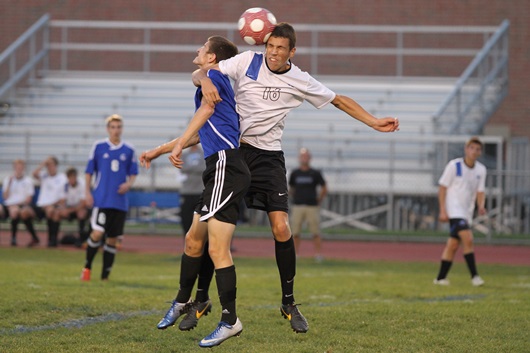 North Stars keep fighting in a loss to Geneva
By Gary Larsen
After Geneva won 3-0 at St. Charles North on Thursday, Geneva captain Beck Nebergall got a compliment that brought a smile to his coach's face.

"After the game, the official came up to me and said 'your number 10 (Nebergall) is the reason I still officiate high school soccer. What a great athlete and a great sport'," Geneva coach Ryan Estabrook said.

The Geneva senior had a good night all around. With the North Stars chasing a 1-0 deficit on Senior Night in St. Charles, Geneva was fairly pinned in its half by a North team possessing and attacking with energy. That's when Nebergall changed the game.

At 62 minutes, Nebergall broke from midfield on the dribble and sent a pass to his right that sprang teammate Igor Honore in transition. Honore took a touch and fired from 16 yards out and North keeper Billy Larsen sprawled to get a piece of it.

Geneva's foreign exchange student from France put too much pace on the shot, however, and it continued over the goal line to give the Vikings a 2-0 lead.

Four minutes later, Nebergall took a pass from Honore, turned and sent a laser to the upper ninety from 20 yards out that no goalkeeper at any level could have reached.

"On the first goal, I just saw space and took off," Nebergall said. "Igor made a great run and had an excellent finish on it. Igor's a great guy and I just love having him on the team. On the second one I just cut it back because I knew there was a bunch of defenders to my left. So I just touched and shot it."

Nebergall's simple explanation downplayed the quality of that shot.

"(Zac) Scaffidi, (Shawn) Sloane, (Andy) Filipiak, (Kyle) Knotek," Estabrook said, referencing a stable of ex-Geneva greats that all shared jersey No. 10. "Anyone that has ever worn No. 10 at Geneva would be proud of the goal Beck scored tonight. That was just a thing of beauty."

On the flip side, while Geneva (6-8-0, 1-4 in UEC River play) got the result it wanted, you'd be hard-pressed to find a team more snake bit than St. Charles North (2-9-2, 0-2-1), which attacked with cohesion and energy for most of the night but simply couldn't find a goal.


"It really continues to be a running theme for us, in not being able to find a way to win a game when it's close," North coach Eric Willson said. "We were knocking on the door plenty of times. We had a few right in front of the net and just couldn't find a way to get it in."

The game's early minutes went Geneva's way, with the Vikings' Jason Lagger firing a hard one-hopper to Larsen at the 8-minute mark. Lagger sent a through-ball ahead that Grant Bracken nearly ran down, but North defender Colin Kraft was there to destroy the connection at 10 minutes.

Bracken broke the ice at 11 minutes on a play that was pure hustle. The senior striker ran onto a ball sent ahead by Matt Waldoch and fought off two defenders inside the North Stars' penalty area. Bracken nearly reached the post on the left side before placing it perfectly inside the far post past a diving Larsen.

"The first goal by Grant almost gets forgotten because it came so early, but we love seeing hustle goals like that," Estabrook said. "Then I think we relaxed after that a little bit, and North was all over us as a result. They probably had eighty percent of the possession today."

Larsen cut off a Waldoch cross at 14 minutes and then saved a shot from Calen Colbert a minute later. That's when St. Charles North's attack came to life.

North's Jake Kerr sent in a great diagonal cross from the left side at 20 minutes and Phillip LeGare hit a head shot off the post and over the endline. At 32 minutes LeGare sent a ball from the corner to the near post with Nolan Pellitier making a run, but Pellitier's shot went just wide.

North's Lorenzo Estrada hustled hard to get his head on a handful of balls sent into the Geneva box until late in the first half, before losing a tooth on a collision in the air. The junior left the game and did not return. Estrada and Matt Picinich sent headers wide of frame, and Geneva's Colbert raced back to thwart North's Chris Watson at 31 minutes.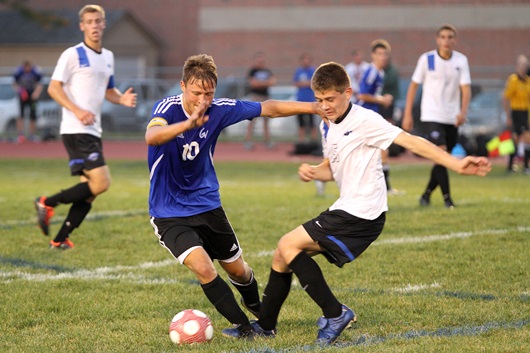 Brandon Stricker sent in a corner kick for North at 35 minutes that Geneva defender Drew Klaus headed out, and Klaus stayed busy in the air in clearing out serves to the halftime whistle.

"Drew Klaus is a sophomore but he has grown up a lot during the course of the season," Estabrook said. "He's a lanky kid but plays thicker than he really is. He's got that mentality that he's going to flat-out win the ball. He goes after it."

After the break, Mozden and Geneva defenders Klaus, Urben, Colbert, Matt D'Onofrio, and Ethan Nims had to withstand steady attacking pressure from a North team chasing a one-goal deficit.

LeGare sent a hard shot just wide at 44 minutes, put a head shot over the crossbar at 52 minutes, sent another shot just wide at 57 minutes, and forced a quality save from Mozden at 61 minutes. A goal may have eluded him, but the North Stars' senior played end-to-end, touchline-to-touchline soccer on Thursday, and he never quit.

"We keep (LeGare) in different positions because he's just one of those guys," Willson said. "He's one of our best players and we want him touching the ball as much as possible. And wherever we rotate him, he works hard and does a nice job."

Mozden made a diving stop on a Kerr freekick taken from 18 yards out at 55 minutes, and was on the spot to save a head shot hammered at him by North's Brad Johnson at 58 minutes. Mozden snared a LeGare flick at 60 minutes and made double-digit saves in Geneva's fourth shutout of the year.

"We were talking about who our man of the match might be -- we kept a shutout and a big part of it was (keeper) Joe Mozden," Estabrook said. " In the first half he was coming off his line and making some big saves for us. Sam Urben in back had a fine game as well but I really think you have to look at the work Drew Klaus did in the air and the job Joe did cleaning up his box tonight."

Klaus was happy with the way Geneva's boys in back stood up to North's pressure.

"It was just marking up and communicating back there, and going up after fifty-fifty balls and winning them," Klaus said. "They were dangerous with the long ball over the top and they were coming through the middle. (Mozden) played terrific. He made a lot of key saves for us, and I think we're doing well in back. I've seen a lot of improvement back there and a lot of chemistry."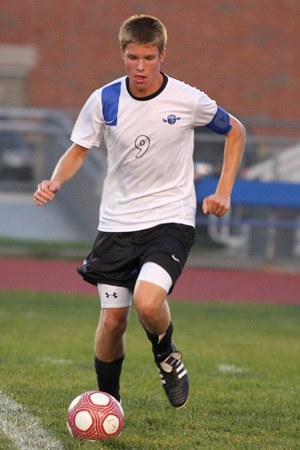 Estabrook was happy to be on the winning end of a strange game on Thursday.

"We played poorly but I think a lot of that was because North was playing so well with their possession," Estabrook said. "But I liked the fact that we didn't lose our composure and still had that desire to press forward and score that second insurance goal."

"We've had games like that, where we've outplayed the other team and they get a counter goal against the run of play, and that's the nature of soccer. I like being on this side of it better because the bottom line is getting the result, and we were able to do that tonight."

After Geneva scored twice in a four-minute span to put North in its 3-0 hole, North kept pushing.

"The one thing that I was certainly proud of from this group – as frustrating as it's been, to have two wins and now all of a sudden you're down two goals – but I felt like they worked as hard as they could from the start, all the way to the end of the game," Willson said. "Even after we gave up the third goal, guys that came in off the bench busted their tails. If you have small victories as a coach, it shows a lot of character of the type of people we have. We're struggling to get wins but they are working hard and I'm proud of them for that.

"I've been telling them at this point – at 2-9-2 – that it doesn't matter as long as we can prepare ourselves for the postseason," Willson said. "Our record gets thrown out the window and maybe if we can find a way to start scoring goals…"

The North Stars are seeded 15th at this year's Class 3A Streamwood Sectional, while Geneva is seeded 10th at Metea Valley's 3A sectional.