Wildcats suffer first loss to Tigers in SPC clash
By Jeff Davis
Sophomore Austin Hansen and his teammates on Plainfield North have already made history this season.
On Saturday afternoon, the Tigers made some more, and as a result, put themselves in position for still another first-time achievement.
Hansen broke a scoreless tie midway through the second half with a goal off sophomore Austin Collier's deflected shot, then Plainfield North's defense continued to hold strong to fuel the host Tigers' 2-0 win over seven-time defending conference champion Plainfield Central in a well-played Southwest Prairie Conference game.
The win not only is North's first-ever over Central, but also gives the Tigers (12-2-2) a chance to win at least a share of their first conference title after moving into a tie for first in the SPC with the Wildcats (8-5-4) with 3-1 records.
"This is probably the biggest game we've played all year," Hansen said. "They're like rivals because we haven't beaten them, they were first place, 3-0, won conference seven years in a row.
"We knew this was going to be a challenge, so we came out our hardest we've ever played and it was a good outcome. This is a huge win."
Especially since North had lost its SPC opener 2-1 to Romeoville, which Central beat 6-3. The Tigers have won five straight games since the Romeoville loss.
"They're the top dogs for sure, seven years in a row, so we knew if we wanted to win conference they were a team we had to go through," North coach Jim O'Hara said of Central.
"You lose to Romeoville, a lot of guys could have their heads down because here's a goal all these seniors have waited for, they want to win conference and obviously you lose that first game and you put yourself in a huge hole.
"Or we could say take it one conference game at a time, that's all we have to do because we're still in control of our own destiny."
With the victory, North also extended its single-season school record for wins. The Tigers' previous high was 10 wins.
"I knew we were going to win the game from the beginning," Collier said. "Our team has the most chemistry in the field. I'm so happy and so thankful that our team is this good this year, that we all work together so well."
After both teams' goalies made big saves amid limited first-half scoring opportunities – thanks to strong defensive and midfield play – Collier triggered the breakthrough play.
Collier took control of a ball that bounced past a defender on the left side, made a strong turn inside in a one-on-one with a final defender and then attempted a shot that deflected off that defender to a charging Hansen on the right side.
With Wildcats' goalie Kyle Oehler having stepped toward Collier, Hansen found an opening with a cross into the lower left corner for a 1-0 lead with 21:23 left in the game.
"I just subbed in because I didn't start the (second) half because of a yellow card, I saw him and I knew he was going to either shoot or pass, (so) I followed the ball, he planted his foot on (the defender's foot) and I got a lucky deflection from him and put it in," Hansen said.
Because Collier planted his foot on top of the defender, he shanked the shot, but the result caused him to call it "the best bad pass I've ever had."
O'Hara saw it differently.
"You could say it was a lucky bounce, a lucky break, but that's a credit to Austin Hansen," O'Hara said. "If you do what you're supposed to do, sometimes you're in the right position at the right time. And I think that's what happened."
North's Garrett Gathman had a goal on a 60-yard boot disallowed because it was an indirect kick that went untouched, bouncing over several players in front of the goal and Oehler's head with 10:02 left.
But then the Tigers added an insurance goal when Logan Wright made a quick move on a defender to get free for a left-footed shot that he placed perfectly between Oehler's outstretched right arm and the near post with 4:13 to play.
"I told our guys, if we're going to lose, we're going to lose to a good team and we did that today," Central coach Kevin Fitzgerald said. "All the credit to them, they were outstanding.
"We watched them. I'll tell you what, they're even better and faster and more skilled when you see them up close though. Some of those kids over there are just good, good players, and Jim's done a really good job with them.
"It was a great, exciting game. I think we played well and played as hard as we could. And we always ask our guys to give us top effort and I think our guys probably gave us their best effort of the year. When you give top effort for 80 minutes against a really good team, what else can you ask for?"
Central managed only two shots and one on goal in the second half and a few other threats as the Tigers' defense of seniors Jake Novacek, Sam Puglisi and Gathman and junior Travis Foust stymied the Wildcats' attack with help from midfielders Tyler Petprachen, Matt Farley and Jordan Schure.
"The forwards did their jobs, the center mids did their jobs, we had to keep our head in the back, keep our line and it turned out good for us," Novacek said.
"They had some good opportunities off corner kicks and direct kicks, but besides that I think we did a very good job of limiting any sustained offense in the second half, so huge props to our defense," O'Hara added.
Similarly, goalie Oehler and Central's defense of Ola Shobowale, Gage Wuestenfeld and Tom Poznanski did a good job keeping the Tigers in check, although they managed a few more dangerous chances in the physical game that featured three yellow cards for each team.
"I would have liked a little more attack, a little more offense," Fitzgerald said. "But we asked our guys to defend first today, and when you're trying to figure out how to stop so many weapons, it's hard to attack, too.
"I thought we defended them pretty well. They have so many weapons it's difficult. We knew we couldn't give Logan Wright too many looks otherwise you see what happened (on the second goal)."
Wright nearly put North ahead in the first half with a hard shot from the top of the box, but Oehler dove to his right to deflect the ball with his fingertips in front of the corner of the net.
Oehler also made a diving stop to his right of Jordan Schure's 15-yard shot with 8:14 left in the first half just one minute after North freshman goalie Cade Fink was able to push Wuestenfeld's long free kick over the goal after it took a big bounce.
Fink also corralled Jose Cardenas' header and two shots by Miguel Sanchez in the first half.
"Kyle might have had his best game, too," Fitzgerald said. "He made a couple really nice saves. In the air, he was good, came out, he was aggressive. The save on Wright's shot from the top of the box, I froze for a second, I thought it was in.
"The ball bounces in front of you and then you still get a hand to it. Kyle has come a long way, he's gotten so much better and comfortable as the year's gone on."
Now, as the season goes on, both North and Central hope that they can stay atop the SPC standings, as both still must play rival Plainfield South.
"I know our guys are disappointed, as they should be," Fitzgerald said. "Now it's about moving forward. We still have a chance at winning conference. We win out, we win conference.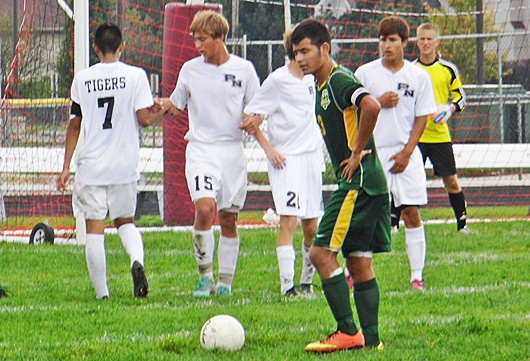 "We've lost a game in conference for three straight years now and still found a way to win."
The Tigers, meanwhile, are hoping to duplicate Saturday's effort the rest of the way.
"Every game has to be like this, this much intensity," Novacek said.
The teams return to SPC play on Tuesday when the Wildcats travel to Plainfield East while the Tigers host Minooka.