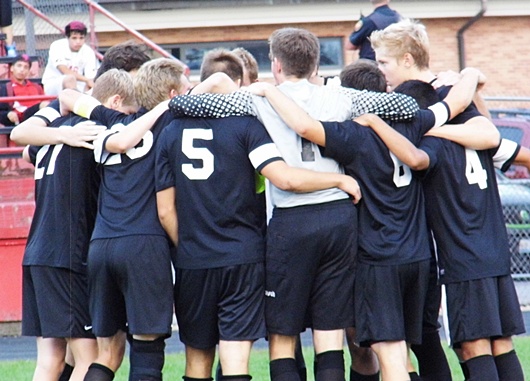 Mustangs blank EA, earn share of first league title
By Darryl Mellema
On a night when Metea Valley scored five goals and comprehensively outplayed East Aurora and earned at least a share of the Upstate Eight Conference Valley Division title – the post-match focus was on the defense.
The Mustangs' shutout of the host Tomcats was notable because the last clean sheet they recorded was in the second match of the season.
Goalscoring? Yes there was plenty of that. But against a talented and skillful foe, the defense more than held its ground.
"The shutout felt great," Metea left back Brandon Espino said. "That was really big. We've struggled a lot. In practice, we do a lot of defensive drills. I guess that kicked in here and it worked."
The conference title is the first in school history. The Mustangs (6-6-3, 4-0-1) can claim the title outright depending on Thursday's home match with Waubonsie Valley and/or Neuqua Valley's Tuesday match against West Chicago.
"We've never won conference before," Metea keeper Jimmy Wyma said. "We're a new school and we're trying to get our name out there. Last year, we had a regional championship. We've just got to keep playing and playing hard and get ready for playoffs."
As the seconds ticked down, the Mustangs edged to the side of the field, then ran to celebrate their achievement with each other.
"This is my first year on varsity," sophomore center back Brandon Howard said. "I really hope we can go a lot farther and go farther than we did last year. That's our goal ever year – every single year.
"I feel like at the beginning of the year, we had a couple of good wins after a slow start. Now I feel like we're starting to progress and we're getting better every single game."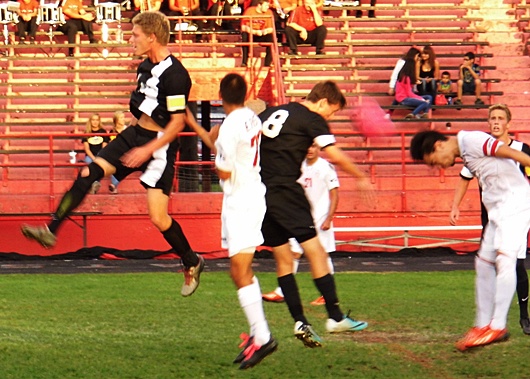 For players whose high school careers are nearly over, such as senior center back Grant Bolle, the conference title was especially pleasing.
"This is huge," Bolle said. "We're out here to prove something. We're not just the new kids on the block. We're here to stay and we're here to win."
Although the second half was marred when an East Aurora player received a red card, the teams spent many minutes sharing post-match handshakes and discussions.
"I personally know a lot of guys on (East Aurora)," Bolle said. "I've played with some of them over the years, and it felt so good to beat them. We just played our game and stayed composed."
Playing only his third match since moving to the varsity, Daniel Stewart gave a solid effort at right back in a very important match.
"We knew we had to come out hard in conference," Stewart said. "We've had ups and downs in the season but have played well in the conference. We knew East Aurora was going to come out and play hard, so we wanted to play harder and get our work rate up."
East Aurora's field is only slightly larger than a football field – which leaves it about 10 yards more narrow than fields on which teams such as Metea Valley play.
"Coach (Josh Robinson) told us coming into the game that this isn't our normal field," Espino said. "We knew it was going to be a very narrow game and we had to adjust to it, and we did."
The field is also thinly covered with natural grass, which was slightly damp for Saturday's match.
"It was kind of slippery out here, so you had to be solid defensively and move your feet a lot," Stewart said. "There wasn't any diving in, you just had to play solid defense."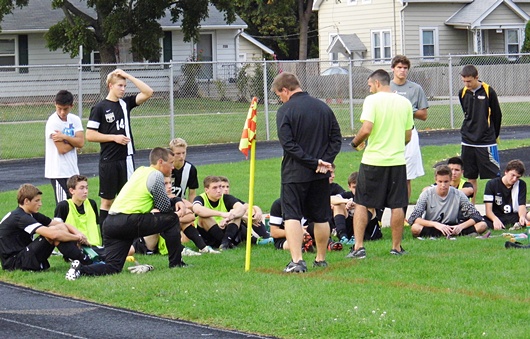 On the occasions the Mustangs failed to clear the ball effectively, East Aurora sent it straight back into a dangerous area. Those moments were limited, however, thanks to the overall effectiveness of Metea's defense.
"We struggled at the beginning of the year with clearing," center back Brandon Howard said. "I think today, we did pretty well with it. We made a couple of mistakes, but stayed strong enough to get us our shutout."
Behind the back four was keeper Wyma, whose concentration came on two levels. First, he had to communicate with his defenders and then he had to make sure he was able to handle East Aurora's pressure.
In a match that stood 1-0 at halftime, there were plenty of moments where the Tomcats were dangerous.
"We had to make sure all our guys stayed marked," Wyma said. "We did a great job doing that. And we looked for them to try to keep it outside."
Another feature of Metea's play was to move from defense to attack with speed. Those attacks often started from the moment the ball reached Wyma and he threw or punted the ball the other direction.
"We've got a lot of athletic guys in the mid and up top who can win headers," Wyma said. "I trust them, so I try to get the ball to them so they can flick it on toward the goal."
As happy as the defensive unit was with its play, Robinson was equally pleased.
"I give a lot of credit to the way they played," Robinson said. "I gave a little bit of a challenge to them to focus on getting a shutout and to focus on being tighter and more compact."
Injuries have forced changes on the defensive unit, and stability has been a work in-progress throughout the season.
"This is only the third game in a row we've had the same back four," Robinson said. "(Stewart), this is only his third varsity game after pulling him up. Brandon Howard's only a sophomore, but the maturity he has coming forward is great. And then Bolle and Espino show some great leadership."
Offensively, the Mustangs were more than solid in their largest goal-scoring output of the season.
Nate Donovan scored the only goal in the first half when he volleyed a shot that East Aurora's keeper misplayed and allowed to slide into the net. That goal came with 18 minutes left in the first half.
Jake Celinski doubled the Mustangs' lead when he took two shots and scored with the second 11 minutes into the second half.
The red card reduced East Aurora to 10 men three minutes after Celinski's goal, and Metea's offense hit full stride in the final 25 minutes of the match.
Celinski got his second goal and further goals by Esteban Castillo and Chris Freeman completed the scoring.
"The second half, we won the 50-50 battle, which is great," Robinson said. "They probably had a little better than us in the first half. So in the second half, our guys weathered a little bit of it in the first five minutes, and then we won that 50-50 battle and we were able to have some success.
The biggest thing today was that we finished. We've had opportunities and not finished, but we finished today. We had quality finishes by a big group of people, so I'm happy about that."