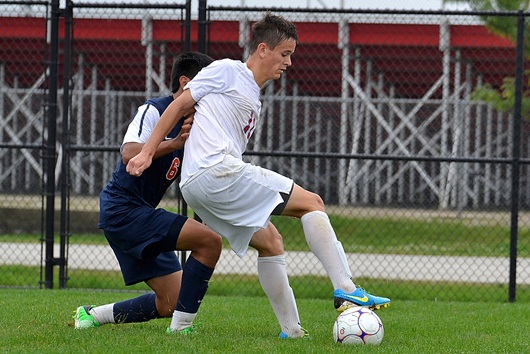 Cadets blank Panthers to capture third-straight win
PHOTO GALLERY COURTESY OF ANNIE COLLINS
By Matt Le Cren
Losing your best player to a gruesome season-ending injury, as Marmion Academy did two weeks ago, can devastate the best of teams.

Such a scenario forces everyone else on the team to step up their production to unaccustomed levels, something that isn't always possible.
But Marmion has proven itself up to the task.
The Cadets, incidentally, have yet to lose after leading scorer Flynn Collins had his high school career ended when he broke his jaw and lost several teeth during a collision with the St. Charles East goalie on September 26.
Collins, who had paced Marmion's prolific offense with 15 goals, underwent surgery and has his jaw wired shut for the next two months.
The senior striker, who is drawing interest from Division III colleges, has been on the sidelines with his teammates and enduring questions from parents asking what his favorite food is.
While his moral support is welcome, it doesn't replace his production, yet somehow the Cadets have gone 3-0-1 since the injury, including a 1-0 victory over Oswego on Saturday morning in Aurora.
"We kind of figured we'd have a hard time on offense because he was our main production but at the St. Charles East tournament we said we're going to start a new season and we've been undefeated ever since," junior midfielder Trevor Jones said. "Hard work has been getting us through."
The Cadets (9-6-2) were trailing unbeaten St. Charles East 2-0 when Collins was hurt and lost that game 4-1. Since then, they tied Glenbard North 1-1 in the third place match of the tournament and beat Aurora Central Catholic 6-0 and Montini 5-3 before Saturday's win over the Panthers.
"[Losing Collins] was bad and when it happened the morale completely went down," Marmion coach Ricky Del Toro said. "Nobody wanted to play anymore, but I think they bounced back pretty nicely since then, so I think the guys have a pretty strong mindset right now.
"I think they're on a roll. I think the guys are finally starting to click a little bit better and we have a pretty nice momentum, which is what we want leading into the Wheaton Academy game and then the playoffs."
What makes the Cadets' recent run all the more impressive is they have won in different ways. Marmion's high-powered offense has scored 48 goals but Del Toro is encouraged by the fact his squad beat Oswego (3-6-4) in a defensive struggle played on a wet grass field.
"We've been working on the character of the team and they showed character here to finish off strong," said Del Toro, whose squad is 6-1-1 in its last eight games.
"It's all mental playing against a tough team like that. The regional games are going to be close, one- or two-goal games, and the team that puts their chance away is going to end up winning. Before this game we had in mind to make this a type of playoff game and I think we did fine."
Indeed, the Cadets were solid in front of goalie Matt Fletcher, who made six saves in recording Marmion's sixth shutout.
The back four of seniors Mick Wangler and Cam Sweeney and sophomores Dolan Hunt and Joe Duffield was calm under pressure throughout and did well to quickly shut down every Oswego threat.
"We've had some defensive struggles in the beginning of the year but the first half of this game they really didn't get any looks on our goalkeeper, so it was nice to see the defense play really well," Jones said. "Mick does a great job back there."
Jones has been equally impressive up front. With senior Jake Hutchison replacing Collins at striker, Jones has moved up to play right behind Sean Dickerson, with surprisingly good results.

In the four games since Collins went down, Jones has scored a goal. His fifth goal of the season was the only one of Saturday's match and it came on a strong header in the 51st minute after junior Gavin Sanchez crossed a perfect ball from deep in the left corner.
"I felt like I was struggling at the beginning of the season," Jones said. "When [Collins] was gone, I thought the team needed someone to step up so I've been trying to do that."
"Trevor is playing very well right now," Del Toro said. "He's playing right underneath that high striker. Flynn was a high striker, so we've been putting Jake Hutchison up in Flynn's spot and he's opening a lot of space for Trevor to sneak in, so they're playing nice."
The goal had special meaning for Jones, who lives in Oswego.

"Gavin worked really hard to get that cross in and I was really upset at the time," Jones said. "I really wanted to get one in. I'm from Oswego so I really wanted to beat that team. I know most of the players over there so it was really good to grab that goal."
Marmion next play Suburban Christian Conference matches on Tuesday at St. Edward and on Wednesday at Guerin Prep.