Connolly goal earns Cougars a tie with BG
By Bill Hupp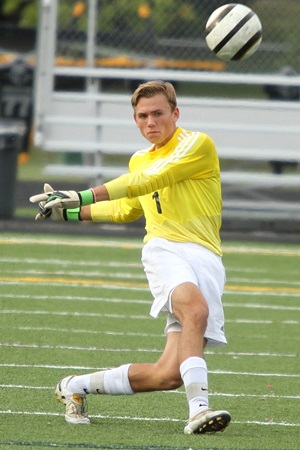 Another game, another draw for a Buffalo Grove team that feels like it's on the cusp, but has had a tough time getting wins this season.
The host Bison attacked from the start in their Mid-Suburban League game on Tuesday night, and despite peppering Conant's net with 22 shots, had to settle for a 1-1 draw against Conant on senior night at Grant Blaney Stadium.
On an emotional senior night, the Bison came charging out of the gate hard and were rewarded less than five minutes into the game. Senior striker Daniel Ramirez attacked down the right wing, slid the ball across, where Zach Masciopinto made the extra pass and senior Pat Tucharski slotted it home.
The early goal was a critical confidence boost for a team that had scored just 3 goals total in last seven games, and had dropped last two conference games by a combined 6-0.
"We can play with anyone when our intensity is good, and we showed that tonight," said Buffalo Grove coach Steve Carlson.
In general, that intensity was evident as the Bison's attacking mentality earned them six first-half corners and led to nine shots. They kept their shape well and weren't afraid to push numbers forward in the open, entertaining first half.
Buffalo Grove was knifing through the defense and Conant struggled to properly deal with some in the box. Daniel Ramirez was particularly dangerous for the Bison.
The senior captain used his size and pace to make marauding runs down the right flank, stretching Conant's defense thin on the wings, challenging Conant's keeper and playing dangerous crosses to his teammates.
The 1-0 halftime score could have been much worse if not for the heroics of Conant's Patryk Openchowski. He snuffed out Tucharski on a breakaway, tipped a clever chip attempt by Ramirez over the cross bar, and parried away multiple hard shots from tight angles to keep the Cougars close.
Unofficially, the senior goalie finished with 12 saves in the game.
"He made some really nice saves and they missed a couple opportunities," Conant coach Jason Franco said. "We were fortunate not to be down by more."
Conant (5-6-3) responded well in the second half, playing with grit and earning a golden chance early on when senior forward Isaiah Jimenez was pulled down by a Bison defender just outside the box.
Alas, the shot by Branden Don Santos cleared the wall but was right at Bison goalie Ricardo Valencia. Jimenez and fellow striker Ejike Okpa gave the Bison fits with his pace in the second half.
The Cougars played a gritty second half and were rewarded less than 15 minutes in when Joey Connolly beat a Buffalo Grove defender to a loose ball in the box and poked it past the dive of Valencia into the right corner of the net.
The Bison were not without their chances though in the final frames. Big sophomore Drew Brauner hit a laser from distance that Openchowski had to save at full stretch.
Buffalo Grove had a beautiful build-up with four minutes to play in OT in which a great switch found Masciopinto charging at the far post – but his side-footed effort glanced over the cross bar and off the goal post of the football uprights.
Defensively, Hans Haller and Allan Santiaguillo helped Valencia and fellow senior goalie Dillon Eaton (first half) keep Conant, which took 10 of its 14 shots in the second half and overtime, in check.
Conant had a couple corner kicks in the dying seconds of regulation, but their free header went over the bar at the horn. Then, with 2:14 left in the second overtime, Chase Hermanson slid a beautiful ball through the box to the front of goal, but Ben Hyde couldn't get a good boot on it.
"We started slow and they came out flying," Franco said. "I'm glad that we fought back and tied it, but I'm disappointed that we came out so flat because we talked about not doing that."
Buffalo (3-5-5) has now drawn nearly 40 percent of their games, and by Carlson's estimate, has had the vast majority their games determined after the 80th minute.
"It's frustrating for the kids because they want to get wins," Carlson said. "We've been playing good defense this season, they just have to put balls in the back of the net."